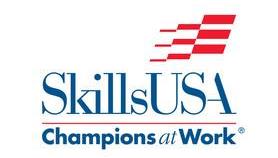 SkillsUSA is a partnership of students, teachers and industry working together to ensure America has a skilled workforce. SkillsUSA helps each student excel.
SkillsUSA is a national nonprofit organization serving teachers and high school and college students who are preparing for careers in trade, technical and skilled service occupations, including health occupations.
More than 300,000 students and advisors join SkillsUSA annually,organized into more than 17,000 sections and 54 state and territorial associations.  Combining alumni and lifetime membership, the total number impacted is more than 320,000. SkillsUSA has served more than 10.5 million members.
State Competition
Mississippi's State SkillsUSA Competition will be held at Hinds Community College on March 22 and 23, 2012.  ECCC's deligation will consist of 26 students and seven advisers.
EC students will be competing in:
Job Interview, Job Demonstration A, Job Demonstration Open, Opening and Closing Ceremonies, Promotional Bulletin Board, Architectural Drafting, Automotive Service Technology, Carpentry, CNC Milling, CNC Turning, Collision Repair, Commercial Baking, Cosmetology, Culinary Arts, Industrial Motor Control, Precision Machining Technology, Preschool Teaching Assistant, Residential Wiring, Technical Drafting and Welding.  First Place winners will advance to the National Skills and Leadership Competition.
National Skills and Leadership Competition
The SkillsUSA Championships is the showcase for the best career and technical students in the nation. Contests begin locally and continue through the state and national levels.
This is a multi-million dollar event that occupies a space equivalent to 16 football fields. In 2011, there were more than 5,700 contestants in 94 separate events. Nearly 1,500 judges and contest organizers from labor and management make the national event possible.
The philosophy of the Championships is to reward students for excellence, to involve industry in directly evaluating student performance and to keep training relevant to employers' needs.
visit www.skillsusa.org for additional information.