September 22, 2017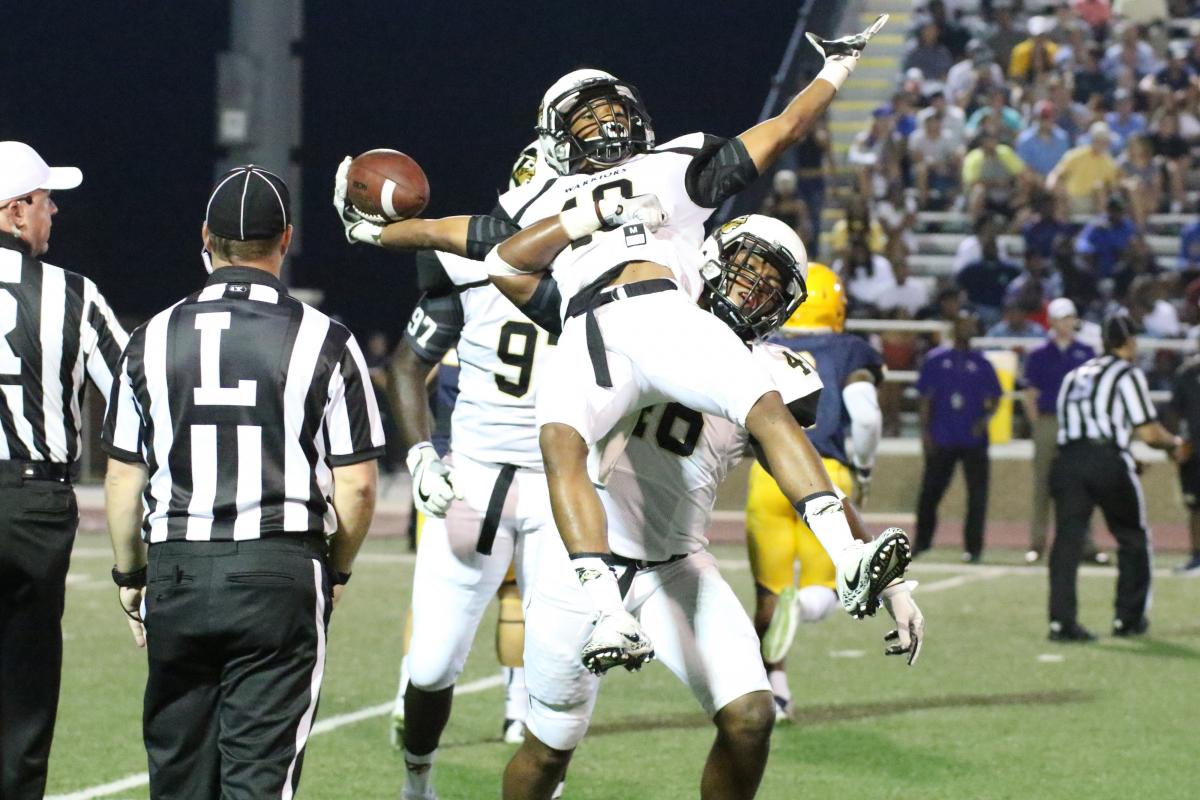 Warrior linebacker Joseph Peters celebrates a second quarter fumble recovery that led to an East Central touchdown and a 13-0 lead. (EC Photo)
A 35-point third quarter by Mississippi Gulf Coast overcame a 13-3 deficit and gave the Bulldogs a 48-25 win over East Central Community College in MACJC South Division football action in A.L. May Memorial Stadium in Perkinston Thursday, Sept. 21.
It was the third Thursday in four weeks that East Central has played a football game on the road.
The Warriors jumped in front 13-3 after two quarters of play, dominating the time of possession. East Central took the opening kickoff and drove 73 yards for the score, using 13 plays and taking 8:43 off the clock. Sophomore Mikell Daniels out of Forest scored from two yards out. The PAT failed and East Central led 6-0.
Gulf Coast didn't get its initial first down of the game until 8:38 to play in the first half. But on the next play from their own 29-yard line, the Bulldogs fumbled and the ball rolled to the East Central 17 before Warrior linebacker Joseph Peters from Petal fell on it. Six plays later, Daniels bulled in from the two for his second score of the first half. The PAT was good by Zach Engell of the Lamar School and East Central led 13-0.
A 40-yard field goal with 1:42 to play in the first half got Gulf Coast on the scoreboard and closed the Warrior lead to 13-3 after 30 minutes of action.
The Bulldogs wasted little time taking control of the game from East Central in the second half with 35 points in the third quarter. Gulf Coast went 75 yards in just five plays to open the third quarter. Quarterback Torrance Gibson's three-yard run pulled Gulf Coast to within a field goal at 13-10.
Three plays later, Saivion Smith picked off a Warrior pass and took it 40 yards untouched for the score. On the Bulldogs' next offensive possession, Gibson hit Zach Farrar with a 56-yard touchdown pass and Gulf Coast led 24-13. A one-yard run by Gibson with 5:25 still to play in the third quarter gave the Bulldogs a 31-13 lead.
The final Gulf Coast score of the third quarter came on a 52-yard pass from Gibson to Farrar with 1:51 to play. Just like that, the Bulldogs had turned a 13-3 deficit into a 38-13 lead.
Gulf Coast tacked on a 31-yard field goal and a one-yard run by Javarous Walker in the fourth quarter, and East Central added a touchdown on a one-yard run by Antonio Gibson and a 62-yard pass from Jacob Carter of Pontotoc to Kevontaye Caston of Trinity Episcopal in Natchez to make the final 48-25.
East Central dropped to 1-3 on the season with the loss and 0-2 in MACJC South Division play. Gulf Coast improved to 3-1 and 2-0.
East Central returns home next Thursday to face No. 20 Copiah-Lincoln. The MACJC South Division matchup begins at 6:30 p.m. in Bailey Stadium on the Decatur campus.
It will be Black Out Bailey night for East Central and all Warrior fans are encouraged to wear black to the game. It is also Be Our Guest night and all area high school students will be admitted free.
The East Central vs. Co-Lin game can be heard on WKOZ 98.3 "The Groove" or via audio stream at www.eccc.edu/eccc-media. Live streaming video with audio can be found at www.eccc.edu/eccc-media or www.kicks96news.com.
Score by Quarter:
| | | | | | |
| --- | --- | --- | --- | --- | --- |
| Team | 1st | 2nd | 3rd | 4th | Final |
| ECCC | 6 | 7 | 0 | 12 | 25 |
| MGCCC | 0 | 3 | 35 | 10 | 48 |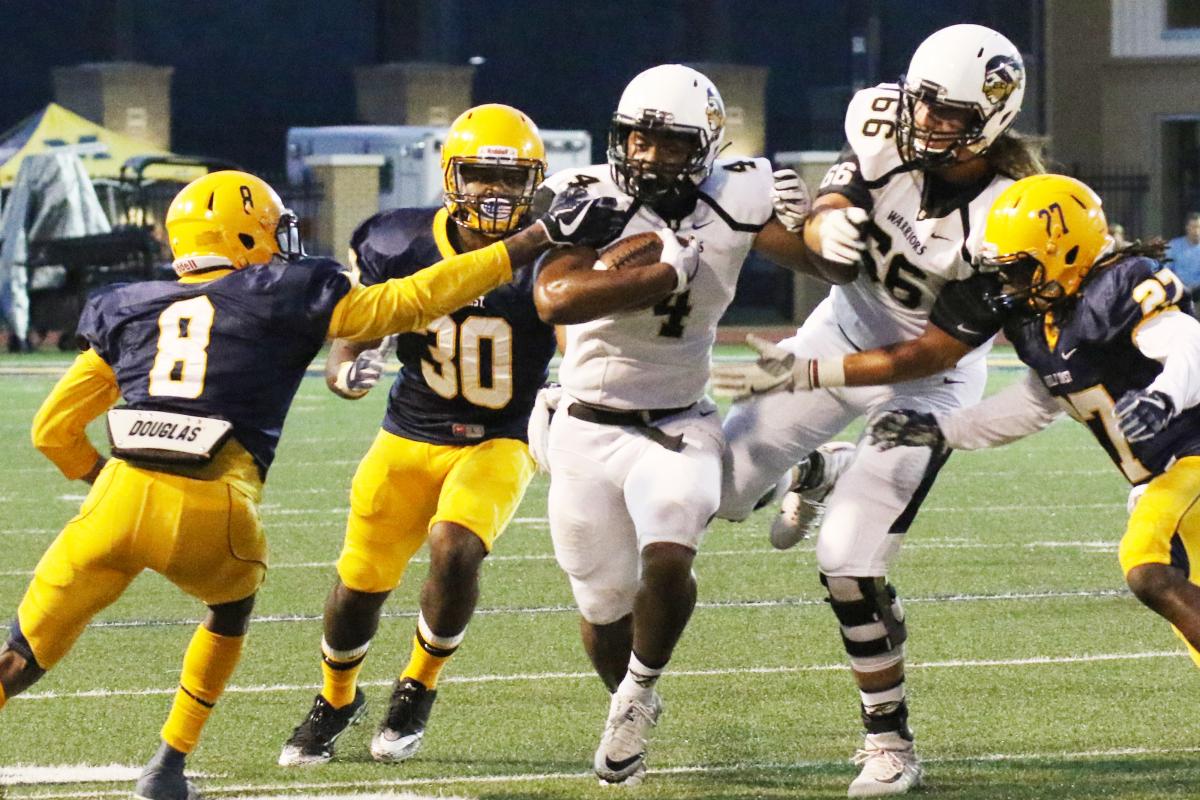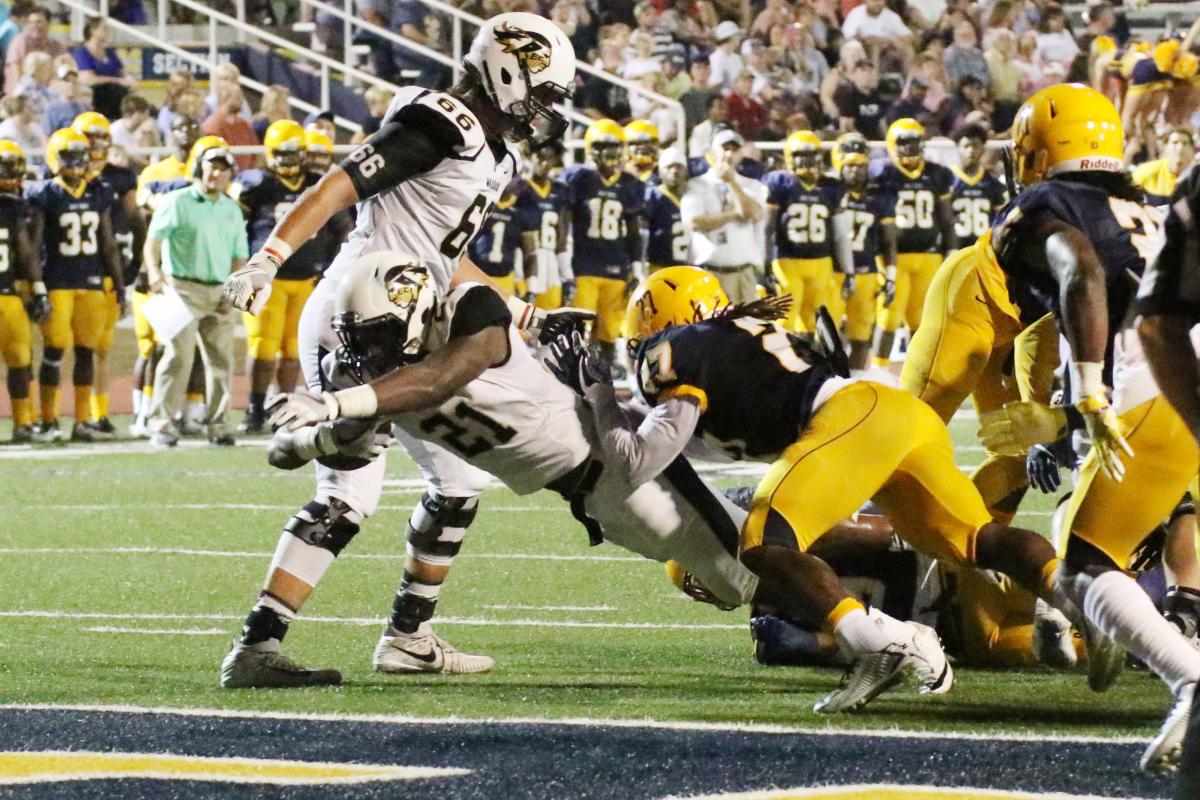 (Left photo) Sophomore wide receiver Antonio Gibson fights through the Gulf Coast defense in MACJC South Division action at Gulf Coast. (Right photo) East Central running back Mikell Daniels dives for one of his two first half touchdowns against Gulf Coast. (EC Photos)