October 6, 2017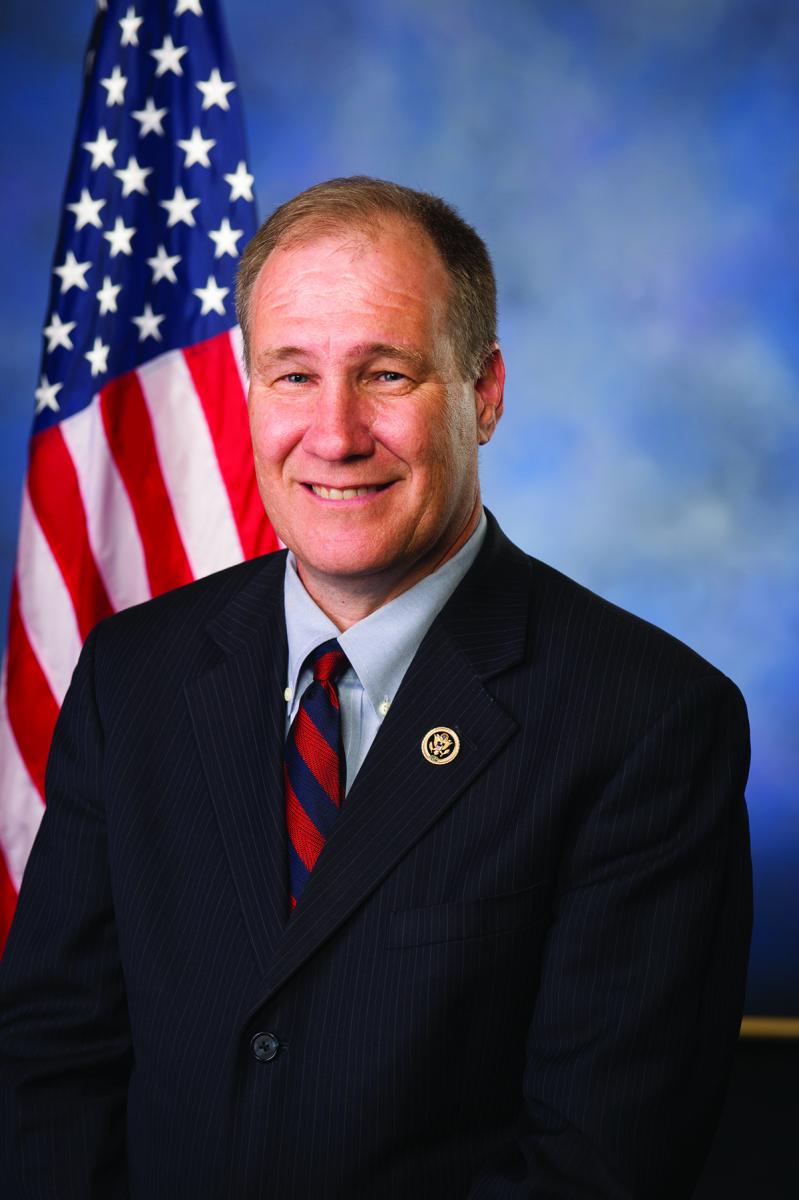 Trent Kelly
Trent Kelly of Saltillo, U.S. representative for Mississippi's First Congressional District, has been named Alumnus of the Year at East Central Community College. He will be recognized during Homecoming Festivities scheduled Thursday, Oct. 19, 2017, on the Decatur campus.
When notified of his honor, Kelly said, "It is an honor and a privilege to be chosen as East Central Community College Alumnus of the Year. ECCC offered then what it offers today – an excellent learning experience with the guidance of professional, dedicated faculty and staff. I am proud to be a member of the ECCC graduating class of 1986." 
Kelly has spent more than half his life in public service having been a member of the Mississippi Army National Guard for more than 30 years and also a former district attorney for the First Circuit Judicial District managing all felony cases.
He completed his second year in Washington, D.C., this summer after winning a special election runoff following the untimely death of Alan Nunnelee, longtime U.S. representative for the First District.
Kelly considers his education at East Central Community College part of the foundation for his success and is an avid supporter of community college education.
"I brag about going to a community college all the time. I include it on my resume and my biography page because it set the foundation for me to be successful. I was fortunate to have so many great teachers that invested in my education and inspired my love of learning," he said.
Among those teachers who influenced his life and career were East Central legends Dr. Richard Ethridge, Ovid Vickers and Alice Pouncey. "They were great teachers who loved education and taught us to love it, too," Kelly said.
Kelly was also a member of the Warrior Corps, a group of students who assist in recruiting and serve as hosts for various campus events, and the golf team.
A Union native, Kelly graduated from Union High School, ECCC and the University of Mississippi, where he earned both a bachelor's degree and juris doctorate. In 2010, he received his master's degree in Strategic Studies from the United States Army War College in Carlisle, Pa.
In his three decades with the Army National Guard, Kelly has ascended to the rank of brigadier general select and is currently serving with the Joint Force Headquarters for the state of Mississippi. He has received two Bronze Stars, the Combat Action Badge, the DeFleury Medal, and numerous other federal and state awards for his service. Most recently, he received the Near East South Asia Center for Strategic Studies: 2016 Distinguished Alumni Award.
"Probably the highlight of my military career was taking 670 soldiers to combat in Iraq in 2008 and 2010 and bringing all 670 of them back with 10 fingers and 10 toes," Kelly said. "I was also in Iraq in 2005, which was a much different deployment. We lost 29 soldiers. That taught me to remember what is important in life. Life isn't about winning elections, but being able to like the face that looks back at you in the mirror. If God and my family are proud of me, then I have passed the mirror test."
Kelly said the most important thing he has learned through his military career is that it's "all about the people."
"It's all about the soldiers. I learned that leadership is about respect and treating people right. It is not always about making the popular decision, but that people know you always have their best interest at heart."
Kelly's resume also includes a private law practice in Saltillo, service as Tupelo city prosecutor, and forfeiture attorney for the North Mississippi Narcotics Unit. Prior to being elected to Congress, he served as district attorney for the First Circuit Judicial District managing all felony cases.
When reflecting on his career as district attorney, Kelly said, "That was a fun one. I got to be a voice for victims. I managed a staff of 21 people, 12 of who were assistant district attorneys. I represented about 255,000 people, making it the largest district attorney district in the state of Mississippi. I loved it because you were taking care of people and making hard decisions.
"In that role, some people would criticize decisions you make because they didn't necessarily know all the facts. I always just chose to take the criticism and do right by the victims and the people I represented."
He said his military background was very helpful in his role as district attorney and that attending the Army War College taught him to discern data and determine which information was actionable.
"I learned that every decision you make has second and third order effects. You have to look at the long-standing consequences and the full impact of your decision."
After completing two years in Congress, Kelly said he has enjoyed serving his constituents at the Capitol.
"I have been fortunate because I hired the majority of the late Congressman Alan Nunnelee's staff, which has been a great help in getting familiarized with the work on Capitol Hill. My military and legal background has also been helpful in disseminating information, delegating tasks and making decisions. But mostly, I am just in awe that I am able to represent and serve the people of Mississippi in Washington."
He says one of the most surprising aspects of his new job has been building relationships with the other members of Congress.
"All the members I have met and worked with are just normal folks working hard for their constituents. The way the media portrays members and the environment up here isn't entirely accurate. We are all up here to do something for the greater good, and I think that gets lost in translation."
In reflecting on his career as a whole, Kelly remains humble and grateful for the path he has taken.
"In 2010, I rotated out of battalion command and was coming out of a combat tour. I was a city prosecutor and running a race to be the district attorney. I had already been beaten in the DA race once before. I didn't think I was going to make full colonel in the National Guard, and I'm riding home just so full of joy. I told my wife (Sheila), 'If God takes me today, what a life.'
"Since then, I've been blessed beyond measure. I won the district attorney election, made colonel in the National Guard, became a brigade commander, and was elected to Congress. So this is truly bigger than me."
He credits much of his success to his parents and the good people with which he has always surrounded himself.
"While he was a simple man, my father (John) was a very intelligent one. He spoke in simple terms and I think I inherited that talent. When I lost my father, I lost one of my best friends. Also, my mother (Barbara) is an extremely strong lady who demanded that my siblings and I always give our best. I was blessed with great parents.
"Throughout my career and time in the Guard, I have been exposed to so many amazing people. I hate to name any names because there are so many out there!"
Kelly and his wife, Sheila, have been married for 25 years. They have three children: John Forrest, Morgan, and Jackson. They attend Saltillo First United Methodist Church. Representative Kelly is an Eagle Scout, member of numerous veterans groups and the local, state and national bar associations.