November 17, 2017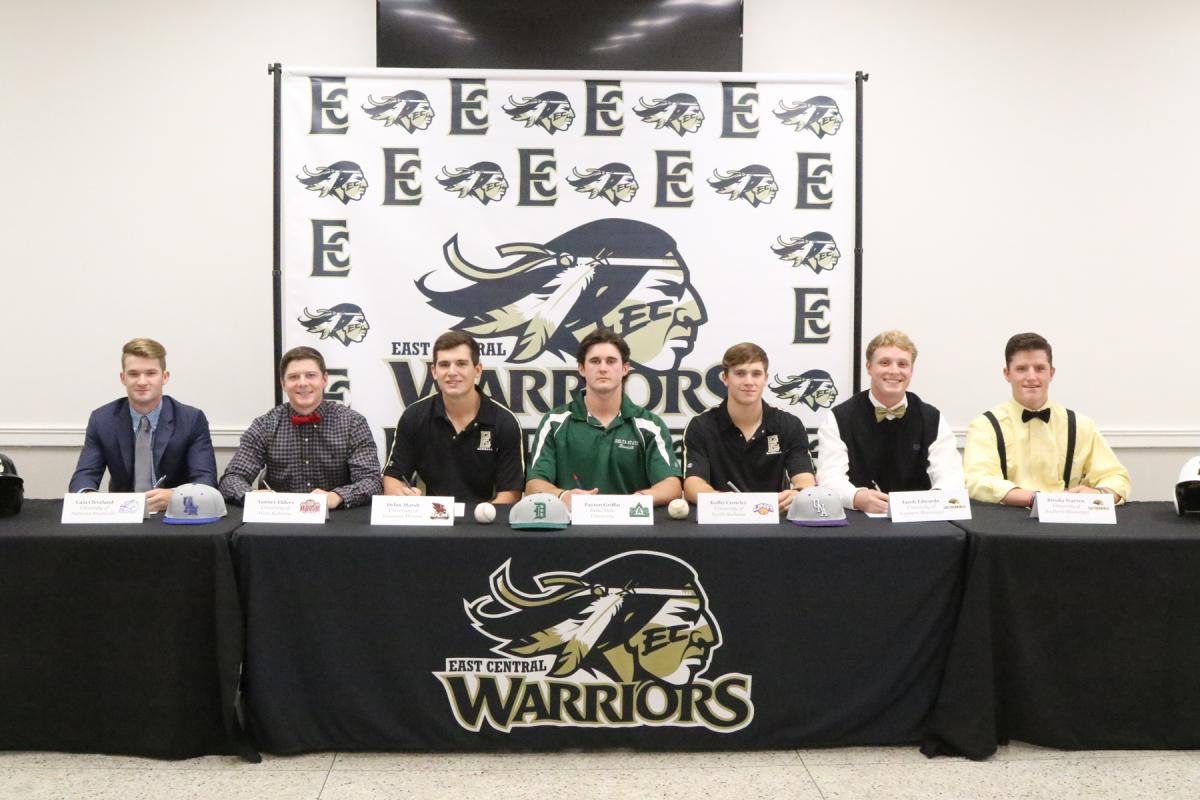 ECCC baseball players signing with four-year colleges and universities were (from left) Cain Cleveland of Hickory, University of Alabama Huntsville; Tanner Elders of Hickory, University of West Alabama; Dylan Marsh of Lake Cormorant, University of Louisiana Monroe; Payton Griffin of Montpelier, Delta State University; Kolby Crowley of Maben, University of North Alabama; Jacob Edwards of Decatur, University of Southern Mississippi; and Brooks Warren of French Camp, University of Southern Mississippi. (EC Photo)
Seven current members of the East Central Community College baseball team have signed a National Letter of Intent to continue their careers next year at four-year colleges and universities.
All seven gathered Friday, Nov. 17, in Mabry Cafeteria on the ECCC campus in Decatur to be recognized.
Signing National Letters of Intent were:
Outfielder Cain Cleveland, who prepped at Newton County High School, University of Alabama Huntsville. Cleveland hit .269 last season in a limited role. He appeared in 29 games with 30 plate appearances and eight hits.
Pitcher Kolby Crowley, who prepped at East Webster High School, University of North Alabama. Crowley compiled a 2-1 record while making 18 appearances on the mound and starting six games. He pitched 33.1 innings and struck out 27 batters.
Shortstop Jacob Edwards, who prepped at Newton County High School, University of Southern Mississippi. Edwards hit .316 last season with 38 RBI while playing in all 51 games. He had 62 hits, including five home runs, 15 doubles, and a team-leading three triples. He also stole 23 bases to lead the Warriors.
Pitcher Tanner Elders, who prepped at Newton County High School, University of West Alabama. Elders compiled a 2-2 record while appearing in 17 games. He struck out 23 batters in 36 innings pitched.
Pitcher Payton Griffin, who prepped at Hebron Christian School in Montpelier, Delta State University. Griffin appeared in 10 games on the mound, starting six. He had a 2-1 record and racked up 18 strikeouts in 20.2 innings.
Pitcher Dylan Marsh, who prepped at Lake Cormorant High School, University of Louisiana Monroe. Marsh appeared in 26 games, mostly in relief. He compiled a 2-3 record with four saves and a 2.92 ERA. He struck out 35 batters in 37 innings.
Pitcher Brooks Warren, who prepped French Camp Academy, University of Southern Mississippi. Warren appeared in 14 games last season, starting eight. He had a 3-3 record while striking out 36 batters in 38.2 innings of work.
The 2017 Warriors finished 34-17 and competed in both the Mississippi Association of Community and Junior Colleges State and National Junior College Athletic Association Region 23 tournaments.
The 2018 edition of the ECCC Diamond Warrior baseball team opens the season Saturday, Feb. 10, against Lawson State Community College (Birmingham, Ala.) at the Clark/Gay Baseball Complex in Decatur. Doubleheader action starts at 2 p.m.