January 10, 2018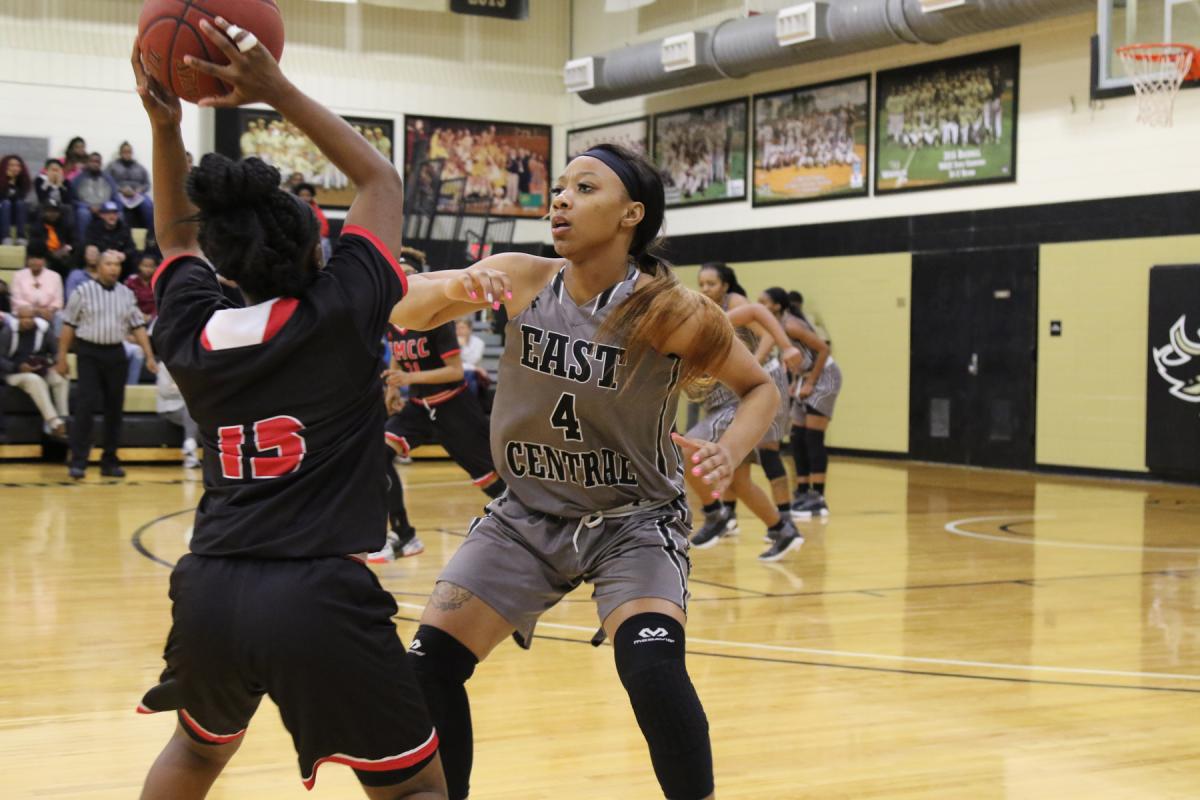 Lady Warrior guard Tan Lloyd plays pressure defense in first half action against EMCC. (EC Photo)
The East Central Community College basketball teams entertained rival East Mississippi Tuesday, Jan. 9, and split a pair of non-division games played in Brackeen-Wood Gym on the ECCC campus in Decatur.
The ECCC Lady Warriors suffered their first defeat of the season 72-65 at the hands of the EMCC Lady Lions in the opening contest. In the nightcap, the Warriors got a game-high 24 points, including 18 in the second half, from freshman guard Roti Ware to pick up a 99-92 win over the EMCC Lions. It was the Warriors sixth straight win.
The teams met back in Scooba on Nov. 9, with the ECCC women winning 85-76 and the ECCC Warriors dropping a 65-58 decision to the Lions.
EMCC got a career-high 35 points—including 21 points from beyond the three point line—from guard Tyeisha Juhan to overpower the Lady Warriors. Juhan was a member of the NJCAA All-Region 23 team a year ago.
The Lady Warriors were led by the 14 points of freshman guard Tamirra Haskin out of Laurel and 10 points from freshman guard Tan Lloyd of Newton.
EMCC outrebounded the Lady Warriors 46-29 in the contest, while outshooting ECCC from the floor 51 percent to 36 percent.
The ECCC Lady Warriors dropped to 8-1 on the season, while the EMCC Lady Lions improved to 5-5.
ECCC's Thurston McCarty scored five big points late to pull the Warriors to the 99-92 win over East Mississippi in a high-scoring affair.
The sophomore guard from Quitman returned from a December injury and hit two late free throws and a three-pointer to help seal the win. Ware, who prepped at Morton High School, hit 12 of his 13 free throw attempts and was one of five Warriors in double figures. Also in double figures were McCarty with 19, sophomore forward Cameron Diggs (Mobile, Ala. Blount) with 18, sophomore guard Jaquan Dotson from Neshoba Central with 17, and sophomore guard Cayman Ruffin from Neshoba Central with 15.
McCarty also had nine rebounds, while Diggs and Dotson pulled down eight each.
East Central improved to 7-3, while East Mississippi fell to 7-5.
The East Central teams are back in action on Thursday, Jan. 11, when they travel down I-20 East to Meridian to face the Eagles and Lady Eagles of Meridian Community College in MACJC South Division action. The women will play at 5:30 p.m. and the men follow at 7:30 p.m.
ECCC will be at home again on Tuesday, Jan. 16, to host Mississippi Gulf Coast Community College in Brackeen-Wood Gym in Decatur. Game times are 5:30 p.m. and 7:30 p.m.
All home basketball games can be heard on WKOZ Cruisin 98.3 or via audio stream and live stream video at www.eccc.edu/eccc-media.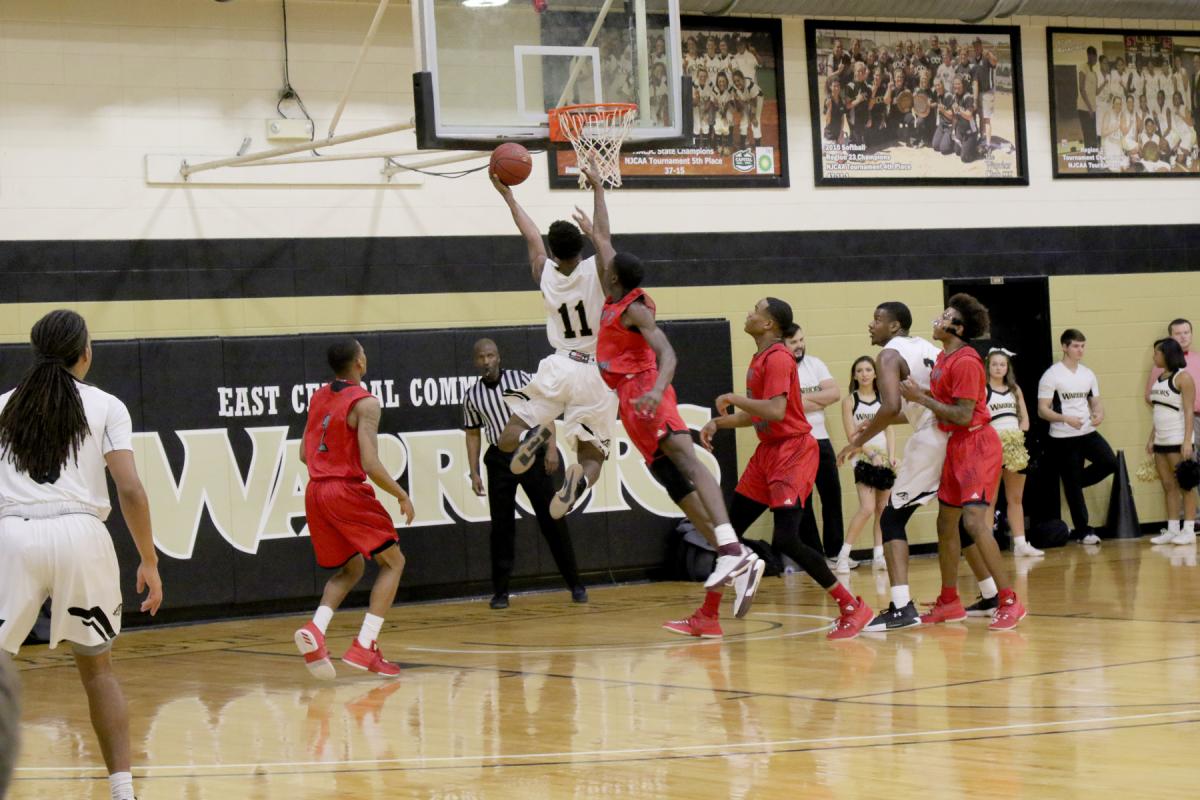 Jaquan Dotson lays in two of his 17 points against the Lions of EMCC. (EC Photo)