Feb. 5, 2018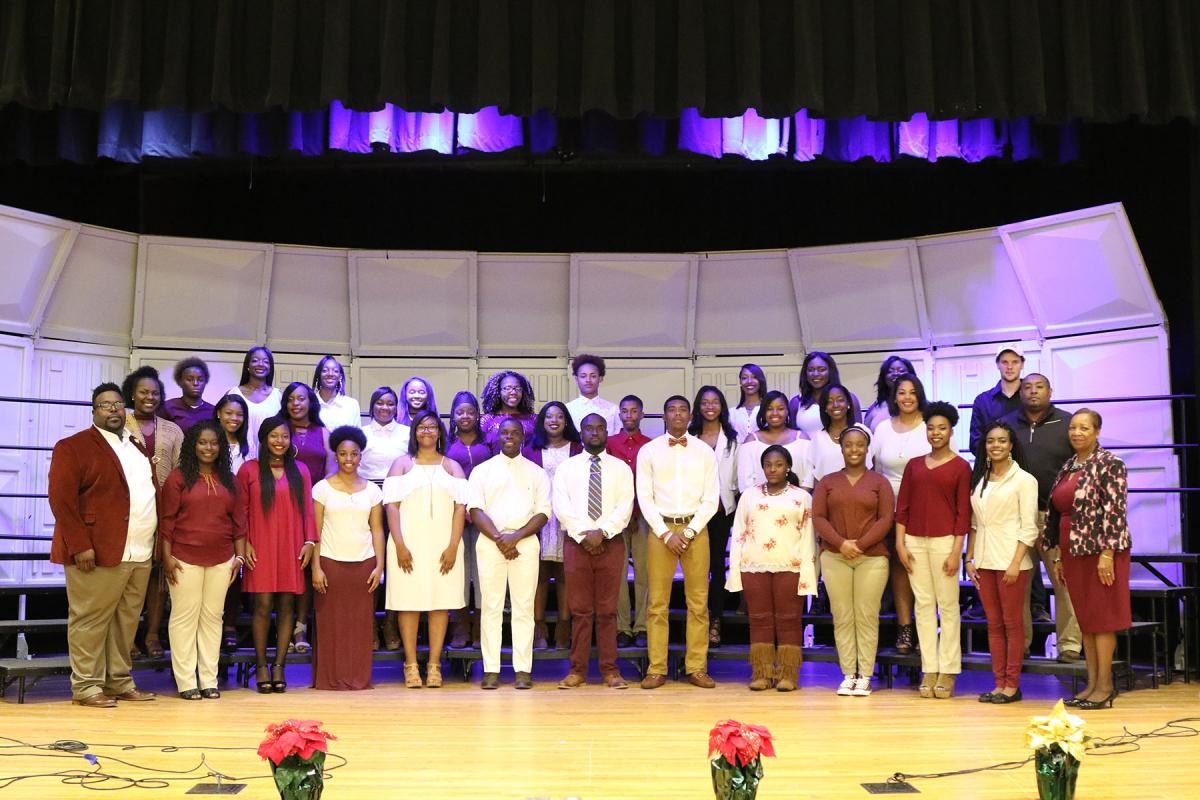 Members of the East Central Community College Gospel Choir will perform during the college's annual Black History Month program scheduled at 6 p.m. Feb. 20 on the Decatur campus. Pictured are (front row, from left) Levar Robinson of Morton, Shamiyah Bobbitt of Forest, Sydney Luvene of Lauderdale, Aslana Evans of Quitman, Marquita Washington and Javonta Washington, both of Morton, LaDarrius Brown of Carthage, Demarius Brown of Newton, Kiera Martin of Columbus, Ty'Keshia Fulton, Miriam Patrick, and Maiah Patrick, all of Forest, and sponsor Brenda K. Johnson of Lawrence; (second row, from left) Charmecia Luckett of Carthage, Brianna Grace of Meridian, Shamya Johnson of Carthage, Restoria Graffenread of Forest, YaJaira Triplett and Markeshia Boler, both of Philadelphia, La'Darius Murry of Louisville, Kiersten Johnson of Newton, Marnekia Boone of Forest, Tashonni Ware of Lena, Natorious Ousley of Forest and Ken Jernigan of Louisville; and (back row, from left) Celeeka Roby of Carthage, Akeyah Coleman and Darquasia Bailey, both of Lena, Faith Spencer of Carthage, NaDayjah Keeton of Lake, Tavarious James of Morton, Natori Patrick of Lena, Sabrina Boyd of Meridian, Amber Gill of Louisville and Hunter Dickerson of Philadelphia.  
East Central Community College will hold its annual Black History Month program Tuesday, Feb. 20, 2018, on the Decatur campus.
Activities begin at 6 p.m. in the Vickers Fine Arts Center auditorium.
There is no charge for admission.
Jerry Smith of Philadelphia, vice chairman of the ECCC Board of Trustees, will serve as guest speaker.
The ECCC Gospel Choir sponsors the Black History Program and will also perform.
Mrs. Brenda Johnson serves as gospel choir sponsor.
For more information, contact Johnson at 601-635-2111.