February 21, 2018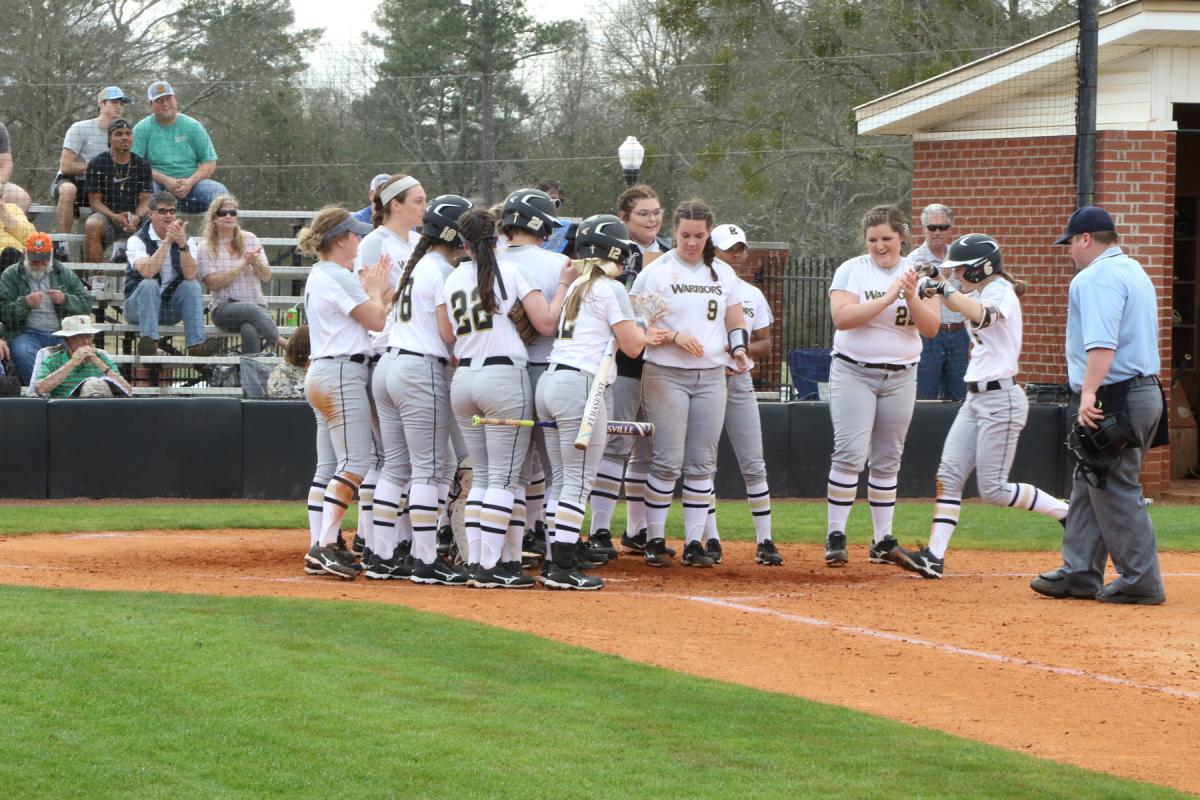 Sophomore second baseman Eva Scott is greeted at home plate by her teammates after her two-run home run gave East Central a decisive 5-2 lead in game one against Marion Military. (EC Photo)
The No. 10 East Central Community College Lady Warrior softball team blasted four home runs as part of a 24-hit attack in sweeping the Marion Military Institute Lady Tigers Tuesday, Feb. 20, at the Softball Park in Decatur.
The Lady Warriors won the opener 5-2 and came back to win the second game of the afternoon doubleheader 15-4.
With the wins, East Central improved to 9-1 on the season. Marion is now 8-10. The two teams split a doubleheader earlier this month in Marion, Ala.
East Central broke up a 2-2 tie with Marion in the first game with three decisive runs in the bottom of the fifth inning on an RBI single from sophomore Cassie Obman of Caledonia, which was immediately followed by a two-run home run from sophomore Eva Scott (Burleson, Texas).
Scott, Obman, and sophomore Ali Gartman of Loyd Star all had two hits in the game.
Marion's only runs came on a two-run home run in the top of the second inning.
Kaitlyn Oswalt, a sophomore from Heritage Academy in Columbus, picked up her fourth win of the season against one loss. She gave up just four hits over seven innings with seven strikeouts.
The Lady Warriors started the nightcap with a bang, scoring eight runs on seven hits in the bottom of the first inning. Three of those runs came courtesy of a home run off the bat of sophomore Tagen Remmel of Clinton. Scott also doubled in a run in the first. Sophomore Madalyn McMahon out of Neshoba Central singled home two runs and sophomore Mackenzie Johnson of Nanih Wayia bunted in a run.
McMahon also hit a two-run homer in the bottom of the fourth, her second of the year.
East Central ended the game in the fifth by run-rule after McMahon singled for her fifth RBI of the game, and Gartman hit a walk-off grand slam over the center field wall.
Sophomore Shelby Walters of Northwest Rankin was a perfect 4 for 4 at the plate.
Sophomore pitcher Mackenzie Rousseau (Vanderbilt Catholic, Houma, La.) got the win to move to 5-0 on the season.
East Central will host Coastal Alabama-North Saturday, Feb. 24, at 1 and 3 p.m., and Calhoun Community College visits Sunday, Feb. 25, at 1 and 3 p.m. to make up games originally scheduled for Feb. 6.
Most home softball games can be heard on WKOZ Cruisin 98.3 or via audio stream and live stream video at www.eccc.edu/eccc-media.