March 4, 2018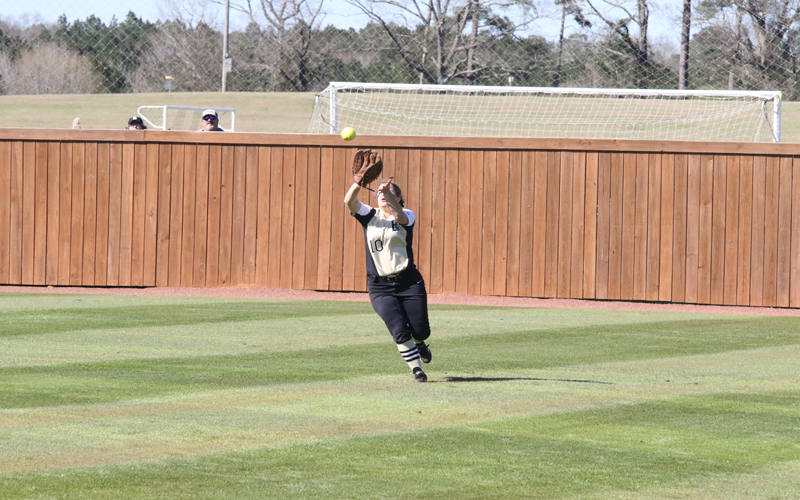 Sophomore center fielder Marlee Parkes makes a catch in game one against EMCC. She drove in two runs in the 5-0 opening game win. (EC Photo)
The No. 10 ranked East Central Community College Lady Warriors pitched a shutout in the opener against the East Mississippi Community College Lady Lions, before dropping the nightcap in extra innings in MACJC conference softball action Saturday, March 3, at the Softball Park on the ECCC campus in Decatur.
The Lady Warriors won the opener 5-0 behind the three-hit pitching of sophomore Kaitlyn Oswalt. EMCC came back to win the second game 10-7 in nine innings.
East Central's record is now 12-4 overall on the season and 1-3 in MACJC action. East Mississippi is 7-11 and 3-1 in the league.
Oswalt, who prepped at Heritage Academy in Columbus, was strong in the circle in the first game striking out six batters over the seven innings.
The key inning for the Lady Warriors was the bottom of the second when four runners crossed the plate after two outs. Back-to-back RBI singles from freshman Macy Brabham of Brookhaven and sophomore Marlee Parkes of Nanih Waiya drove in two runs, and sophomore Shelby Walters of Northwest Rankin followed with a double to score two more runs. Parkes singled in another run in the fourth for the final 5-0 win.
EMCC started quickly in game two. The Lady Lions took a 6-2 lead after three innings thanks in part to four East Central errors. The Lady Warriors' two runs in the bottom of the first inning came off a triple from sophomore Kayla Beckham out of Neshoba Central and a sacrifice fly from sophomore Eva Scott (Burleson, Texas, Centennial).
East Mississippi took at 7-3 lead into the bottom of the sixth when the Lady Warriors loaded the bases for Beckham, who drilled a grand slam to tie the game 7-7. Neither team was able to score again until the top of the ninth when EMCC pushed three runs across the plate for the 10-7 win.
East Central's other run in the game came on a Walters' double in the fourth inning.
East Central will host Meridian Community College in a doubleheader beginning at 3 p.m. on Tuesday, March 6, before traveling to Fulton on Friday, March 9, to face Itawamba Community College at 2 p.m. and 4 p.m.
The Lady Warriors will face No. 11 ranked Lansing Community College (Mich.) at 9 a.m. on Sunday, March 11, in the Jones County Junior College Invitational in Ellisville.
Most home softball games can be heard on WKOZ Cruisin 98.3 or via audio stream and live stream video at www.eccc.edu/eccc-media.