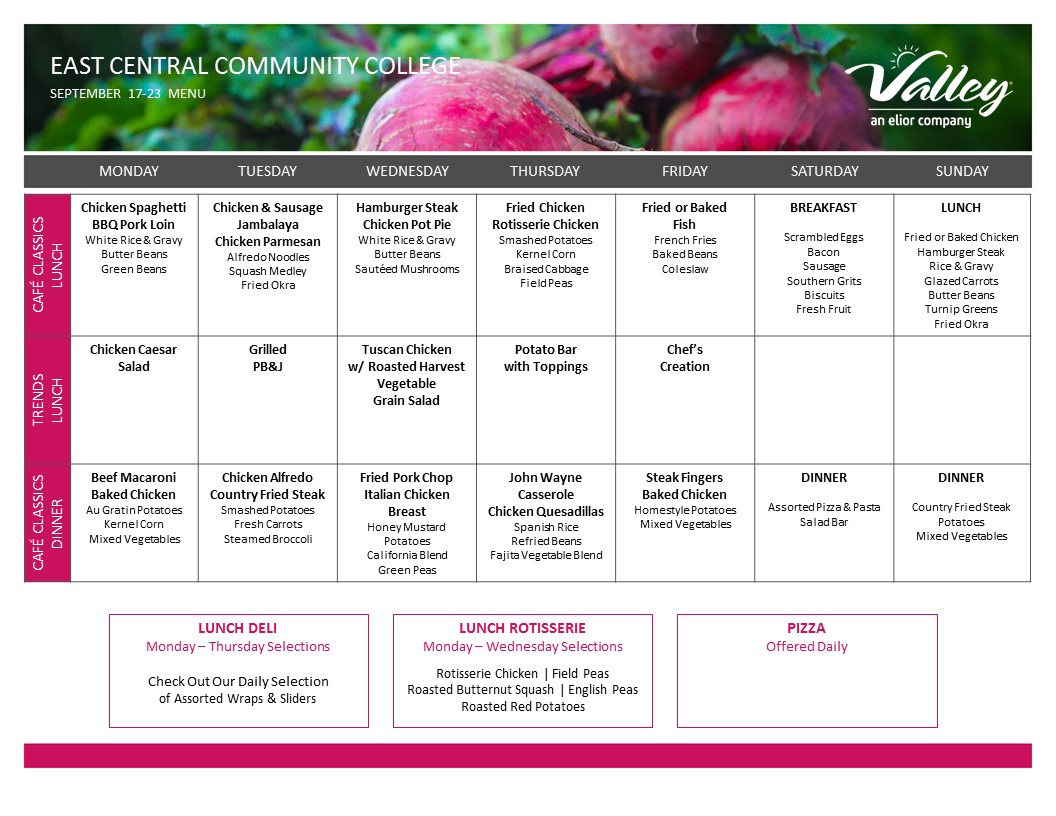 University Day Sept. 20
The annual University Day college fair for sophomores will be on Thursday, Sept. 20, from 11 a.m. to 1 p.m. in the East Mall area outside Mabry Cafeteria. All area private and public colleges and universities will be present.
Creighton Holder Recital
The EC Cultural Arts Series presents Creighton Holder, pianist, in concert Tuesday, Sept. 18, at 2:25 p.m. in the Vickers Fine Arts Auditorium. This concert is free to the public.
Intensive Term II Deadlines
The last day to register for on-campus courses in the Fall 2018 Intensive Term II is Thursday, Oct. 4. Classes begin on Wednesday, Oct. 3. The last day to register for online courses in the Fall 2018 Intensive Term II is Tuesday, Oct. 16. Classes begin Monday, Oct. 15.
Fall Graduation Application Deadline
Students who are planning to receive a diploma and/or certificate this fall semester, must fill out a graduation application. Applications will be accepted through 4 p.m., Oct. 26, 2018. No applications will be accepted after that date. The application should be completed online using myEC. An Application for Graduation is required even if you do not plan to walk at Commencement next May.
The Old Capitol Exhibit
The Burton Library is hosting Mississippi's Greatest Treasure: The Old Capitol exhibit through Sept. 28. Consisting of nine panels, the exhibit features photographs and text that highlight the history of the Old Capitol historic landmark in downtown Jackson. The building served as the state capitol from 1839 to 1903 and witnessed the passage of important legislation, rousing speeches, and visits from influential statesmen. In the early 1900s, it was transformed into a state office building and after a 1961 restoration it became the official state history museum. The Burton Library is open from 7:30 a.m. to 9 p.m. Mondays through Thursdays, 7:30 a.m. to 3 p.m. Fridays, and 6 p.m. to 8:30 p.m. Sundays. The exhibit is free and open to the public.
Constitution Day Lecture
Clay Williams, former director of the Old Capitol Museum in Jackson, will present a Constitution Day lecture at 4:30 p.m. on Monday, Sept. 17, in the Vickers Fine Arts Center auditorium. He will talk about the Old Capitol building, its architecture, the political events that took place and the constitutions written there. A reception will follow from 5 to 6 p.m. in the Burton Library.
College Republicans Meeting
If you are interested in joining the College Republicans, please contact William Yount, adjunct instructor in government and philosophy, at wyount@eccc.edu. This is an opportunity to learn more about politics at the local level as well as meet some of the political leaders in central Mississippi and at the state level. There will also be opportunities for participation in political activities in east and central Mississippi. The first meeting of the year will be an "icebreaker" from 12:15 to 12:45 p.m. on Tuesday, Sept. 18, in Room 9 of Newton Hall, so you will have time for lunch. If you cannot attend but are interested, contact Mr. Yount.
Baseball/Softball Golf Scramble
The ECCC softball and baseball teams are hosting a 27-hole golf scramble tournament Saturday, Oct. 27, at the Decatur Country Club, with all proceeds going to support the two programs. The cost is $75 per team. Teams also may purchase four mulligans for $20 that may be used anytime during the 27 holes. Golfers may enter closest to the pin and longest drive contests for $5 each contest. Cash prizes will be awarded to the first through third place teams in each of the three flights. The tournament is limited to the first 36 paid teams, and the deadline to enter is Saturday, Oct. 20. Contact Eric Neel, ECCC head softball coach, at eneel@eccc.edu or 601-410-7141 for more information.
Phi Beta Lambda News
Phi Beta Lambda's September Meeting will be held Tuesday, Sept. 18, at 12:15 p.m. in Tucker, Room 203. This meeting is for members only as officers will be elected. Don't forget to bring your BBQ tickets; they are due at the meeting. Remember to visit the PBL website for more information: https://botferguson.weebly.com/.
Catholic Campus Ministries
Catholic Campus Ministries will meet Monday, Sept. 24, at 12:10 p.m. in the east lobby of Cross Hall. Officers will be elected. For more information, contact Gina Mowdy at 601-323-5079.
ECCC at High School Football
East Central student recruiters are attending high school football games again this fall to visit with prospective students, parents, and others interested in the college. If you are interested in representing ECCC at a game not covered or simply want to join the recruiters in their outreach efforts, please contact the Office of Student Services. Upcoming games include:
Thursday, Oct. 11 – Lake @ Scott Central – Sherrell Brown
Friday, Oct. 19 – Newton @ Union – Romonica Evans/Randall Lee
Homecoming 2018
The annual Homecoming celebration is Thursday, Oct. 4, when the football Warriors host Copiah-Lincoln at 6:30 p.m. in Bailey Stadium. More details are available at: https://www.eccc.edu/homecoming.
Upcoming Fall Sports Events
Football @ Pearl River
Thursday, Sept. 20, 6 p.m.
Poplarville
Baseball vs. Meridian (Scrimmage)
Friday, Sept. 21, Noon
Senatobia
Baseball @ Northwest (Scrimmage)
Friday, Sept. 21, 3 p.m.
Senatobia
Women's Soccer vs. Southwest
Friday, Sept. 21, 5 p.m.
Bailey Stadium
Men's Soccer vs. Southwest
Friday, Sept. 21, 7 p.m.
Bailey Stadium
Women's Soccer vs. LSU-Eunice
Tuesday, Sept. 25, 2 p.m.
Campus
Men's Soccer vs. Jones County
Wednesday, Sept. 26, 4 p.m.
Campus
Football vs. East Mississippi
Thursday, Sept. 27, 6:30 p.m.
Campus
Baseball vs. Jones County (Scrimmage)
Friday, Sept. 28, 11 a.m.
Campus
Baseball vs. Pearl River (Scrimmage)
Friday, Sept. 28, 6 p.m.
Campus
Women's Soccer vs. Gulf Coast
Friday, Sept. 28, 2 p.m.
Campus
Men's Soccer vs. Gulf Coast
Friday, Sept. 28, 4 p.m.
Campus
Men's Tennis vs. Marion Military (Scrimmage)
Saturday, Sept. 29, 10 a.m.
Campus
Women's Tennis vs. Snead State (Scrimmage)
Saturday, Sept. 29, 1 p.m.
Campus