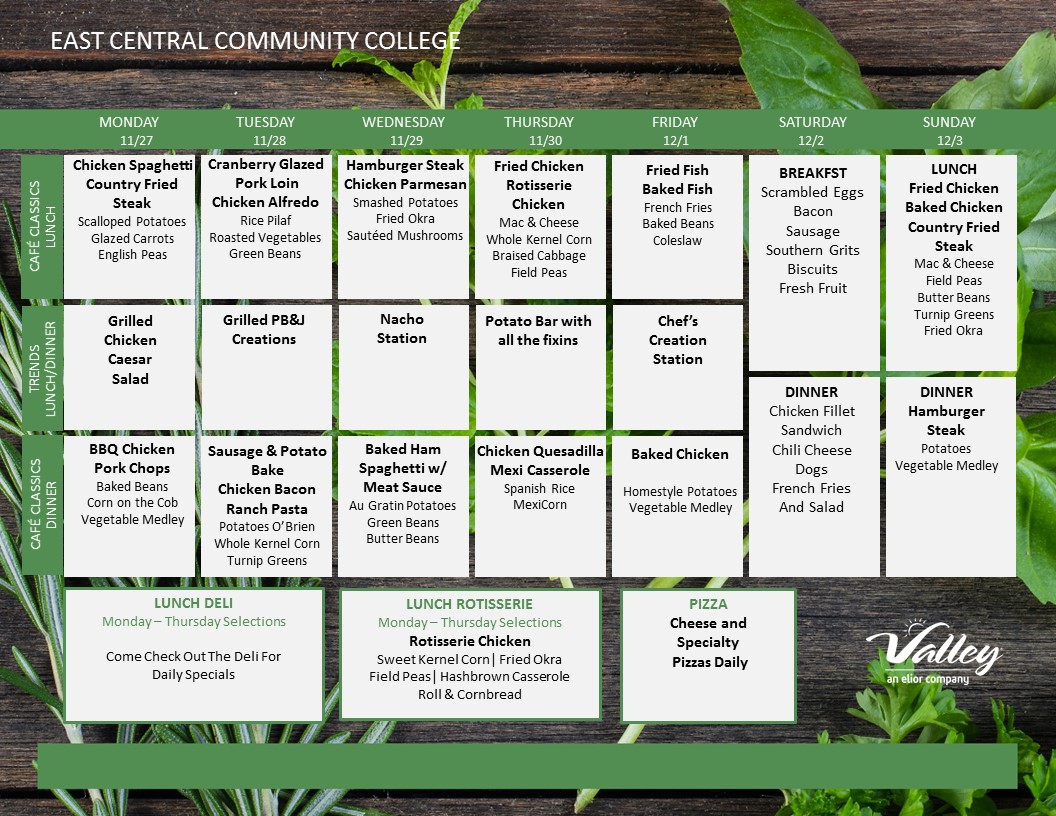 Spring Musical Auditions
Auditions for "The Little Mermaid" are Wednesday, Nov. 29, at 5 p.m. in Vickers Fine Arts Center Auditorium. Those auditioning are asked to prepare a short song to sing and must provide musical accompaniment. Please email jprice@eccc.edu with any questions.
Warrior Wonderland
Plans are underway for East Central's third Warrior Wonderland, set for Friday, Dec. 1, from 6:30 to 8:30 p.m., immediately following the Decatur Christmas Parade. The family fun event will include holiday music, photos with Santa, games and rides, movies, food and drink. The public is invited to attend!
PBL Meeting
The Phi Beta Lambda monthly meeting will be Tuesday, Nov. 28, at 12:10 p.m. in 203 Tucker. Remember to bring your donated items for the Care Lodge as Leslie Payne, Care Lodge director, will be our guest. This will be the chapter's Christmas Party with an ugly sweater contest. Please bring a covered dish. For more details see an adviser or officer.
Blood Drive Nov. 29-30
There will be a blood drive on campus from 9 a.m. to 2 p.m. Tuesday and Wednesday, Nov. 28-29, in the Bloodmobile behind Newton Hall. Blood donors will receive a free T-shirt while supplies last. To make an appointment, go to www.bloodhero.com and enter sponsor code: ECCC.
Zumba Class
Ms. Danni Keller will conduct a Zumba Class on Thursday, Nov. 30, from 4:45 to 5:45 p.m. in the Group Fitness Room of the Wellness Center. The cost is $5. This is offered on a trial basis and could be continued in the spring if there is enough interest. Zumba involves mixing low-intensity and high-intensity moves for an interval-style, calorie-burning dance fitness activity.
Wall O' Sound Parade Schedule
The Wall O' Sound Marching Band will march in three Christmas parades this year.
Carthage Christmas Parade, Thursday, Nov. 30, 6 p.m.
Decatur Christmas Parade, Friday, Dec. 1, 6 p.m.
Union Christmas Parade, Saturday, Dec. 2, 6 p.m.
The band will also march in the Martin Luther King Jr. Parade in Philadelphia on Saturday, Jan. 13, 2018, at 11 a.m.
Catholic Campus Ministries Give-a-Way
Catholic Campus Ministries will be giving away two Christmas baskets at Warrior Wonderland, Dec. 1. A $1 donation gets your name in the drawing. The baskets will be out on display in Communications in Newton Hall this week.
Financial Aid Offers FAFSA Help
The Office of Financial Aid now has a FAFSA intern who will be in the office every Friday to assist students with completing the FAFSA application. No appointment necessary and the service is free.
Wanted: Runners!
The Warrior Walking Club is now the Warrior Running/Walking Club, and we are looking for any interested runners! The club is part of Warrior Wellness, a campus and community wellness initiative in partnership with Blue Cross & Blue Shield of Mississippi Foundation. Anyone can participate and there are no fees or requirements. Just enjoy running (or walking)! ECCC student Daniel Wall is looking for runners who want to run with him or start their own running group, depending on the time of day you wish to run. You can contact Daniel at dan1398w@gmail.com or 601-698-4949. There is additional information on the Warrior Wellness website at www.eccc.edu/warrior-wellness, including a form to log your running and walking miles.
Intramural Softball Signups
Students, intramural softball signup sheets are in Dr. Amanda Walton's office on the bottom floor of the Student Union Building. You can stop by anytime to pick one up.
Upcoming Sports Events
Women's Basketball vs. Southwest
Monday, Dec. 4, 5:30 p.m.
Campus
Men's Basketball vs. Southwest
Monday, Dec. 4, 5:30 p.m.
Campus
Women's Basketball vs. Coastal Alabama-South
Monday, Dec. 11, 5:30 p.m.
Campus
Men's Basketball vs. Coastal Alabama-South
Monday, Dec. 11, 7:30 p.m.
Campus