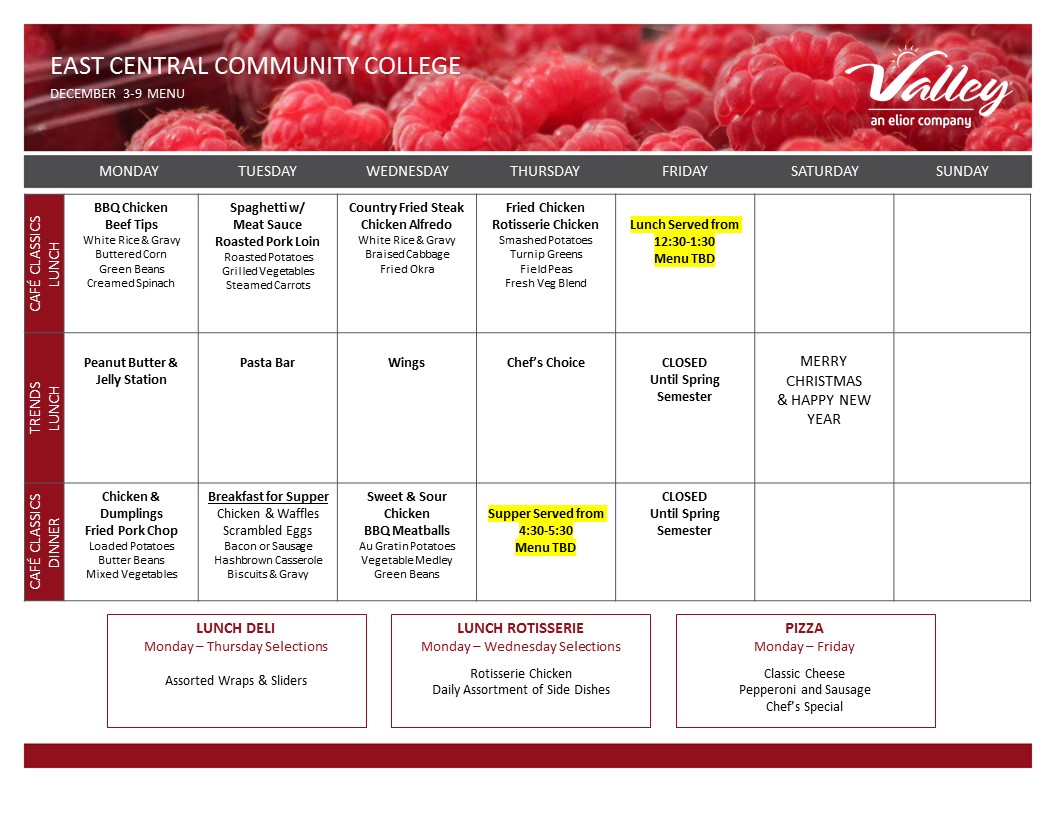 Spring 2019 General Staff Meeting - Jan. 2
There will be a General Staff Meeting for all full-time ECCC faculty and staff on Wednesday, Jan. 2, from 9 a.m. to Noon in the Vickers Fine Arts Center Auditorium. Lunch will be provided by the college in Mabry Cafeteria following the meeting. ECCC President Dr. Billy Stewart and the vice presidents will provide information on topics of importance to the campus community. In addition, a representative of the college's cafeteria plan will be available to provide information on supplemental insurance and other products available through the college's cafeteria plan. Please note that some offices on campus will be required to remain open during the morning of Wednesday, Jan. 2. The vice presidents will work with their respective areas to determine staffing needs.
Weekly EC News
The next Weekly EC News will be published on Monday morning, Jan. 7, 2019.
Spring Musical Auditions Jan. 8
Musical auditions for "Freaky Friday" are Jan. 8, 2019, at 6 p.m. in Vickers Fine Arts Center Auditorium. Those auditioning need to be prepared to sing a song, preferably one from the show, with musical accompaniment. Any questions please email jprice@eccc.edu.
Book Buy-Back
The ECCC Bookstore will be buying back books Dec. 3-6 from 7:30 a.m. to 4 p.m. daily. You must have your student ID card to sell back books, and you must sell back your own books. No one can do this for you.
Hall of Fame Nominations Due Jan. 18
Nominations for the 2018-2019 East Central Community College Student Hall of Fame are due by Noon on Friday, Jan. 18, 2019. To be named to the Hall of Fame is the highest honor a student can receive at the college. College administration, faculty, staff, and currently enrolled students may nominate a deserving student for consideration. College policy states only college sophomores eligible for graduation may be selected for this honor. Those selected shall be students who: (1) will have completed requirements for graduation at the end of the 2018 fall semester; or (2) are second-semester sophomores who have completed at least 42 hours of college work and will be eligible for graduation in May 2019. Academic, technical, and career students in two-year programs are eligible for selection. The basis for selection is as follows: exemplary character, superior scholarship, worthy leadership, and contribution(s) to the betterment of ECCC. A separate nomination form should be completed for each student you wish to nominate. The nomination form may be accessed on and submitted from the college's website at the following address:
https://www.eccc.edu/hall-of-fame-nomination-form
Christmas Holidays
East Central Community College will be closed from Dec. 12, 2018, to Jan. 1, 2019, for Christmas Holidays. The college will reopen on Tuesday, Jan. 2.
Warrior Wonderland Dec. 7
Four new rides and games will highlight the 2018 edition of Warrior Wonderland scheduled Friday, Dec. 7, on the front lawn of campus and the Cross Hall parking lot. REMINDER: All vehicles should be moved from Cross Hall parking lot by Thursday evening. The special celebration of Christmas will begin immediately following the Decatur Christmas Parade, about 6:30 p.m., and conclude by 8:30 p.m. Following the parade, activities will kick off with a fireworks display and visitors will have a variety of activities from which to choose. A $5 armband will provide unlimited access to a train ride, laser tag, and four new rides and games including Human Foosball, Hippo Chow Down, Meltdown and Wrecking Ball. The Mississippi National Guard will once again partner with the college and provide a gaming trailer, football toss, punch machine and a new dodge archery game. There will be a Selfies with Santa station, a Mississippi National Guard Avenger military vehicle that guests can maneuver, and various specialty, food, and drink booths sponsored by ECCC student organizations.
UPS Drop Box Now Available on Campus
UPS (United Parcel Service) has added a drop box on campus located on North 8th Avenue on the backside of the Smith Student Union Building. The drop box is accessible 24 hours a day, seven days a week and will accommodate packages a maximum size of 16 inches x 13 inches x 3 inches. UPS shipping containers that will fit the drop box are available in the ECCC Bookstore during normal hours of operation.
Don't Forget to Register for Spring Classes
Registration for 2019 spring semester classes continues. Current students who have not registered need to do so as soon as possible. Day and evening classes begin on Monday, Jan. 7, 2019. The last day to register is Jan. 8. Online courses begin Tuesday, Jan. 22. The last day to register for online classes is Wednesday, Jan. 23.
Toys for Tots
The Career & Technical Education division is again spearheading the Toys for Tots drive. Over the years, ECCC has contributed an average of 500 toys a year that are distributed by the United States Marine Corps Reserve. Please share the love this Christmas season by donating a new, unwrapped toy by Dec. 5. Drop-off locations are the Tucker Center, Communications (in Newton Hall), and Brackeen-Wood Gym.
Attention Student Loan Borrowers
If you have received a subsidized, unsubsidized, or PLUS loan under the Direct Loan Program or the FFEL Program, you must complete exit counseling each time you:
Drop below half-time enrollment
Graduate
Do Not return the following semester
Exit counseling provides important information to prepare you to repay your federal student loan(s). The entire counseling process must be completed in a single session. Most people complete counseling in 20-30 minutes. You will need:
Verified FSA ID
Details on your income, financial aid, and living expenses
Names, addresses, e-mail addresses, and phone numbers for references
The following link will take you directly to the federal loans webpage and then proceed by clicking on Exit Counseling: https://studentloans.gov. If you have any questions, please feel free to come by or call the Financial Aid Office at 601-635-6326.
Grades and Financial Aid
Students, your grades do affect your financial aid eligibility.
Grants and Loans: Grades and hours attempted may cause you to be on financial aid warning or suspension. Please review the student Satisfactory Academic Progress (SAP) Policy. If you fail to meet the guidelines, you will receive a letter from the Financial Aid Office with more information.
Scholarships: Some scholarships have stipulations regarding a student's GPA. You may lose your scholarship if the criteria are not met.
If you have any questions or concerns, please contact the Financial Aid Office.
Upcoming Sports Events
Women's Basketball @ Gulf Coast
Monday, Dec. 3, 5:30 p.m.
Perkinston
Men's Basketball @ Gulf Coast
Monday, Dec. 3, 7:30 p.m.
Perkinston
Women's Basketball @ Coahoma
Saturday, Dec. 8, 4 p.m.
Clarksdale
Men's Basketball @ Coahoma
Saturday, Dec. 8, 6 p.m.
Clarksdale
Women's Basketball @ Delgado (La.)
Thursday, Dec. 13, 5:30 p.m.
New Orleans, La.
Men's Basketball @ Delgado (La.)
Thursday, Dec. 13, 7:30 p.m.
New Orleans, La.