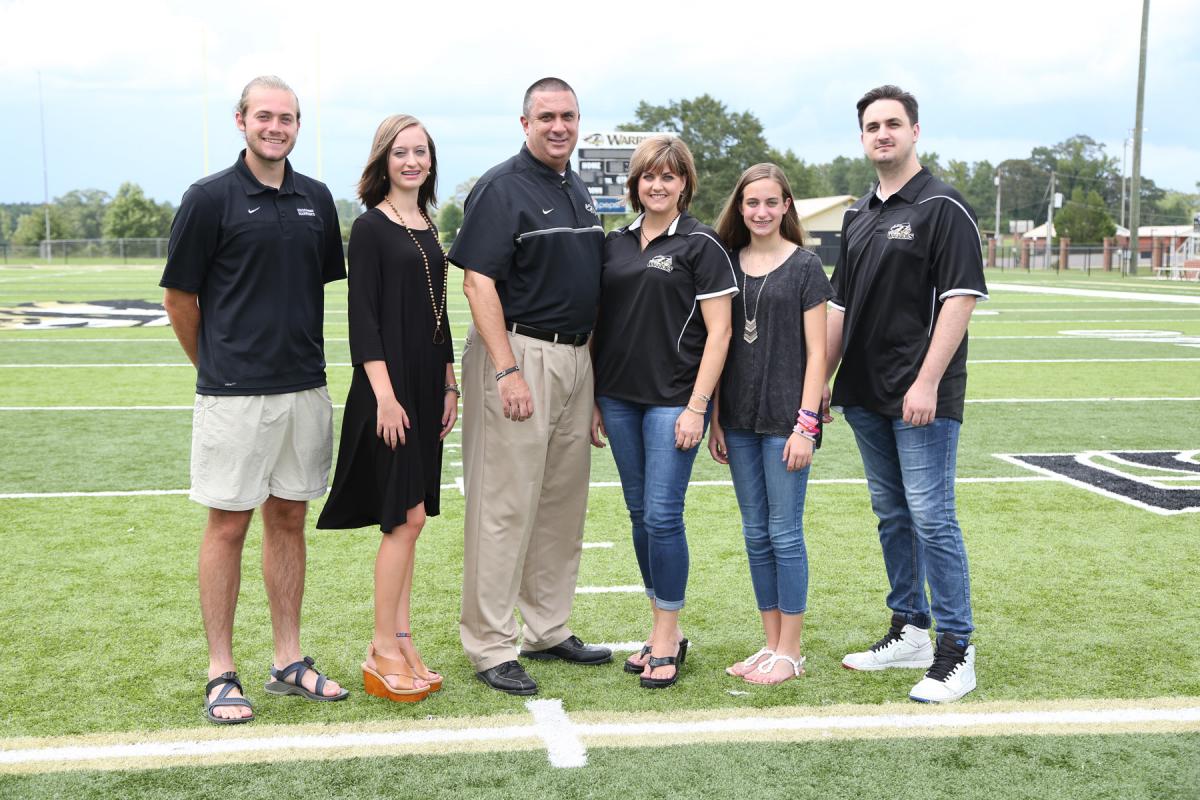 Dr. Billy W. Stewart was named the eighth president of East Central Community College (ECCC) effective July 1, 2012.  A native of Pearl, Mississippi, Dr. Stewart earned his Bachelor of Science degree in History and his Masters of Education degree in Curriculum and Instruction from the University of Southern Mississippi.  While an undergraduate student at Southern Miss, he was a member of the President's Cabinet, was voted Mr. University of Southern Mississippi by his peers, and was selected for inclusion in the University of Southern Mississippi Hall of Fame. He earned his Ph.D. in Higher Education Administration from Mississippi State University in 1997. Throughout his degree programs at both the University of Southern Mississippi and Mississippi State University, he maintained a 4.0 GPA.
While at East Central, Dr. Stewart initiated a strategic planning process to shape and guide the future of the institution. As a result, 2020 Vision was adopted in February 2013 and includes a long-term desire to be nationally recognized and locally preferred while meeting the educational and training needs of all residents of the college district.
In April 2019, he received the Phi Theta Kappa Honor Society's Shirley B. Gordon Award of Distinction during the society's annual convention in Orlando, Fla. PTK's Shirley B. Gordon Award is presented to college presidents who have shown strong support of student success on their campuses by recognizing academic achievement, leadership, and service among high-achieving students. Dr. Stewart was nominated for the award by student members of East Central's Theta Xi Chapter of PTK. The Shirley B. Gordon Award is Phi Theta Kappa's most prestigious award for community college presidents.
Dr. Stewart began his professional career in education at the University of Southern Mississippi where he served as a Field Representative for the Alumni Association. Following his tenure at Southern Miss, he served as a History Instructor and Assistant Girls' Basketball Coach at Pearl High School in Pearl, Mississippi. Following a two-year stint in the classroom, he was named Assistant Principal for Discipline at Pearl High School.  With a desire to expand his knowledge in educational leadership, he accepted a position as a Graduate Research Assistant in the Department of Educational Leadership at Mississippi State University and served there for three years while earning his doctorate in Higher Education Administration with an emphasis in Community College Leadership. 
  
After earning his Ph.D. in Higher Education Administration, Dr. Stewart served Copiah-Lincoln Community College located in Wesson, Mississippi, as Dean of Community Services and then Dean of the Simpson County Center. While at Copiah-Lincoln, Dr. Stewart was inducted as an honorary member of the Phi Theta Kappa International Honor Society, selected as a recipient of the National Institute for Staff and Organizational Development (NISOD) Excellence in Education Award, and completed the Mississippi Community College Fellowship Program for aspiring community college leaders. 
 
Prior to being named president of ECCC, Dr. Stewart served Mississippi Gulf Coast Community College (MGCCC) as Vice President for Administration and Finance. While at MGCCC, Dr. Stewart served as Chief Operating and Financial Officer for the college's four comprehensive campuses and four centers and administered annual budgets in excess of $100 million. He also served as Chief Personnel Officer for the college with an annual payroll in excess of $48 million. Dr. Stewart had several noted accomplishments while serving MGCCC. He:
Organized the college's Administrative Handbook and Personnel Manual into one new Policies and Procedures Manual making the document user-friendly and placed it on the college website as a searchable document for access by all college employees;
Reorganized the by-laws of the MGCCC Board of Trustees;
Implemented a college-wide, electronic inventory control system utilizing bar codes and scanners;
Led efforts to upgrade the college's network infrastructure and telephonic systems using a $2 million investment of local capital funds;
Recommended and led a 3-year plan to phase-in a technology standard in every classroom to assist with quality instruction and student success as well as installation of wireless access points at all college campuses/centers; and
Coordinated efforts of Human Resources and Information Technology to implement a paperless payroll reporting system.
While at Mississippi Gulf Coast Community College, Dr. Stewart was named Administrator of the Year on two different occasions.  
Dr. Stewart, a graduate of the Executive Leadership Institute (ELI) sponsored by the League for Innovation in the Community College, plays an active part in his community by serving his church and other local charitable organizations. 
Dr. Stewart has been married to the former Stephanie Morris of Columbia, Mississippi, for twenty-seven (27) years, and they reside on the ECCC campus.  Billy and Stephanie are the proud parents of Stephen (ECCC Class of 2016), who is married to the former Louise Berryhill (ECCC Class of 2016); Will (ECCC Class of 2017 and a senior at Mississippi State University); Elizabeth (a sophomore at William Carey University); and Emily (a junior at Newton County High School). Stephanie is currently serving as an 8th grade English teacher at Newton County Middle School.