August 28, 2017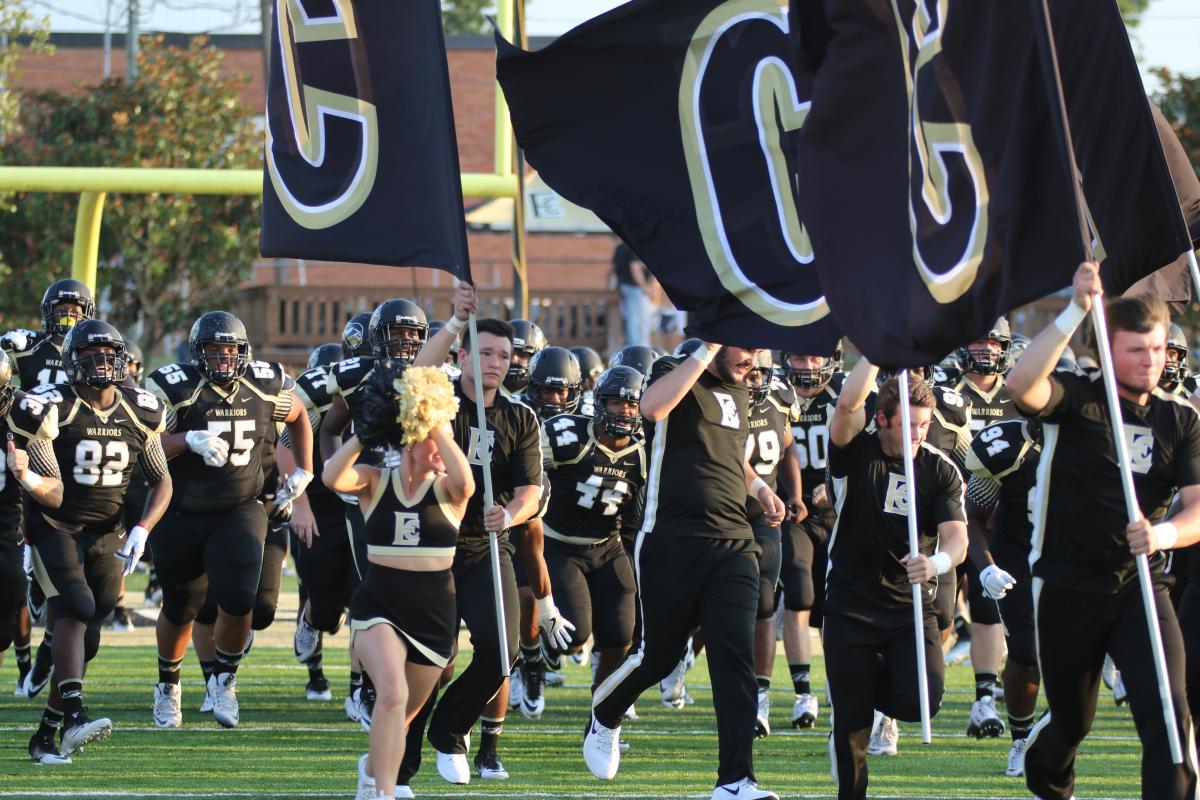 In anticipation of its 2017 home football opener Sept. 14, East Central Community College is announcing several changes in an effort to provide a safer and more enjoyable game-day experience for Warrior fans.
ECCC's home opener against Pearl River Community College on Thursday, Sept. 14, will kick off at 6:30 p.m. at Bailey Stadium on the Decatur campus.
Among the football game-day updates for 2017 include:
Due to concerns regarding life safety issues, parking will no longer be allowed inside the fence at the south end of Bailey Stadium.
The south end of Bailey Stadium as well as the deck formerly used for Warrior Club tailgating will be outfitted with picnic tables, tents, and umbrellas to provide a social gathering and tailgating area for fans.
In lieu of a college-sponsored tailgate, the college's SkillsUSA student organization will once again operate a concession stand with hamburgers, sausage dogs, chicken strips, French fries, chips, candy, popcorn, peanuts, and drinks for fans to purchase, and the college's Environmental Club will sell sno-cones.
Several parking spaces for fans with accessible parking permits will be available just outside the main entrance to Bailey Stadium. These will be designated using orange traffic cones and accessible parking signs.
Game-day parking will be allowed in all paved parking lots on the ECCC campus. Parking will not be allowed on grass areas this fall. In addition, two college golf carts will operate before and after the game to help those who require assistance getting from parking lots to the entrance gate and then back to the parking lots.
To make access to the game more efficient, ECCC students with a current student ID will now enter through the gate at the far right of the main Bailey Stadium entrance, closest to Brackeen-Wood Gymnasium where the football team and band enter. This pass gate will be for entrance to the stadium only. Exiting will be through the main stadium entrance.
ECCC faculty and staff with a current employee ID badge, and those with Mississippi Association of Community and Junior Colleges, President's Guest, or Media passes will enter through the gate to the left of the main entrance, closest to the concession stand. This pass gate will be for entrance to the stadium only. Exiting will be through the main stadium entrance.
All other fans will enter at the two main ticket windows at the main entrance to Bailey Stadium.
Signage will be in place to assist with all enhancements, and East Central personnel will be visible and accessible until Warrior fans become familiar with these changes.
"Our goal with these enhancements is to ensure visitors to East Central Community College have a safe and enjoyable football game-day experience on our campus," said ECCC President Dr. Billy Stewart in announcing the updates.
"Allowing vehicles to park inside our stadium fence had become a life safety issues for our fans, including the many children who congregate to play in this area. However, eliminating parking in this area is also allowing us to create a social space for all fans to enjoy. I hope Warrior fans will come early and enjoy the concessions provided by our SkillsUSA students and advisors and take advantage of the new social opportunities at the picnic tables and tents."
Stewart added that the college hopes to continue to improve the football game-day experience in the future, including the option to purchase portable chairback seating, among other enhancements.
The East Central Warriors will open the 2017 football season on the road, beginning with Holmes Community College Thursday, Aug. 31, in Goodman at 6:30 p.m. and Northeast Mississippi Community College Thursday, Sept. 7, in Booneville, also at 6:30 p.m.
Other home football games at Bailey Stadium in Decatur in 2017 include Sept. 21 against Copiah-Lincoln, which is Black Out Bailey night and also Be Our Guest night where all high school students are admitted free; Oct. 19 against Northwest Mississippi Community College, which is the 2017 Homecoming for East Central; and the season finale Oct. 26 against Southwest Mississippi Community College. Kickoff for all home games is 6:30 p.m.
Admission to Warrior football games is $10 for adults and $5 for ages 18 and under.
Schedules and news for all 10 ECCC varsity sports teams are available online at www.ecccathletics.com.
All East Central Community College football games in 2017 can be heard on WKOZ "Cruisin" 98.3. The audio, as well as live stream video for all home games, will be streamed online at www.eccc.edu/eccc-media and at www.kicks96news.com