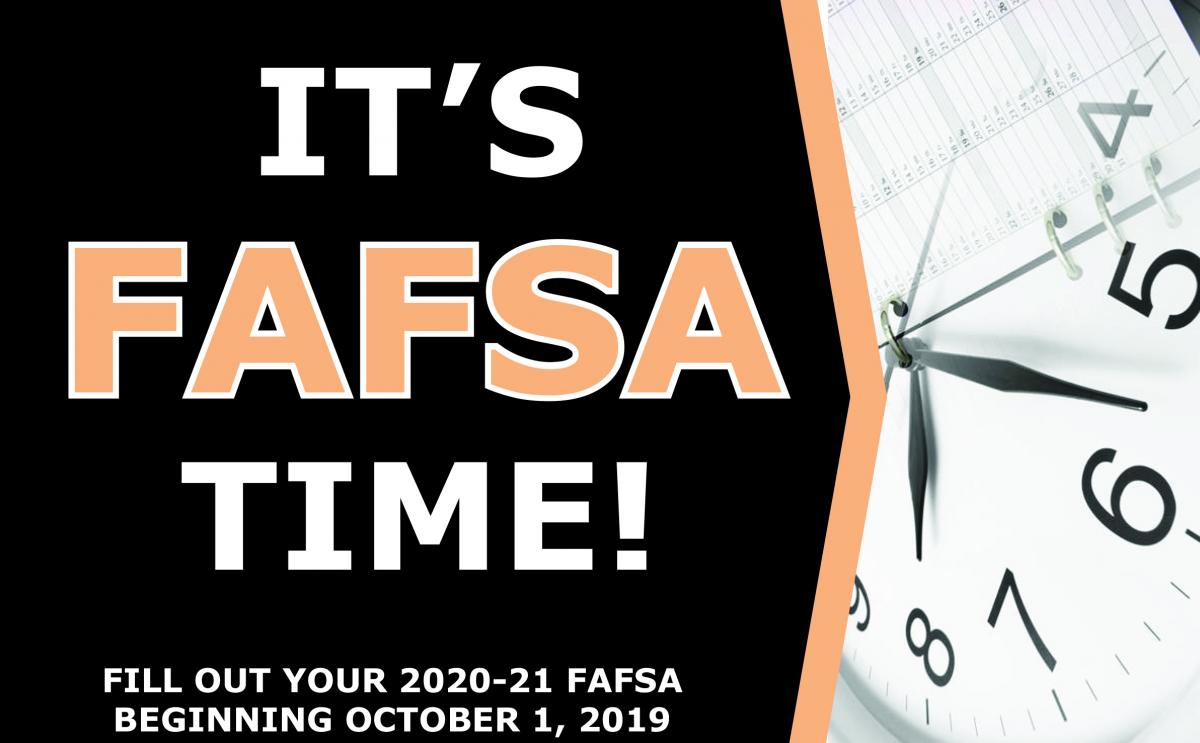 Click HERE or on the image above for more information on filing your FAFSA for the 2020-21 school year.
---
The Financial Aid office at East Central Community College strives to assist students in their efforts to obtain resources to fund their education goals through federal, state, and institutional aid.  
Awarding financial aid is a process and does takes time, so please start right away!  Submitting a FAFSA (Free Application for Federal Student Aid) is the first step in determining eligibility for federal aid.  We have computers and personnel available in the Financial Aid office to help students with the application process, so feel free to stop by.
Apply for Financial Aid 
As of October 1, 2018, there are now two FAFSA applications available, a 2018-19 application and a 2019-20 application. Please refer to the chart below to know which FAFSA application you should complete.  
When is the Student Attending College?

(School Year)

When Can a Student Submit a FAFSA?
Which Year's Income and Tax Information is Required?
Which FAFSA Application Should the Student Fill Out?

July 1, 2019 to
June 30, 2020

October 1, 2018 to
June 30, 2020
2017
2019-20

July 1, 2020 to
June 30, 2021

October 1, 2019 to
June 30, 2021
2018
2020-21
Remember, you MUST apply each academic year and now is the time to apply for next fall and spring! All students who are planning to attend college in 2020-2021 must complete the financial aid application process as soon as possible after October 1.  
RETURNING STUDENTS must reapply for financial aid each academic year.
*FAFSA (Free Application for Federal Student Aid):  Grants, work-study, loans and other programs require this application.  Apply online at www.fafsa.ed.gov. (Be sure to list ECCC's school code (002404).  Be AWARE of scam websites that try to charge a fee for filling out the application. The FAFSA is ALWAYS FREE!
*Mississippi Application for Financial Aid:  MTAG, MESG, HELP and other state-funded programs require this application. Apply online at www.mississippi.edu/financialaid
 If you have any questions about financial aid, please contact our office at 601-635-6218. The office is open 8 a.m. to 4:30 p.m. Monday-Thursday and 8 a.m. to 4 p.m. on Friday.
---
FINANCIAL AID PRIORITY DATE IS APRIL 1!
THE SOONER YOU COMPLETE YOUR FAFSA, THE BETTER. The application is available now at www.fafsa.gov. Students who complete their FAFSA by the priority deadline of April 1 with East Central's school code will be reviewed and processed first and should be awarded before the first day of school as long as the following requirements have been met: you are registered for classes, have met all Admissions requirements, and have submitted all verification documents, as needed, to Financial Aid.