Business, Educaton, and Healthcare Expo
April 3, 2019
To receive a registration form by mail for the Business, Education and Healthcare Expo please complete the form below. Fields marked wtih * are required.
CAREER & TECHNICAL EDUCATION NEWS
SkillsUSA State Conference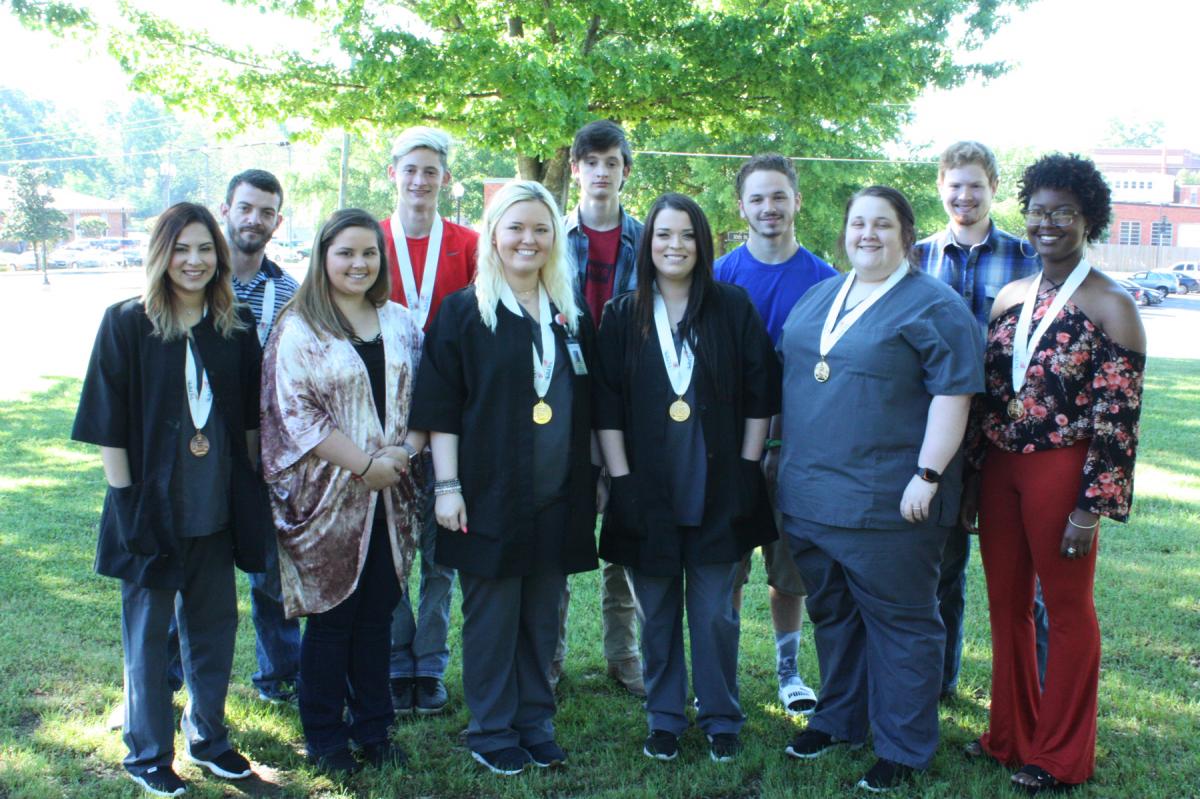 Numerous East Central Community College career and technical students took top honors in the Mississippi SkillsUSA state competition held in Spring 2019 in Jackson. Those receiving first place honors will represent Mississippi and compete at the National Skills and Leadership Conference in Louisville, Ky., in June 2019.
First Place:
Promotional Bulletin Board Team—Miriam Sanchez of Forest, Karley Andrews of Decatur, and Klaire Shirley of Quitman
State Pin Design—Ashley Clark of Philadelphia
Industrial Motor Control—Jeremy Seibel of Lawrence
Action Skills—Abbie Stewart of Louisville
Carpentry—Andrew Wofford of Conehatta
Cabinetmaking—James Fayette of Little Rock
Collision Repair—Dalton Fayette of Little Rock
Auto Refinishing—Preston Grice of Louisville
Restaurant Service—Grace Myers of Decatur (did not qualify for nationals)
Second Place:
Opening and Closing Team—Tot'Tiana Norman of Newton, Erika Harrell of Morton, Ty'keshia Fulton and Wynesha Donald, both of Forest, Iyanla Lampley of Philadelphia, and Skyler Bell of Choctaw
Auto Service—Spencer Swink of Forest
Third Place:
Early Childhood—Sarah Hollingsworth of Decatur
Job Interview—Ashton Sharp of Philadelphia
Phi Beta Lambda State Leadership Conference
ECCC's Theta Chi chapter of Phi Beta Lambda is the largest community college chapter in the nation,
and third largest among all two-year and four-year institutions!
Fourteen members of East Central Community College's Theta Chi Chapter of Phi Beta Lambda participated in the 2019 State Leadership Conference and all placed first in their respective events, which qualified them for national competition scheduled in June in San Antonio, Texas. The state conference was held at Mississippi University for Women in Columbus.
Theta Chi also received first place in raising funds for the March of Dimes, received Foundation Recognition and was recognized as a Gold Seal Chapter.
PBL State President and Rufus T. Jones Scholarship:
Justin Wilcher of Philadelphia
PBL Parliamentarian:
Hanna Stokes of Philadelphia
PBL Hall of Fame:
Samantha McMullan of Decatur
Jackie Cates of Newton
Nicole Ferguson of Philadelphia
Khalil Triplett of Philadelphia
Shelby Greenwood of Philadelphia
Sam Loper of Philadelphia
Justin Wilcher of Philadelphia
First Place:
Local Chapter Annual Business Report—Jerry Davidson of Philadelphia and Daniel Triplett of Preston
Business Sustainability—Caleb McGrew of Meridian
Computer Animation—Jerry Davidson of Philadelphia, Daniel Triplet of Preston, and James Van Fleet of Forest
Community Service—Lexi Rover of Little Rock and Tucker Cain of Carthage
Financial Services--Barbara Bobo, Sam Loper, and Justin Wilcher of Philadelphia
Parliamentary Procedures—Shelby Greenwood, Hanna Stokes, and Justin Wilcher of Philadelphia, Tucker Cain of Carthage, and Lexi Rover of Little Rock
Public Speaking—Beth Fortner of Port Gibson
Integrated Marketing Campaign—Shelby Greenwood and Hanna Stokes of Philadelphia
Social Media Campaign—Beth Fortner and Camilla Addy of Decatur
Strategic Analysis—Jacob Plaisance of Union, Camilla Addy of Decatur, and James Van Fleet of Forest