CAREER & TECHNICAL EDUCATION HAPPENINGS!
Phi Beta Lambda State Leadership Conference
Congratulations to the ECCC PBL members!  Theta Chi members clearly kept the EC's motto, "Excellence With Class" at the state leadership conference this week.  We had 20 students that competed in 21 events with winners in ALL 21 events.  Each PBL member placed 1st in at least one of his or her competitive events.  First place winners will compete at the national level in Atlanta, Georgia in June 2016.  
1st Place
Administrative Technology-Paxton Holmes
Business Ethics-Whitney Billings, Ben Pace and Alisha Savell
Business Presentations-CrisAnn Bryan, Katie Hillman and Morgan Cain
Client Service-Tyler Sistrunk
Community Service Project-Alely Cruz, Enoc Reynoso and Khalil Triplett
Computer Applications-Memry Thompson
Entrepreneurship Concepts-Morgan Cain
Hospitality Management-Enoc Reynoso and Anna Claire Housely
Integrated Marketing Campaign-Paxton Holmes, Memry Thompson, and Jennifer Watkins
Local Chapter Annual Business Report-CrisAnn Bryan
Microeconomics-Lane Wooten
Parliamentary Procedure-Ben Pace, Anna Claire Housely, Caleb Brown, Cody Stevens, and Madelon Taylor
Small Business Management Plan-Morgan Jones, Tyler Sistrunk and  Kimberly Watkins
2nd
Business Communications-Madelon Taylor
Financial Concepts-Khalil Triplett
Management Analysis and Decision Making-Alely Cruz and Jennifer Watkins
Public Speaking-Morgan Jones
3rd
Desktop Publishing-Whitney Billings and Alisha Savell
Economic Analysis and Decision Making-Caleb Brown, Katie Hillman and Kimberly Watkins
4th
Impromptu Speaking-Lane Wooten
Personal Finance-Cody Stevens
Chapter Recognition
Largest Chapter in Membership
Gold Seal Recognition
Foundation Recognition
Other Recognition
Outgoing Chapter Officer-Caleb Brown
Who's Who in PBL-Caleb Brown, CrisAnn Bryan, Kimberly Watkins, and Katie Hillman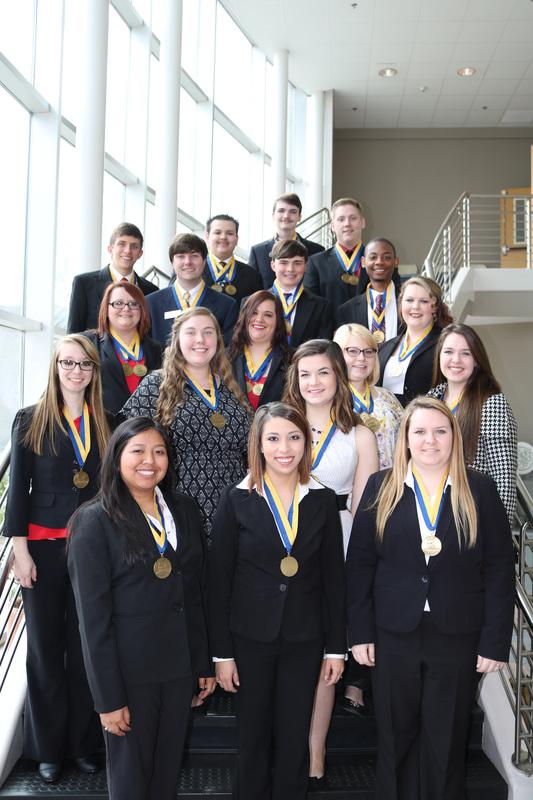 SkillsUSA State Competition
Congratulations to the ECCC SkillsUSA members that placed 1st, 2nd, or 3rd at the recent SkillsUSA State Competition held on March 1-2, 2016!  All 1st place winners will compete at the National SkillsUSA Competition to be held in Louisville, Kentucky, in June 2016! 
1st Place Winners
Technical Drafting - Jason Forrest
Industrial Motor Controls - Alan Graham
Heating, Ventilation & Air Conditioning - Ryan Hill
Restaurant Service - Enoc Reynoso
2nd Place Winners
Cabinetmaking - Josh Crutcher
Plumbing - Cody Hollingsworth
Carpentry - Ben McDaniel
Automotive Refinishing - Jordan Prisock
3rd Place Winners
Architectural Drafting - Lauren Copeland
Team Works - Hagen French, Jay Riser, Tyler Sullivan, Trace Wade
Electrical Construction Wiring - Eric Gunn
Job Interview - Amber Jamerson
CNC Truning - Samuel Kelly
CNC Milling - Bay White
Collision Repair - George Brown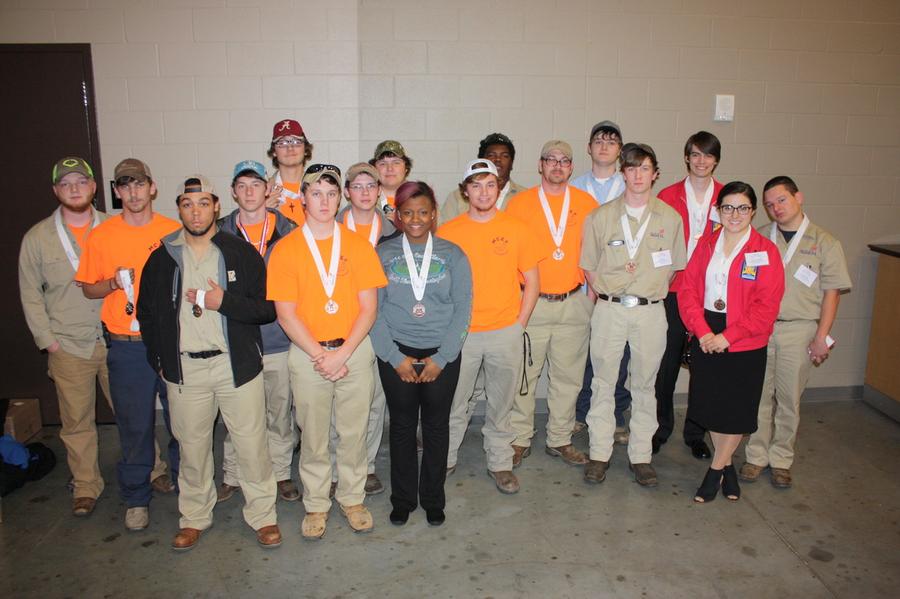 2016 Non-Traditional Gender Conference
for Female and Male Students
The Career & Technical Education Division recently hosted the 2016 Non-Traditional Gender Conference for Male and Female Students on the ECCC Campus.  Students from Newton County Career-Technical Center, Forest-Scott County Career-Technical Center and Philadelphia-Neshoba County Career-Technical Center attended the conference.   The Conference featured the following career-technical programs:  Automotive Mechanics, Business Technology, Collision Repair, Information Systems Technology, Drafting & Design, Electrical Technology,  Culinary Arts, Heating & A/C, Precision Machining, Residential Carpentry, Welding, Cosmetology, Early Childhood Education, Hotel & Restaurant Management, Paramedic Technology,  Nursing (RN & PN) and Surgical Technology.
Each year a drawing for two Non-Traditional Gender Scholarships is held at the conference for a male and female student.  The winner of the scholarship at the conference this year is Nequita Farmer from Philadelphia-Neshoba County Career-Technical Center and Ty Duran from Winston-Louisville Career-Technical Center. 
Upcoming Events in the 
Career & Technical Education Division
March 29, 2018 - Business, Education and Healthcare Expo
To receive a registration form by mail for the Business, Education and Healthcare Expo please complete the form below. Fields marked wtih * are required.