October 17, 2017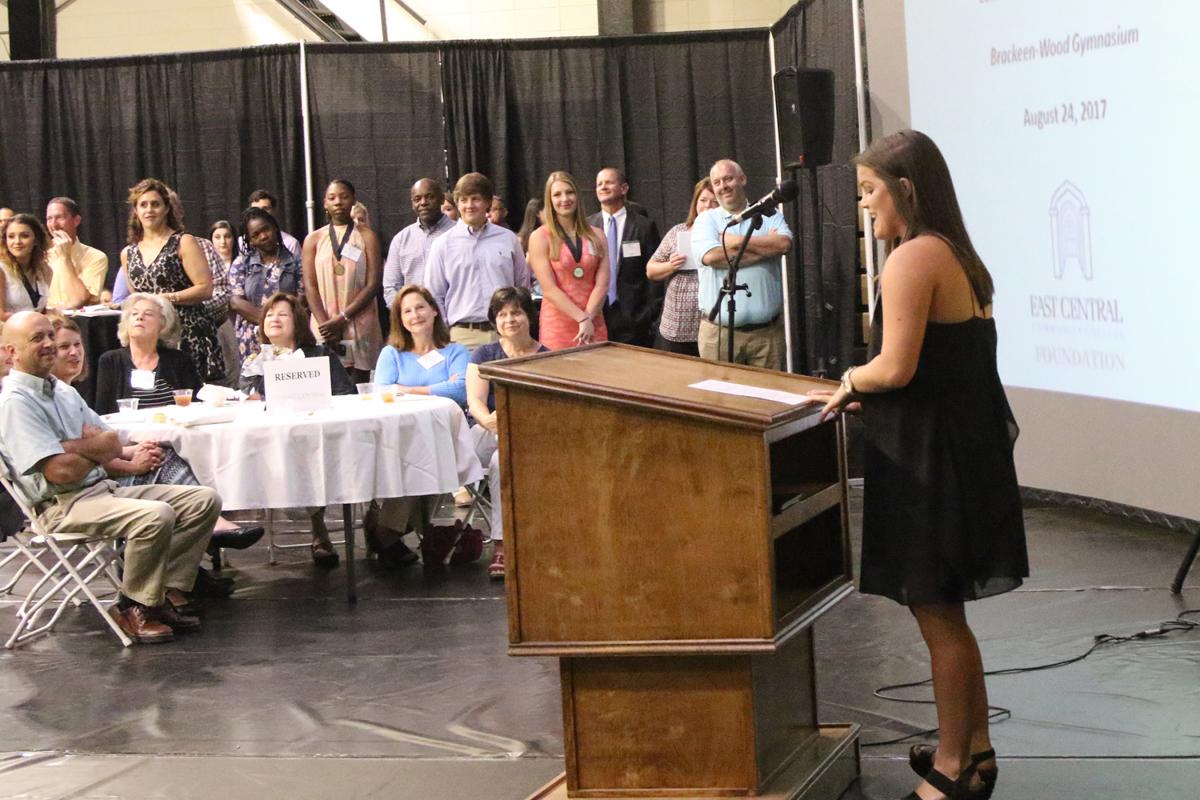 Scholarship recipient Marlee Parkes of Nanih Waiya speaks during the annual Scholarship Awards Reception. (EC Photo)
Numerous East Central Community College students were recipients of endowed and annual scholarships and were recognized during a reception held recently in the Brackeen-Wood Gymnasium on the Decatur campus.
A record 144 scholarships valued at $132,000 were presented during the 2017 event. Six new endowed scholarships and three new annual scholarships were funded this year.
David LeBlanc, director of alumni relations and the foundation, said, "The record number of Foundation scholarships awarded is a direct reflection on the wonderful generosity of our donors.  These individuals and corporate partners provide assistance to well-deserving students so they can continue their education at East Central."
Those interested in establishing a scholarship at the college may contact LeBlanc at dleblanc@eccc.edu or call 601-635-6327.
Recipients and their respective high schools and scholarships include:
Woody Vowell II of Choctaw County, Thomas Rudolph Mayes Memorial Scholarship;
Jordan Tadlock, Jeffrey G. and Kathy L. Hitt Memorial Scholarship; Claire Harris, Pleas Clayton and Amanda Breazeale Blount Memorial Scholarship; Marygrace Lee, Bank of Morton Scholarship and Jay B. and Frances Harris Smith Scholarship; Claire Lindsey, Wallace Strickland Rush Health Systems Endowed Scholarship; and Jaimee Poole, Bank of Morton Scholarship; all of East Rankin Academy
Julia Johnston of Florence, Shelby L. Harris Scholarship
Brittney Watkins, General William Patrick Wilson Memorial Scholarship; Chris Perez, James M. Vance Endowed Scholarship; De'Shay Reed, Mable Moore Carr Scholarship and Regina Gail Gibbs Rigby Scholarship; and Dylan Shoemaker, Polk and Jennie Pace Scholarship; all of Forest
Jordan Adcox, Bob Wilkerson Memorial Vo-Tech Scholarship; Eden Ware, Tony Dobbs Memorial Golf Scholarship; Trevor Alexander, Board of Trustees Scholarship; Ethan Alexander, Frances Aycock Johnson and Jo Ann Aycock Thomas Scholarship; Faith Curry, Albert and Fannie Mae Hollingsworth Scholarship; James Johnston III, Dan Harrison Rush Health Systems Endowed Scholarship; and NaDayjah Keeton, Youngblood Family Scholarship; all of Lake
Ashten Collier, Coach Ken Pouncey Memorial Scholarship; Lacey Hamilton, Kinoth and Ella Mae Thornton and Emerson Electric Scholarship; Reagan Harris, Eastside Pawn & Gun Scholarship; Zachary McKee, Larry B. Therrell Memorial Scholarship; Zack Nowell, Jack and Mary Jo White Scholarship; and Laurel Pope, SouthGroup Cox Scholarship; all of Leake Academy
Mason Brock, Jones and Carrie Williamson and Bascom and Hattie Chisolm Memorial Scholarship; Anna Burns, East Central Scholars Thomas Scholarship; Sydney Schmidt, SouthGroup Cox Scholarship; Chris Sharpe, Dr. Frank and Bobbie McPhail Bowen Scholarship; and Kalyn Smith, Square County Auctions Scholarship; all of Leake Central
Brandon Foster, Taylor Machine Works Machining Scholarship; and Haley Smith, Taylor Machine Works Machining Scholarship; both of Louisville
Kalen Brown, Sue Gunter Memorial Scholarship; and Ramiah Johnson, Ambeer Trest and Facundo Quevedo, all recipients of Bank of Morton Scholarships; all of Morton
Mackenzie Johnson, Landon Bryan Burt Memorial Scholarship; Marlee Parkes, Iris Pellegrene Boggan Scholarship; Dillon Reed, Ernest Harrison Bowsell Scholarship; Zach Boykin, Warrior Golf Classic Scholarship; Makinsie Clark, Dr. Beverly (Henry) Oliphant-Martin & John E. Martin Scholarship; Rylee Holdiness, Wilks-Palmer  Scholars Scholarship; William Kyle Jones, Taylor Machine Works Welding Scholarship; Colby Stanley, W. Clayton Blount Scholarship; Sarah Trosper, Arno and Ruth Carr Vincent Scholarship; and Savannah Watkins, Dr. Austin P. Boggan Scholarship; all of Nanih Waiya
Breann Nicholson, Thomas W. Thrash Memorial Scholarship; Jacinta Nonis, Lucille Wood Memorial Scholarship; Jacob Hudson, Hogue-Brantley Scholarship; Molli Alexander, Citizens Bank of Philadelphia Scholarship; Mason Bates, Randy and Nina Cleveland Pre-Engineering Scholarship; Anna Bowen, William Wade Long Memorial Scholarship; Joshua Burnett, Clyde and Flossie Goodson Scholarship; Drew Dorman, Dr. Howard Carlton McMillin Memorial Scholarship; Shelby Greenwood, Hubert D. Gilmore Scholarship; Hannah Hall, Ben Myers Memorial Scholarship; Taylor Harrison, East Central Scholars Alumni Scholarship; Haley Holland, Sam Rush Memorial Scholarship; Samuel Loper, Ben Myers Memorial Scholarship; Jack Lovorn, Sam Rush Memorial Scholarship; Camryn McCraw, Dan Chatwood Scholarship; Brian Ward, Prentice and Dorothy Copeland Scholarship; Dakota Bailey, Fred Preston Dallas & Maudie Threatt Dallas Memorial Scholarship; and Cameron Bennett, Taylor Machine Works Welding Scholarship; all of Neshoba Central    
Daneisha Fulton of Newton, Nancy Auline Hiett Harris Scholarship 
Niley Craven, Newton Rotary Club Scholarship; Zachary Kyzar, Kyle Dunkerson Memorial Scholarship; Bailey McDill, Newton Rotary Club Scholarship; and Bethany Wellerman, Friendship Breakfast Club Scholarship; all of Newton County Academy
Karley Andrews, Roscoe C. Pugh Memorial Scholarship; Sydney Baucum, Myrtle Hutchinson Scholarship and Richard L. Harris Scholarship; Makaeya Brock, Leon Eubanks Kaljyc-Peers Scholarship; Cain Cleveland, Martha Kate Tullos Hummel Scholarship; Summer Culpepper, Frances Brown Crenshaw Nursing Scholarship; Reagan Gorgas, Elton D. Wall Annual Scholarship; Kirbi Hurst, Derek Pouncey Memorial Scholarship; Kaylin McCree, Classes of 1957, 1958 and 1959 Scholarship; Jacob Mott, Dr. Beverly (Henry) Oliphant-Martin and John E. Martin Scholarship; Mallory Myers, Johnson-Taylor Memorial Scholarship; Laicon Partain, Alumni Association Lifetime Membership Scholarship; Larry Reed, Jr., Mississippi Automotive Manfacturer's Association Scholarship; John Mark Vincent, Ona Mae Ethridge Annual Scholarship; Matthew Addy, Johnson Family Engineering Scholarship; Christian Allen, Dustan Todd Memorial Scholarship; Haileigh Cleveland, Donald Gray Triplett Scholarship; Nathaniel Davis, Russell McCann Memorial Scholarship; Carley Dean, T.T. Beemon Scholarship; Allyson Hollingsworth, Paul V. and Voncile H. Breazeale Ministerial Scholarship; Hollie Horn, Dr. Conrad Barnes, Jr. Math and Science Scholarship; Madison Mann, BankPlus Scholarship; Zack McMullan, La-Z-Boy Scholarship; Ethan McMullan, Warrior Golf Classic Scholarship; Chloe Nance, Ruth Round Volunteer Scholarship; Sidney Porter II, James E. Land Memorial Scholarship; Alexis Rover, Pam Harris Memorial Scholarship; Robert Sanford III, Bobby Addy Memorial Scholarship; Daniel Wall, Willis W. (Bubba) Smith Memorial Scholarship; Reagan Brashear, Denver Brackeen Scholarship; and Jessica  Everett, Dr. Margaret Mosal Scholarship; all of Newton County High School    
Brandon Kugle of Noxapater, W.R. Covingston Scholarship
Peyton Penson, Mississippi Automotive Manfacturer's Association Scholarship; Khalil Triplett, Rev. John Lambert Neill Memorial Scholarship; Re'Undria Gilbert, Jacob Stovall Memorial Scholarship; Totyana King, Charles and Judy Dowdle Thomas Scholarship; Matthew Smith, Lavern and Elizabeth Vowell Memorial Scholarship; Courtney Smith, Nellie Neill Cross Memorial Scholarship; and Jonathon Hall, Robert G. Fick Scholarship; all of Philadelphia
Tyunna Odom, Elva Smith Sigrest Memorial Scholarship; Victoria Sanders, Class of 1964 Scholarship; Robyn Gilbert, Sylvia Ann Graham Haywood Scholarship; Lizbeth Martinez, Dr. L.B. and Dixie Adkins Family Scholarship; Takishia Lee, Ann Burkes PTK Scholarship; and Miriam Patrick, R.O. and Bertha Hannah Scholarship; all of Scott Central    
Destiny Carter, James and Gloria McRae Scholarship; and Christopher Bates, J.C. White Scholarship, both of Sebastopol
Andrew Bernard of Southeast Lauderdale, S. Lebrun Hutchison Scholarship
Kristen Kennedy, Aaron R. Davis Memorial Scholarship; Madeline LeBlanc, Pauline Matthews Memorial Scholarship; Hailey Morris, Dr. Earl L. Laird, Sr., Scholarship; Symone Cleveland, U.S. Electrical Motors Scholarship; Mikayla Figueroa, Ovid S. and Carol F. Vickers Scholarship; Hunter Little, Willis E. Blum and Frances Gaines Blum Slagle Memorial Scholarship; Ja'Quala Patrick, Jessica Cager Memorial Scholarship; Jacob Plaisance, La-Z-Boy Scholarship; and Dylan Smith, Albert P. and Blanche W. Thompson Scholarship; all of Union
Raymond Farlow, Sr., of West Kemper, New Directions Scholarship
Jason Newbaker of West Lauderdale, Weems Family Scholarship
Carley Puckett, Harvey and Martha Wheeler Pre-Pharmacy/Pre-Med Scholarship; Bailey Smith, Jessie M. and Bobbie Everett Scholarship; Tanner Belding, Hudspeth Scholarship; Madison Dempsey, Captain Charles E. Ward USN/RET Memorial Scholarship; Clark Graham, Dr. Vernon Clyde and Vashti Muse Endowed Scholarship; Marla Hudson, AT&T Scholarship; and Emily Morgan, Mississippi Land Bank Scholarship, all of Winston Academy
Kerry McInnerney of Lawrence E. Elkins High School (Missouri City, TX), Edwin and Marie Lowe Scholarship
Amanda Konya, a home schooled student from Carthage received the Shirley Renaud Memorial Scholarship  
Jeremy Seibel, a home schooler from Lawrence received the Charles P. and Bonnie Saxon Phillips Scholarship
Robert Sills, a resident of Forest, was the recipient of the Kelley Humphreys Nursing Scholarship
Shannon Withers, who resides in Walnut Grove, received the Stella Weathersby Newsome Scholarship