February 6, 2018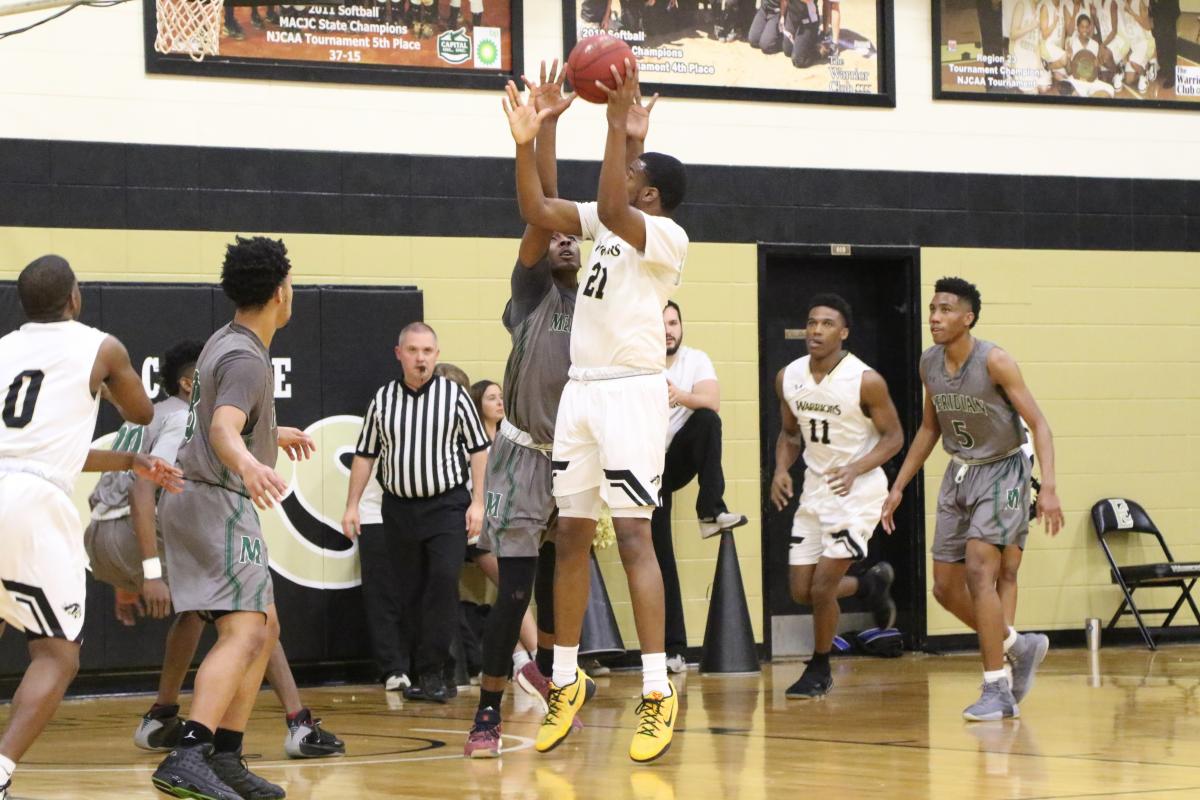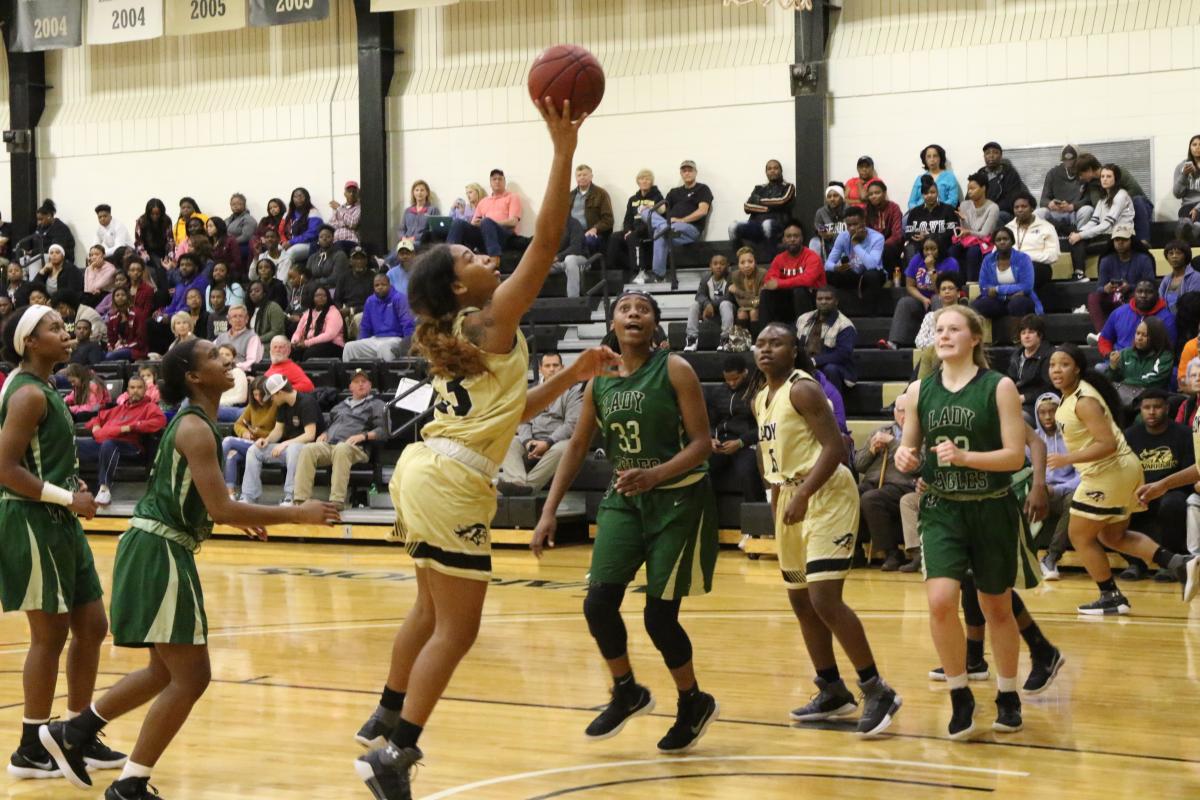 (Left Photo) ECCC's Cameron Diggs goes up for two of his 16 points to lead the Warriors over Meridian. (Right Photo) Whitney Waters led the Lady Warriors with 17 points and 12 rebounds in the home victory against Meridian. (EC Photos)
The East Central Community College basketball teams finally got back in the win column Monday, Feb. 5, with a pair of home wins over Meridian Community College in Brackeen-Wood Gym in Decatur.
The ECCC Warriors broke a six-game skid with a 69-64 win over the visiting Eagles. In the opening game of the evening, the Lady Warriors broke open a close game with a strong third period to defeat the Lady Eagles of Meridian 83-68. The ECCC Lady Warriors had lost their last four games.
In the men's action, East Central was paced by sophomore forward Cameron Diggs (Mobile, Ala., Blount) with 16 points and seven boards in the hard-fought basketball game.
Meridian pulled out to an 11-point lead with 7:46 to play in the first half before settling for a 40-37 advantage at intermission. The Warriors were up by just one, 65-64, with 30 seconds to play when freshman guard Roti Ware out of Morton and Diggs both hit a pair of free throws to seal the win. Sophomore guard Thurston McCarty of Quitman also had a key block in the final six seconds.
In addition to Diggs, other Warriors in double figures were McCarty and sophomore guard Tavonta Jones of Meridian with 12 each and Ware with 10. Freshman guard Tre Pinkston of Forest has eight assists on the night.
The Warriors improved to 9-9 overall and 3-6 in MACJC South Division play. The Meridian Eagles fell to 5-13 and 2-7 in the league.
In the women's action, the ECCC Lady Warriors overcame a six-point halftime deficit by outscoring the Meridian Lady Eagles 29-10 in the deciding third period. Meridian led 35-29 after the first 20 minutes of action before the Lady Warriors opened it up in the third period. East Central outscored Meridian 54-33 in the last two periods.
Leading the way for East Central were five players in double figures, including freshman forward Whitney Waters of Heidelberg will 17 points and a game-high 12 rebounds. Also in double figures were freshman guard Breanna Riley of Biloxi and sophomore guard Autumn Taylor of Newton with 14 each, freshman forward Sharan Turner (Gonzales, La., East Ascension) with 12, and freshman guard Tamirra Haskin of Laurel with 11. Taylor also had eight assists.
The Lady Warriors held a 13 rebound advantage on the boards.
The East Central Lady Warriors record improved to 10-7 overall and 3-6 in the MACJC South Division. The Meridian Lady Eagles fell 11-7 overall and 5-4 in the league.
The East Central teams are on the road Thursday, Feb. 8, when they travel to Perkinston to face Mississippi Gulf Coast Community College at 5:30 and 7:30 p.m.
The ECCC Warriors and Lady Warriors return home on Monday, Feb. 12, to host Copiah-Lincoln Community College at 5:30 p.m. and 7:30 p.m. in Brackeen-Wood Gym in Decatur.
All home basketball games can be heard on WKOZ Cruisin 98.3 or via audio stream and live stream video at www.eccc.edu/eccc-media.