February 7, 2018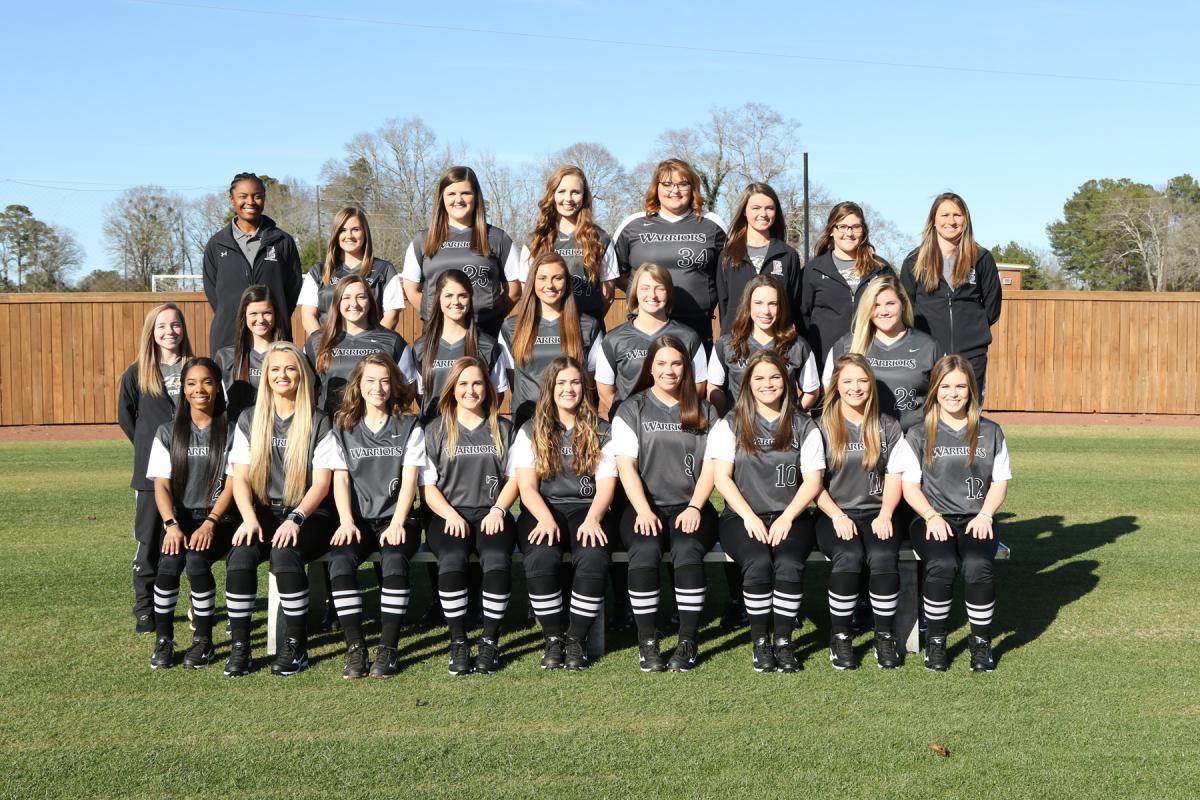 It wasn't easy, but the East Central Community College Lady Diamond Warrior softball team opened the 2018 season with a high-scoring road sweep of the Coastal Alabama-North Eagles in Monroeville, Ala.
East Central, ranked No. 10 in the NJCAA Division II Softball Poll, beat the Division I Eagles 8-7 in the opener and came back to take the nightcap 12-4. The Lady Warriors pounded out 24 hits in the two wins, including seven doubles.
In the opener, Coastal Alabama-North had runners on first and third with two outs in the bottom of the seventh inning when Eagle Abby Ray was caught stealing home to give East Central the 8-7 win.
East Central trailed 6-5 heading to the top of the fifth inning before scoring three runs to grab the lead for good. Sophomores Marlee Parkes of Nanih Waiya High School, Kayla Beckham of Neshoba Central, and Eva Scott (Burleson Centennial, Texas) all had RBI in the fifth.
Sophomore Mackenzie Johnson of Nanih Waiya collected three RBI in game one, while Scott led ECCC with three hits.
Sophomore Kaitlyn Oswalt out of Heritage Academy in Columbus went the distance in the circle to pick up her first win of the season.
In the second game, East Central put seven runs on the scoreboard in the top of the seventh inning to break open a close game and grab the 12-4 win.
In the big seventh inning, the Lady Warriors got a two-run double off the bat of Beckham and a two-run single from Parkes. Sophomore Shelby Walters out of Northwest Rankin also doubled in a run, as did Johnson. Walters, who batted twice in the inning, started the scoring by stealing home.
For the game, ECCC had five players with two hits, including Parkes, Beckham, Walters, sophomore Ali Gartman out of Loyd Star, and sophomore Madalyn McMahon out of Neshoba Central. Beckham led the way with three RBI.
Sophomore Mackenzie Rousseau (Vanderbilt Catholic, Houma, La.) got the win in the circle.
With the sweep, ECCC improved to 2-0 on the season, while the Coastal Alabama-North Eagles fell to 1-6.
East Central opens home play on Thursday, Feb. 8, when Division I Calhoun Community College (Tanner, Ala.) visits the Softball Park in Decatur for a doubleheader beginning at 2 p.m.
ECCC will host the EC Invitational on Saturday, Feb. 17. The Lady Diamond Warriors will face East Mississippi Community College at 11 a.m. and Hinds Community College a 3 p.m. Hinds and East Mississippi will play at 1 p.m.
Most home softball games can be heard on WKOZ Cruisin 98.3 or via audio stream and live stream video at www.eccc.edu/eccc-media.