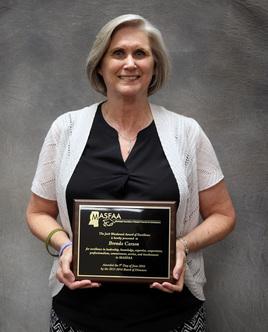 Brenda Carson, director of financial aid for East Central Community College in Decatur, recently received the Jack Woodward Award of Excellence from the Mississippi Association of Student Financial Aid Administrators at the organization's annual conference held at the Pearl River Resort in Choctaw.
 
The Woodward Award of Excellence is the highest honor presented annually by the MASFAA. It is presented to an individual who best exemplifies leadership, knowledge, expertise, cooperation, professionalism, commitment, service and involvement in the statewide professional organization for financial aid administrators.
 
Carson of Decatur said she was shocked to receive the award at the president's banquet during the 49th MASFAA Annual Conference.
 
"I was both shocked and honored," said Carson, who joined the ECCC staff in 1982 as its first financial aid director. "The recipient of the award is confidential until the awards ceremony; therefore, when I realized I was being introduced as the recipient, I was overcome with emotions. This is the highest honor I have ever received."
 
Carson said that knowing Jack Woodward personally made receiving the award named in his honor that much more special. "Jack Woodward was a founding member of MASFAA, and his legacy in financial aid made receiving this award mean even more to me. MASFAA has provided me opportunities personally and professionally for growth in many areas."
 
In addition to receiving the Woodward Award of Excellence, Carson had the additional honor of being elected as director of the executive board of MASFAA for a three-year term, which began July 1. Carson also has served as vendor-sponsor chair, legislative committee chair and a trainer and instructor for MASFAA, among other roles.
 
She was president of the Mississippi Community and Junior College Student Aid Administrators Association during 2015-16.
 
A native of Neshoba County, Carson is a graduate of ECCC, holds bachelor's and master's degrees from Delta State University, and is a member of the Xi Chapter of Delta Kappa Gamma Society International, an organization for key women educators.
 
MASFAA was established in 1967 to provide a community for financial aid administrators to exchange ideas and professional expertise to effectively and ethically promote access to higher education. MASFAA provides training opportunities for its members, allows individuals to network and create professional relationships, and enhances public awareness of student financial aid assistance.
 
Members of MASFAA are from colleges, universities, lending institutions, government agencies, foundations and others associated with private and community organizations concerned with the support and administration of student financial aid programs.