March 9, 2022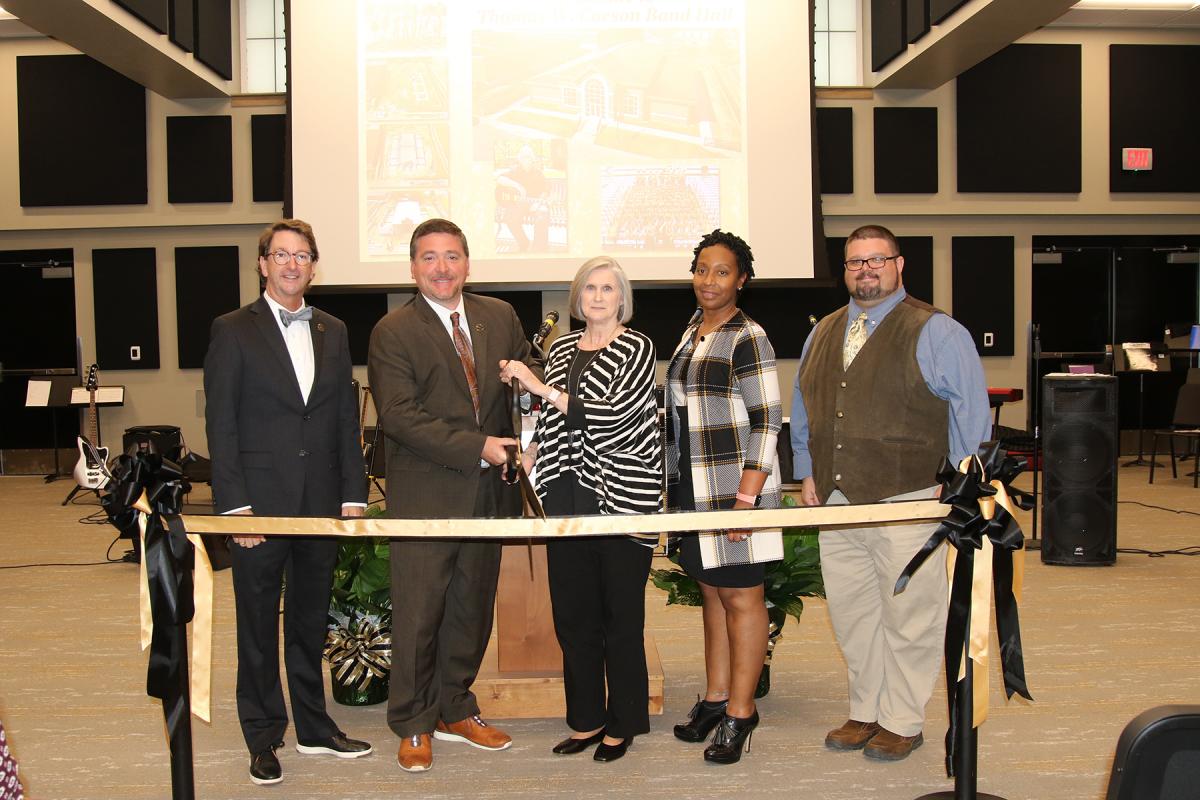 Cutting the ribbon to open the new Thomas W. Carson Band Hall on the East Central Community College campus are ECCC President Dr. Brent Gregory (second from left) and Brenda Carson, widow of Tom Carson (third from left). Also participating are (from left) Dr. Jimmy Hollingsworth, chair of the college's Board of Trustees; Dr. Teresa Mackey, vice president for instruction; and Chas Evans, Fine Arts Division chair. (EC Photo).​
East Central Community College officially opened its new Thomas W. Carson Band Hall with a ribbon cutting ceremony Tuesday, March 8, inside the facility's state-of-the-art band practice hall.
The new facility is named in memory of Tom Carson, who was associated with East Central for more than half his life, including two years as a student and 30 years as an employee. He served as director of bands, music instructor, and for three years as chair of the Fine Arts Division.
In addition to the practice hall for the college's Wall O' Sound Marching Band, the nearly 11,000-square-foot, $3.5 million Carson Band Hall houses music practice studios, music teaching studios, instrument storage, a music library, and office space. It is adjacent to the existing Vickers Fine Arts Center on North 6th Avenue on the Decatur campus.
The event included the ribbon cutting, tours of the building, and performances by current and 1983-84 members of the college's Collegians rock and roll band and by the current Jazz Band.
"It seems like only yesterday we started this project, and here we are today opening this impressive Carson Band Hall," said ECCC President Dr. Brent Gregory to open the event. "I can't think of a building on this campus that will be used more than this one will or that was needed more than this one was. This is a wonderful opportunity for East Central Community College and named for an individual who meant so much to our college and our band program."
Tom Carson's widow, Brenda Carson, is the college's director of financial aid. She said when her late husband retired after 30 years at East Central he had accomplished all he set out to do except one thing, the building of a new band hall.
"This day has finally arrived," she said. "Here we are inside this beautiful facility where for many years to come beautiful music will be made. Our family is so pleased to be here today sharing in the realization of a dream Tom Carson had so many years ago. Tom worked long and hard to make the band program the best it could be. This new building will now provide the much-needed space for the continued success of the band program to grow and excel. I know that Tom would be so excited and proud for EC and for the band students to have this wonderful new band hall."
Chas Evans studied music under Tom Carson as a student at East Central. He is now chair of the college's Fine Arts Division and a music instructor. "Tom was a huge influence on my life," noted Evans. "Not only as a musician, but as a teacher and a friend. He was a shining light on what a teacher and mentor should be to their students."
Carson's relationship with East Central began as a student in 1973, where he was a member of the marching, concert, and stage bands; the newly formed Collegians group; and the chorus. In 1975, he was selected to the college's student Hall of Fame, the highest honor a student can receive at East Central.
After graduation, Carson went on to receive bachelor's and master's degrees in music education from Delta State University. He was named the Delta State University Music Alumnus of the Year in 2013.
Carson joined the East Central faculty in 1982 as director of bands. Over the years, he increased the size of the band from 17 members in his first year to 180 members at his retirement. In 1996, he officially changed the name of the band on its 50th anniversary to the present day Wall O' Sound Marching Band. Carson retired in 2012. He passed away on May 6, 2013, at age 57.
ECCC's Wall O' Sound Band currently consists of nearly 200 students. Members receive scholarships for participation in the marching band, as well as for those chosen for the concert band, pep band, jazz band, and percussion ensemble. The full band plays at various events during the year, including home football games, pep rallies, and parades. A pep band performs at away football games and home basketball games.