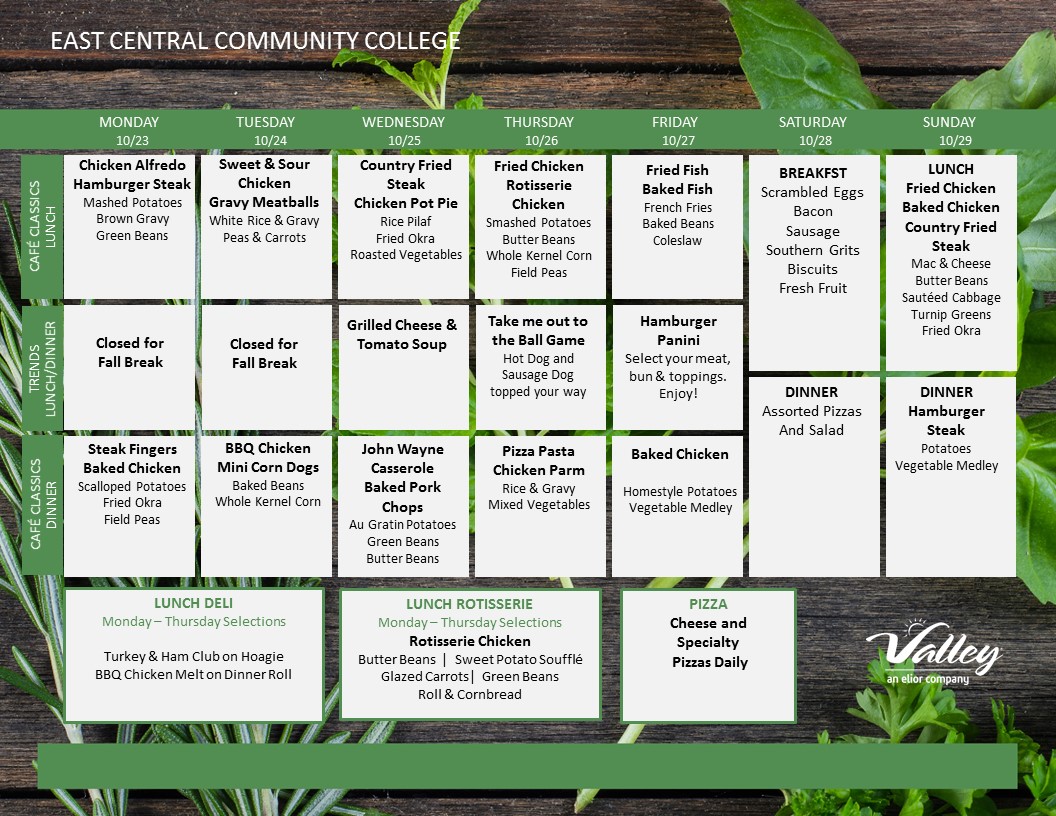 Deadline to Apply for December Graduation is Oct. 27
Students who are planning to graduate in December 2017 can go online and apply for graduation by following these steps.
Go to myEC
Click on the Student tab
Click on My Graduation
Fill out the form
Once you fill out and submit the form, it will automatically go to your advisor. You should receive a confirmation in your email. The deadline for fall graduation applications is Oct. 27, 2017. No applications will be accepted after that date.
Spring Advance Registration
Students, advance registration for the spring 2018 semester begins Wednesday, Nov. 1. There will be two "One-Stop-Shop" sessions before that date to help you prepare and to check on holds on your student account that could prevent you from registering for courses. Instructional counselors will be available to assist you, along with staff from the Admissions Office, Business Office, and Financial Aid.
Monday, Oct. 30, 11 a.m. to 1 p.m., Mabry Cafeteria Foyer
Tuesday, Oct. 31, 11 a.m. to 1 p.m., Burton Library Foyer
Golf Team Fundraiser
The Warrior Golf Team is raffling an East Central golf bag. Tickets are $10 and can be purchased from any team member or Golf Coach Chris Clark. A drawing will be held at halftime of the football game against Southwest Thursday, Oct. 26th. Contact Clark at 601-635-6245 for more details.
ECCC Baseball Golf Tournament
The annual ECCC Baseball Benefit Golf Tournament is Saturday, Oct. 28, at the Decatur Country Club. There will be a shotgun start at 8:30 a.m. The cost of the 18-hole, two-person scramble is $30 per person and includes lunch, a beverage, and door prizes. Hole sponsorships are $100. To enter, contact Head Baseball Coach Neal Holliman at 601-635-6374 or 601-575-6722. All proceeds go to the ECCC Warrior baseball team.
USM Scholarship Giveaway
East Central students, visit the USM admissions table near concessions at the football game vs. Southwest Thursday, Oct. 26, to enter your name into a giveaway for a chance to win a free one-semester transfer tuition scholarship to the University of Southern Mississippi. Details and restrictions are available when you sign up. Entries will only be accepted through halftime.
Haunted House of Hoops
The 2017-18 edition of the ECCC men's and women's basketball teams will be display at the annual "Haunted House of Hoops" at 6:30 p.m. Monday, Oct. 30, in the Brackeen-Wood Gym. There will be entertainment by the Wall O' Sound Band drum line, Centralettes, and Cheerleaders. "Trick or treat" candy will be available for youngsters, a Halloween costume contest will be held for ECCC students and staff members, and refreshments will be provided by Valley Services, Inc.
Art Club Haunted House
The ECCC Art Club will again sponsor a Haunted House fundraiser in the Vickers Fine Arts Center from 7 to 9:30 p.m. Monday and Tuesday, Oct. 30 and 31. The cost is $5 for anyone over the age of 6.
Humanities Instructor of the Year Presentation
History instructor Madison Price is the college's "Humanities Instructor of the Year" for 2017 and will be recognized at 6:30 p.m. on Tuesday, Nov. 7, in the Vickers Fine Arts Center Auditorium. Price will present a special program, held in conjunction with Arts and Humanities Month, titled "President for the People: The Progressive Policies of Teddy Roosevelt." A reception will follow in the lobby.
Students: It's FAFSA Time
Do you plan to attend college anywhere next school year? If the answer is yes, then you need to apply/reapply for financial aid at www.fafsa.gov. The 2018-19 FAFSA will require income information from the 2016 tax year. Additional FAFSA resources:
12 Myths About FAFSA
Students, please check out the myths about the FAFSA form and applying for financial aid: https://blog.ed.gov/2017/10/12-myths-fafsa-form-applying-financial-aid/.
College Worship
College Worship is held every Wednesday night at 8:30 p.m. at Clarke-Venable Baptist Church. All are welcome.
Wesley Foundation
The Wesley Foundation meets every Tuesday at 12:10 p.m. for a meal and devotion.
Upcoming Sports Events
Football vs. Southwest
Thursday, Oct. 26, 6:30 p.m.
Sophomore Recognition Game
Campus
Men's and Women's Tennis vs. Itawamba (Scrimmage)
Friday, Oct. 27, 9:45 a.m.
Columbus
Men's Soccer at MACJC State Tournament
Saturday, Oct. 28, 11 a.m.
Opponent TBA
Ridgeland
Women's Basketball vs. Coahoma
Thursday, Nov. 2, 5:30 p.m.
Campus
Men's Basketball vs. Coahoma
Thursday, Nov. 2, 7:30 p.m.
Campus