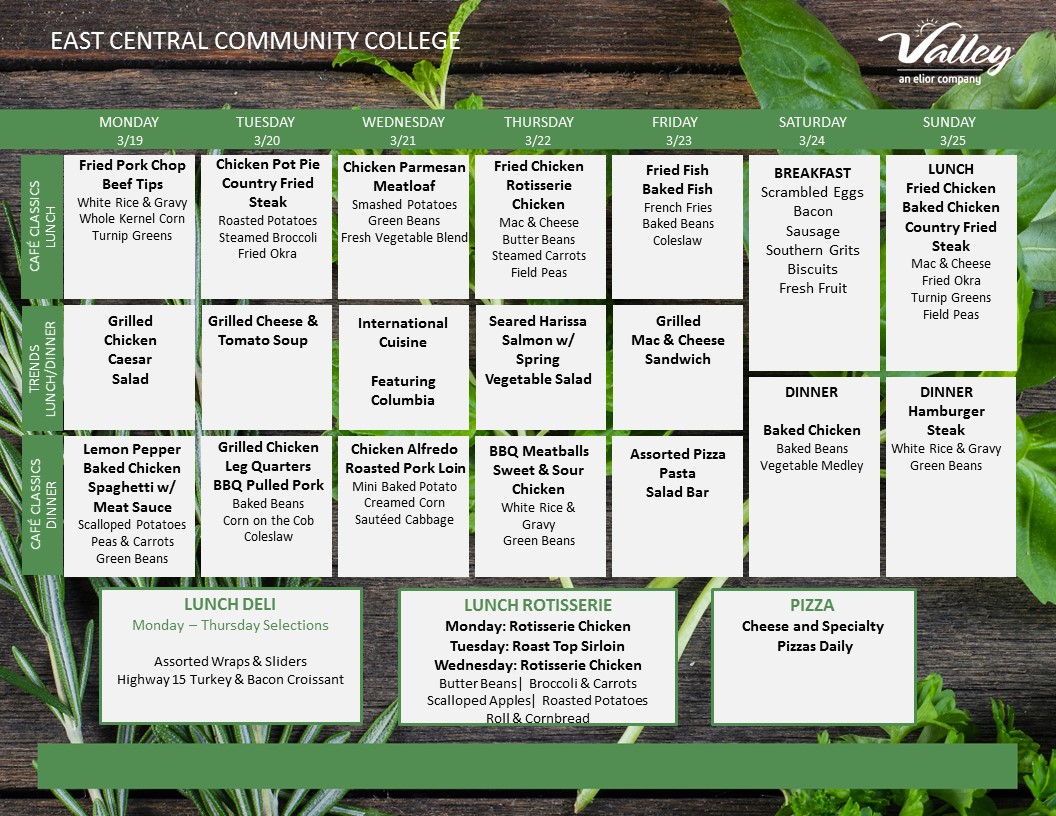 The Little Mermaid Musical
ECCC's Encore Players will present The Little Mermaid musical several times this month. Show dates and times are matinees at 9 a.m. and Noon on Wednesday, March 21; at 2 p.m. on Sunday, March 25; and at 9 a.m. on Monday, March 26, and Tuesday, March 27. Evening performances are at 7 p.m. on Saturday, March 24, Monday, March 26, and Tuesday, March 27. In The Little Mermaid, Ariel, King Triton's youngest daughter, wishes to pursue the human prince Eric in the world above, bargaining with the evil sea witch, Ursula, to trade her tail for legs. But the bargain is not what it seems, and Ariel needs the help of her colorful friends, Flounder the fish, Scuttle the seagull, and Sebastian the crab to restore order under the sea. The cost of the matinee is $5 per student with chaperones being free. The cost of the evening production is $10. Tickets are on sale in the Communications Office in Newton Hall.
Lucille Wood Tennis Court Dedication
The college will officially dedicate Lucille Wood Court at 3 p.m. on Tuesday, March 20, at the Tennis Complex on campus. One of the eight courts at the new complex is being named in recognition of Wood thanks to a gift to the college from members of her family. A 1951 graduate of then East Central Junior College, Wood was a two-sport star athlete at East Central who also was a championship-winning coach at her alma mater. The public is invited to attend the dedication ceremony.
SBA Elections
Student Body Association elections will be held on Monday, March 26. If a runoff is necessary, it will be held on Wednesday, March 28. Students may petition to run for SBA via myEC beginning on Monday, March 19, until 4 p.m. on Thursday, March 22. A student must receive 10 nominations to be put on the ballot. To run for an SBA position, a student must have completed 15 hours, have a 2.0 GPA, and not have a disciplinary action against him/her. If you have any questions, please contact Dr. Amanda Walton, director of housing and student activities, at awalton@eccc.edu or 601-635-6213.
Deadline to Apply for Spring Graduation March 29
Students who are planning to graduate in May 2018 can go online and apply for graduation by following these steps:
Go to myEC
Click on the Student tab
Click on My Graduation
Fill out the form
Once you fill out and submit the form, it will automatically go to your advisor. You should receive a confirmation in your email. The deadline for spring graduation applications is March 29, 2018. No applications will be accepted after that date.
Army Recruiter Visits
U.S. Army Recruiter Staff Sergeant Kodey Welch will be set in the Mabry Cafeteria lobby on Wednesday, March 21, from 10:30 a.m. to 1 p.m.
Financial Literacy Workshops
BankFirst is sponsoring two free Financial Literacy Workshops for ECCC students on Thursday, March 22, and Thursday, April 12, at 12:10 p.m. in the Success Center in Burton Library. Bring a "sack lunch" and join us!
'Welty' Exhibit April 2-27
"Welty", an exhibit featuring photographs by Eudora Welty, will be on display in ECCC's Burton Library weekdays from April 2 to April 27. There will be an Open House on Thursday, April 5, from 3 p.m. to 6 p.m. During the early 1930s, Welty traveled across Mississippi as a publicist for the Works Progress Administration and used the opportunity to take hundreds of photographs of her native state. The exhibit juxtaposes some of those photographs with excerpts from her writing to show the relationship between her source material and her writing. The exhibit "Welty" comprises 14 photographs and passages from her books such as The Wide Net, Delta Wedding, The Golden Apples, A Curtain of Green, and Some Notes on River Country. The photographs were selected from more than 1,200 negatives Welty donated to the Mississippi Department of Archives and History. Photographs by Eudora Welty are courtesy of Eudora Welty L.L.C. and the Eudora Welty Collection, Mississippi Department of Archives and History.
Summer/Fall Advance Registration
Students, advance registration for the summer and fall 2018 begins Tuesday, April 3. There will be two "One-Stop-Shop" sessions before that date to help you prepare and to check on holds on your student account that could prevent you from registering for courses. Instructional counselors will be available to assist you, along with staff from the Admissions Office, Business Office, and Financial Aid.
Wednesday, March 28, 11 a.m. to 1 p.m., Burton Library Foyer
Thursday, March 29, 11 a.m. to 1 p.m., Mabry Cafeteria Foyer
Business, Education, & Healthcare Expo
Career and educational opportunities will be available for East Central Community College students when the 16th annual Business, Education, & Healthcare Expo is held Thursday, March 29, on campus. The public is also invited to attend the free event, which is scheduled from 9:30 to 11 a.m. in the Brackeen-Wood Gym. Exhibitors from business, industry, education, finance, armed services and healthcare organizations will attend.
State Financial Aid Deadlines
Don't forget to apply for state aid. You must re-apply each year! There is grant money available for all Mississippi residents, such as HELP and MTAG. Deadlines are quickly approaching. HELP deadline is March 31, 2018. MTAG deadline is not until September 15, 2018, but will be here before we know it. Go to riseupms.com and submit an application for 2018-19.
USM Free Application Day
An admissions counselor from the University of Southern Mississippi will be on the ECCC campus Monday, March 19, from 10:30 a.m. to 1:30 p.m. in the Mabry Cafeteria hallway to allow students to apply to USM with no application fee. All you need to do to apply to USM for no charge is to bring an official transcript.
MUW Recruiter Visits
Mississippi University for Women Recruiter Amber Parker will be in the lobby of the Mabry Cafeteria from 10 a.m. to 1 p.m. on the following dates: Thursday, March 22; Thursday, April 5; and Thursday, April 19.
Catholic Campus Ministries Meeting
The next Catholic Campus Ministries meeting will be Monday, March 19, at 6:30 p.m. in the Student Services Office area on the second floor of the Student Union Building. Everyone is welcome. For information, contact Gina Mowdy at 601-323-5079.
2018 Warrior Golf Classic
The 2018 Warrior Golf Classic will be held on a Friday this year and online registration is underway at www.eccc.edu/estore. The date of the tournament is Friday, May11, and it will be held this year on the Oaks Course at Dancing Rabbit Golf Club in Choctaw. Signup to support scholarships at ECCC!
First Group of Refunds Coming Soon!
Financial aid disbursements are made each semester, once money is received. These are made at various times, with the first group of disbursements occurring at 55% of the semester completed. The beginning date of a class is used to determine whether a student will be eligible to be included in the first disbursement group, such as those classes that began at the start of the semester and include online and the Intensive I classes. The Intensive II classes begin at a later date within the semester; therefore, the disbursements for those classes would be later, once reaching the 55% completion point. There may be adjustments made to an award for those students who withdraw from school or drop out (cut out) of school prior to the 60% completion point of the semester because of federal regulations determined by the U.S. Department of Education.
FAFSA Fridays
Every Friday, an intern will be available in the Financial Aid Office in the Student Union Building to assist all students with financial aid applications, both federal and state. Students and/or parents may call 601-635-6218 to schedule an appointment.
Loose Caboose 5K Run/2-Mile Walk
ECCC Warrior Wellness is again co-sponsoring Newton's Loose Caboose Festival 5K Run & 2-Mile Walk on Saturday, March 31. Registration is at 7 a.m. and the race and walk begin at 8 a.m. T-shirts are provided for the first 40 pre-registered participants. See Crystal Fitzgerald, wellness coordinator, in the Wellness Center for signup sheets, or email her at cfitzgerald@eccc.edu to volunteer to help.
Ole Miss Recruiter Visit
Ole Miss recruiter Anna Lauren Inman will be in the Mabry Cafeteria lobby from 10:30 a.m. to 1 p.m. on Tuesday, April 17.
Wesley Foundation News
Wesley meets in the Wesley Room every Tuesday that classes are in session at 12:10 p.m. for a free meal and a devotion. The Wesley Room is located next to the new Women's Residence Hall.
Dorm Student Meal Plans
If your student meal card does not work, please come by the Business Office to have the card reactivated.
Intramural Soccer
Championship Tournament Quarterfinals
3-0 Swack 5, It's About to Get Messi 2
Two Goals Won Cup 1, Native Pride 0 (forfeit)
Tigres del Notre 8, Goal Diggers 7
Championship Tournament Semifinals
Two Goals Won Cup 6, 3-0 Swack 4
Honchos 8, Tigres del Notre 7 (OT)
Championship Tournament Finals
Honchos 5, Two Goals One Cup 4
Champions:  Honchos
Upcoming Sports Events
Softball vs. Coahoma
Monday, March 19, 3/5 p.m.
Campus
Men's/Women's Tennis vs. Cowley (Kan.)
Monday, March 19, 2 p.m.
Campus
Baseball vs. Southwest
Wednesday, March 21, 3/6 p.m.
Campus
Softball at Gulf Coast
Wednesday, March 21, 4/6 p.m.
Perkinston
Men's/Women's Tennis vs. Holmes
Friday, March 23, 1 p.m.
Campus
Men's/Women's Tennis vs. Wallace State (Ala.)
Saturday, March 24, 9 a.m.
Campus
Baseball vs. Holmes
Saturday, March 24, 2/5 p.m.
Campus