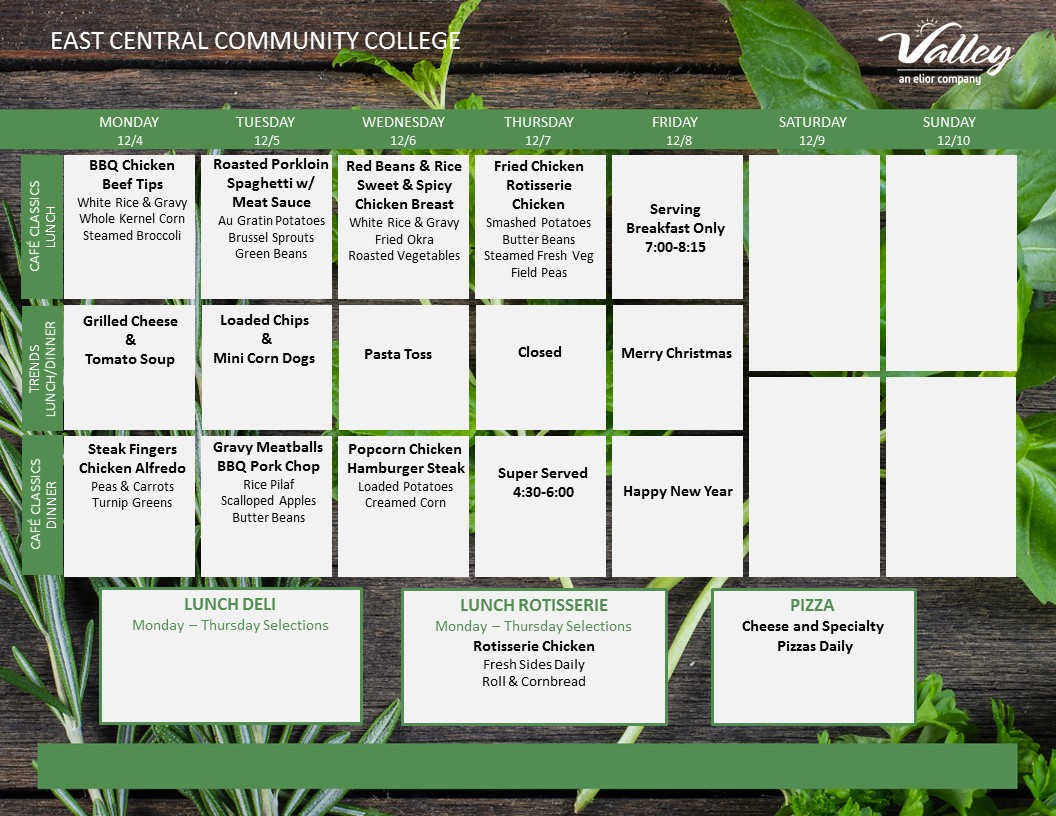 Hall of Fame Nominations Due Jan. 12
Nominations for the 2017-2018 East Central Community College Student Hall of Fame are due by Noon on Friday, Jan. 12, 2018. College administration, faculty, staff, and currently enrolled students may nominate a deserving student for consideration. A separate nomination form should be completed for each student you wish to nominate. The nomination form may be accessed on and submitted from the College's website at the following address:
https://www.eccc.edu/hall-of-fame-nomination-form
Christmas Holidays
East Central will be closed for the holidays starting Wednesday morning, Dec. 13, and will reopen on Tuesday morning, Jan. 2, 2018.
Don't Forget to Register for Spring Classes
Registration for 2018 spring semester classes continues. Current students who have not registered need to do so as soon as possible. Classes begin on Monday, Jan. 8, 2018. Online courses begin Tuesday, Jan. 16. The last day to register for online classes is Wednesday, Jan. 17.
Book Buy-Back
The ECCC Bookstore will be buying back books Dec. 4-7 from 7:30 a.m. to 4 p.m. daily.
Weekly EC News
The next Weekly EC News will be published on Monday morning, Jan. 8, 2018.
Toys for Tots
The Career & Technical Education division is once again spearheading the Toys for Tots drive. Over the years, ECCC has contributed an average of 500 toys a year that are distributed by the United States Marine Corps Reserve. Please share the love this Christmas season by donating a new, unwrapped toy by Dec. 7. Drop-off locations are the Tucker Building, Communications (in Newton Hall) and Student Services.
Intramural Indoor Volleyball
Signup sheets for Intramural Indoor Volleyball are available in Dr. Amanda Walton's office in the Student Services Building. The season will begin in January.
Upcoming Sports Events
Women's Basketball vs. Southwest
Monday, Dec. 4, 5:30 p.m.
Campus
Men's Basketball vs. Southwest
Monday, Dec. 4, 7:30 p.m.
Campus
Women's Basketball vs. Coastal Alabama-North
Monday, Dec. 11, 5:30 p.m.
Campus
Men's Basketball vs. Coastal Alabama-South
Monday, Dec. 11, 7:30 p.m.
Campus