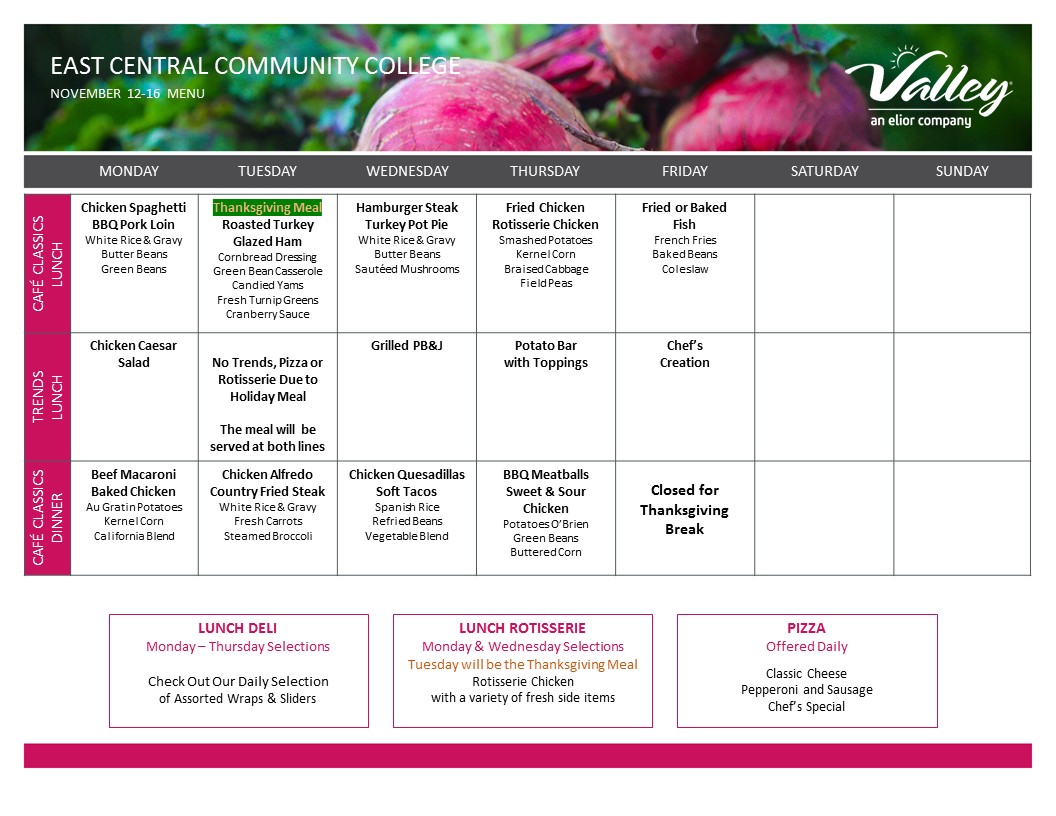 Thanksgiving Break
The college will be closed Nov. 19-23 for Thanksgiving Break.
Athletic Hall of Fame/Alumni of the Year Nominations
Please remember that the deadline for nominations for the 2019 ECCC Alumni of the Year and Athletic Hall of Fame is Dec. 1, 2018. You can submit nominations via the online forms at https://www.eccc.edu/homecoming-honoree-nomination-forms. For the list of those already in the Athletic Hall of Fame go to https://www.eccc.edu/athletic-hall-fame-inductees or for past Alumni of the Year go to https://www.eccc.edu/alumnus-and-alumna-year-inductees. Please use either the online forms or the printed forms, with additional documentation, to make your nominations before the deadline. Please contact David LeBlanc at dleblanc@eccc.edu if you have any questions.
Professional Development Opportunity Nov. 16
There will be a Professional Development session from 11 a.m. to Noon on Friday, Nov. 16, in rooms 105/105A of Rives Hall. Culinary Arts instructor Chef Barry Karrh, Bon Appetit, and Culinary Arts Technology students will present "Southern Food History Project". This presentation will have four meals with all the trimmings laid out. They will be from different time periods of Mississippi development to be presented and served with academic explanation and discussion to coincide. These include meals from the Colonial, Antebellum, and Civil Rights periods, and a Choctaw meal. There are limited seats, so if you plan to attend please RSVP by Nov. 13 to Debra Hutchins at dhutchins@eccc.edu.
Warrior Hall Groundbreaking
The college will hold a groundbreaking ceremony to mark the beginning of construction on its new Warrior Hall football operations center at 3 p.m. on Tuesday, Nov. 13, 2018, at the construction site on the campus just outside the north end zone at Bailey Stadium.
Collegians Concert Nov. 12
The 2018-19 Collegians rock-n-roll band will present its fall concert at 7 p.m. on Monday, Nov. 12, in Huff Auditorium. The band, under the direction of Chas Evans, will perform hits by Stevie Ray Vaughn, Gloria Gaynor, Chris Jensen, 5SOS (Five Seconds of Summer), Tracy Chapman, Adele, and many more.
Gospel Choir Concert Nov. 14
The East Central Community College Gospel Choir will present its annual fall concert at 7 p.m. Wednesday, Nov. 14, in the Vickers Fine Arts Center Auditorium. Admission is free and the public is invited to attend. The Rev. Terry Anderson will be guest speaker.
Concert Choir/Vocé Concert Nov. 15
The Concert Choir and Vocé vocal ensemble, both under the direction of Lucus Orndorff, will present their fall concerts at 7 p.m. Thursday, Nov. 15, in Vickers Fine Arts Center Auditorium on campus. Choir selections will include "The Heavens are Telling" by Haydn, "If Music Be the Food of Love" by David C. Dickau, "Cantate Domino" by Jonathan Rodgers, "My Very Own" by Susan LaBarr, "Set Me as a Seal" by René Clausen, and "How Good!" by Michael Engelhardt. Vocé will perform "Stitches" by Brandy Kay Riha, "Home" by Bryan Sharpe, "Hold On to the Rock" by Pepper Choplin, "I Would Be True" by John Rutter, "Superstition" by Paul Langford, and "Forget You" by Bryan Sharpe.
PBL Food Pantry Project
Phi Beta Lambda will be setting up a food pantry for students who are in need as a community service project. The pantry will be located in the Tucker Applied Technology Center. More details will be shared at a later date as the proposal for the project has just been approved. PBL is asking the campus community for support in this endeavor. An email will be sent to all advisers of student organizations suggesting that they initiate a can food drive. Student organizations will be broken into three categories with food drives taking place November and December and February and March. The food drive is titled "Battle of the Cans".  Faculty and staff also are asked to see if their local church or civic organization would host a food drive in the spring. It is hoped that the food pantry will stay stocked throughout the school year and not just during the holiday season. PBL also is seeking suggestions for a name for the food pantry. For example, Northeast Mississippi Community College has named its pantry Tiger D.E.N. (Delivering Every Need). If you would like to suggest a name, please click on the following link and complete the Google form: LINK FOR FOOD PANTRY NAME. Suggestions for the name should be submitted by Nov. 26. PBL members will vote on Nov. 27 and determine the top three and then open the voting to all students, faculty, staff, and administration. For additional information, contact Christy Ferguson at cferguson@eccc.edu, Lanette Hanna at lhanna@eccc.edu, or Jennifer Savell at jsavell@eccc.edu.
Upcoming Art Club Fundraiser
The Art Club will also have a Bake Sale on Wednesday, Nov. 14. Funds raised for both events will go towards upcoming trips to New Orleans and to the Art Institute of Chicago.
Toys for Tots
The Career & Technical Education division is again spearheading the Toys for Tots drive. Over the years, ECCC has contributed an average of 500 toys a year that are distributed by the United States Marine Corps Reserve. Please share the love this Christmas season by donating a new, unwrapped toy by Dec. 5. Drop-off locations are the Tucker Center, Communications (in Newton Hall), and Brackeen-Wood Gym.
SkillsUSA Wounded Warrior Project Fundraiser
The service project for ECCC's SkillsUSA chapter this semester is to raise money for the Wounded Warrior Project. One way of doing this is through participation in the Carry Forward Wounded Warrior Project Virtual 5K Run/Walk at Noon on Monday, Nov. 12, 2018, on campus. There's no question that families and friends of veterans share a unique bond and camaraderie. But how you show your support for veterans is 100 percent up to you. Anyone interested in participating in the 5K is welcome to register and join the SkillsUSA squad and show support to veterans. If you cannot join the run/walk but still want to show support, donations will be accepted. The goal is $500, but the chapter hopes to exceed that goal. To register for the 5K under ECCC's SkillsUSA chapter, click this link: https://carryforward.woundedwarriorproject.org/index.cfm?fuseaction=donorDrive.teamParticipants&teamID=5709.
Warrior Wonderland Dec. 7
Four new rides and games will highlight the 2018 edition of Warrior Wonderland scheduled Friday, Dec. 7, on the front lawn of campus and the Cross Hall parking lot. The special celebration of Christmas will begin immediately following the Decatur Christmas Parade, about 6:30 p.m., and conclude by 8:30 p.m. Following the parade, activities will kick off with a fireworks display and visitors will have a variety of activities from which to choose. A $5 armband will provide unlimited access to a train ride, laser tag, and four new rides and games including Human Foosball, Hippo Chow Down, Meltdown and Wrecking Ball. The Mississippi National Guard will once again partner with the college and provide a gaming trailer, football toss, punch machine and a new dodge archery game. There will be a Selfies with Santa station, a Mississippi National Guard Avenger military vehicle that guests can maneuver, and various specialty, food, and drink booths sponsored by ECCC student organizations.
Bon Appetit Quilt Raffle
Bon Appetit is raffling a queen-sized, handmade quilt from vintage fabric from the 1950s and 60s. The pattern is the modified windmill. Tickets are on sale for $2 a piece or three for $5. The winner will be picked the week before Thanksgiving break (Nov. 16-22). You may get your tickets from any Bon Appetit member or culinary student, at the Circulation Desk in the Library, or from Chef Barry Karrh in 105 Rives Hall. The proceeds will fund various student activities and community service projects.
Christmas Spectacular
The Fine Arts Department's annual Christmas Spectacular is scheduled for Tuesday, Nov. 27, in Huff Auditorium. The event begins at 7 p.m. and tickets are $10 per person. Children under 6 will be admitted free. Featured performers will include the Wall O' Sound Marching Band, Christmas Band, Jazz Band, Collegians rock and roll band, Concert Choir, Vocé vocal ensemble, the Color Guard and the Centralettes dance line. A reception will follow in Mabry Cafeteria and will feature art by ECCC art students and holiday fare by the college's Culinary Arts Technology program under the direction of Chef Barry Karrh. Tickets may be purchased from any ECCC band, choir, or Collegians members or by calling the college switchboard at 601-635-2111.
Woods & Whites Tennis Fundraiser
The ECCC tennis program is hosting its second annual Woods and Whites Doubles Tournament from 9 a.m. to Noon on Saturday, Nov. 10, at the Tennis Complex on campus. Lunch will be provided. The recommended donation is $25 per player. All proceeds go to support the ECCC men's and women's tennis programs and facilities. Woods and Whites is a fun, social doubles tournament played like Wimbledon in the old days. Players must wear white clothing and hit with wood racquets. White tennis balls will also be used. Wood racquets will be provided if needed. To register for the tournament, contact ECCC head tennis coach Jay Pacelli at jpacelli@eccc.edu or 601-572-7592. You also can register online at the men's or women's tennis page at www.ecccathletics.com.
Wesley Foundation News
We are a United Methodist campus ministry that welcomes all students.
Tuesday, Nov. 13, 12:10-12:50 p.m., Wesley Room. The meal will be provided by Newton United Methodist Church and the devotion will be by Ryan McGough, associate pastor at Philadelphia UMC and head pastor at Henry's Chapel.
Wesley Encounter meets every Tuesday at 8:30 p.m. in the Wesley Room for snacks and Bible study.
Upcoming Fall Sports Events
Women's Basketball vs. Bishop State (Ala.)
Monday, Nov. 12, 5:30 p.m.
Campus
Men's Basketball vs. Bishop State (Ala.)
Monday, Nov. 12, 7:30 p.m.
Campus
Women's Basketball vs. Southern University-Shreveport (La.)
EC Classic
Monday, Nov. 19, 5 p.m.
Campus
Men's Basketball vs. Mississippi Delta
EC Classic
Monday, Nov. 19, 7 p.m.
Campus
Women's Basketball vs. Coahoma
EC Classic
Tuesday, Nov. 20, 5 p.m.
Campus
Men's Basketball vs. Coahoma
EC Classic
Tuesday, Nov. 20, 7 p.m.
Campus