September 7, 2016
Fans of the East Central Community College Wall O' Sound Marching Band can look forward to reliving their favorite comic book memories when the 2016 edition of the band performs at halftime of Warrior football games this fall.
According to Ed Girling, director of bands, the Wall O' Sound's show this fall is titled "A Day at the Comic Book Store." The show will feature tunes from favorite comic books and their heroes.
"The show is packed with nostalgia and is sure to be a favorite with young and old," said Girling. "This is the show for all the secret nerds out there."
Girling said the show will open with the band entering the field to "Hooked on a Feeling" from Guardians of the Galaxy, followed by the "Marvel Fanfare," the "Captain America March," and Black Sabbath's "Iron Man." The Centralettes dance line, feature wwirler and color guard will be in the spotlight on Michael Buble's version of "Spider Man." The drum feature is a medley of TV's "Bat Man Theme," "Scooby Doo" and "The Big Bang Theory." The show closes with "Super Man," "The Dark Knight" and the new "Wonder Woman."
Girling said that the inspiration for the show comes from "The Big Bang Theory" TV show.
"Sheldon and the gang stage scenes in the comic book store almost every episode," Girling explained. "With the release of several super hero movies in the past 10 years, it seemed to be the right time to feature these tunes."
The 2016 edition of the Wall O' Sound is 170 strong. The band perform at halftime of all ECCC home football games. In addition, the full band will travel to Wesson on Sept. 29 to perform at halftime of the East Central vs. Copiah-Lincoln football game. A 50-piece Pep Band will travel to all the other away games.
Members of the 2016 Wall O' Sound Band, including color guard and Centralettes dance line, and their respective high schools include:
Kayla Dawkins of Bay Springs                
Jarrod Taylor of Callaway                
Kaitlyn Bell, Skyla Bell and Breanna Charley, all of Choctaw Central                
Hayden Neal and Michaela Phillips, both of East Rankin Academy                 
Emily Dykeman, Nicholas Monk Jr., Miriam Sanchez and Chandler Smith, all of Forest                
Courtney Fuller and JaTara Riley, both of Kosciusko                
Taylor Bone, Katie Boone, Elizabeth Crotwell, Adrianna Crout, Alexandria Crout, Anastasia Crout, Levi Culpepper, Zachary Emmons, Jabreshia Ickom, Destiny McClendon, Joseph Morgan, Jessica Reed, Katie Ware, Anderson Adcock, Javontea Body, Dustin Fisher, Jessica Gates, LaDarrius Jennings and Belle Yarbrough, all of Lake                 
Darryl Rogers of Laurel                
Gracy Addy, Cole Atkinson, Quality Brown, Hailey Clark, Stephanie Griffin, Stafford Griffin, Angel Johnson, Patricia Jones, Deleshia Leflore, Eric Malone, Erin McGrath, LaRavia Griffin, Ja'Micheal Jones, Luis Montgomery, Chelsea Smith, Kelivina Spivey, Emmaly Wilcher and Keyanna Wilder, all of Leake Central                 
Te-Anna Viverette of Leake County                
Amber Gill, Kalie Parks, Kalee Stennis and Ashley Young, all of Louisville                
Mackenzie Gray and Elizabeth Hall, both of Mendenhall                
Micah Jordan and Austin Rowell, both of Meridian                 
Diana Buitrago, Akeyah Coleman, Caleb Franklin, Matthew Hall, Paden Horton, Aerian Keeton and Jamie Sudduth, all of Morton                
Mayson Ables, Wesley Akins, Landon Bounds, Sydney Breazeale, Tommy Burnside, Kelcey Burrage, Aleya Carothars, Ana Chapas, Tristan Coats, Olivia Ferguson, Austin Gray, Cardale Greer, Thashanna Jackson, Stephen Jenkins, Jacolby Jenkins, Kayla McKinion, Jacinta Nonis, Elizabeth Sanders and Zack Savage, all of Neshoba Central                
Deanna Brown, Alexus Evans, Kiersten Johnson, Meilii Tumbling and John Wise, all of Newton
Karley Andrews, Destiny Barrett, Makaeya Brock, Amber Chaney, Jalen Cox, Albany Davis, Harleigh Embrey, Alex Evans, Jessica Everett, Peyton Foreman, Taylor Fulkerson, Reagan Gorgas, Jarod Ivey, Sydney Kennedy, Gabrielle Loper, Marissa Massey, Morgan Majure, Alex Moore, Ryan Packer, Laicon Partain, Amber Lynne Ratcliff, Abby Reeves, Michael Robinson, Nathan Smith, Destiny Snapp, Brad Taylor, Sylvia Thames, Jack Vidals and Makayla Weaver, all of Newton County                 
Lily Addy of Newton County Academy                
Sydney Luvene of Northeast Lauderdale                
Chris Johnson and Quantarus Riddle, both of Noxapater                
Tiffany Anderson, Takara Bingham, Tymese Brown, Jamerius Clemons,  Emily Duncan, Antonia Dupree, Kinsey Gentry, Jasmine Greer, Jonathan Hall, Jeremy Huddleston, Quormesha Lindsey,
Chandler Posey, Shanagia Sims and Kaishanna Young, all of Philadelphia                
Josh Statham of Richland               
Adam Anderson, Shamiya Bobbitt, Jeremy Collins, Meckena Green, Douglas Kennedy, Natorious Ousey and Amber Self, all of Scott Central                
Cole Anderson, Matthew Beasley, Makenzie Byrd, Ameia Carter, Chelsea Jackson,
Samantha Sistrunk and Brady Thrash, all of Sebastopol                
Justin Bishop, Eariel Campbell, Charles Carter, Shantel Huddleston, Rachel Keen, Jessica Leach,
Christian Richardson, D'Auja Temple, Callie Baughn, Madeline LeBlanc and Amanda Ricamore, all of Union                 
Hayden Hudspeth and Paige Johnson, both of Winston Academy                
Shawna Bush, from Lawrence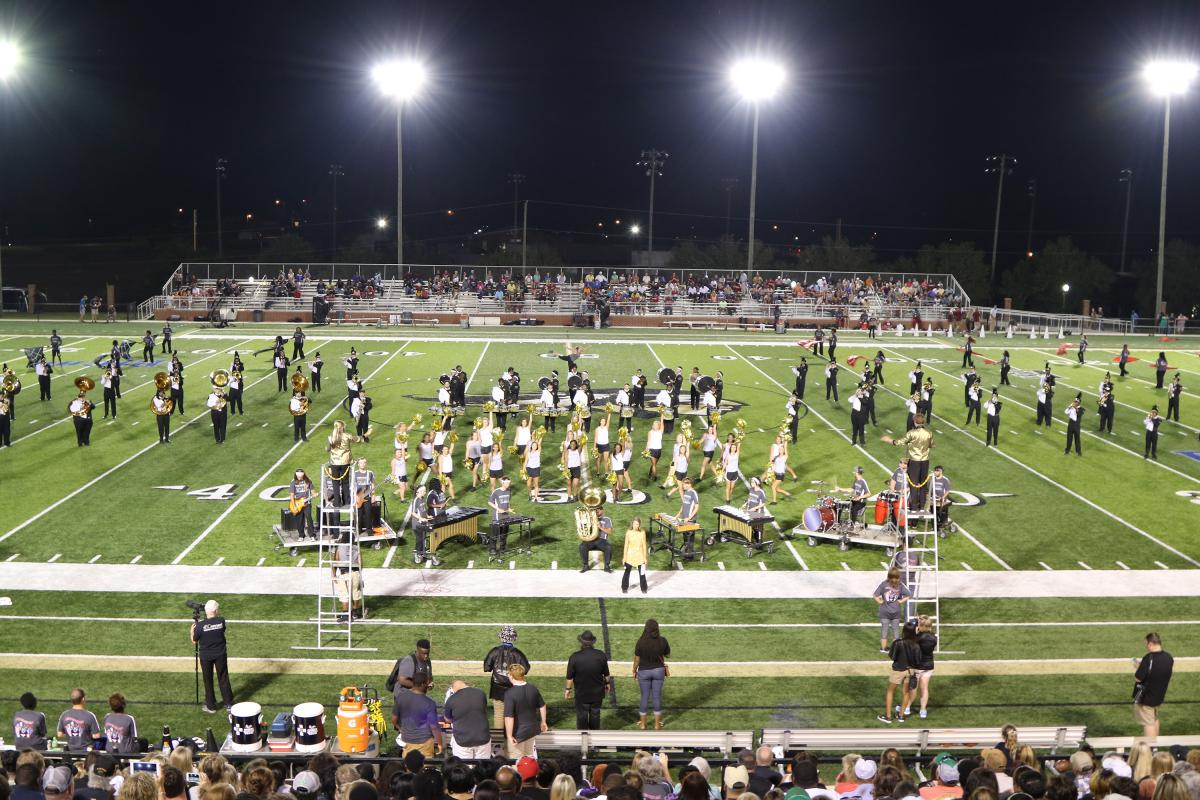 Members of the 2016 ECCC Wall O' Sound Marching Band perform their halftime show at the season opening football game Sept. 1 at Bailey Stadium on the East Central Community College campus.