September 7, 2017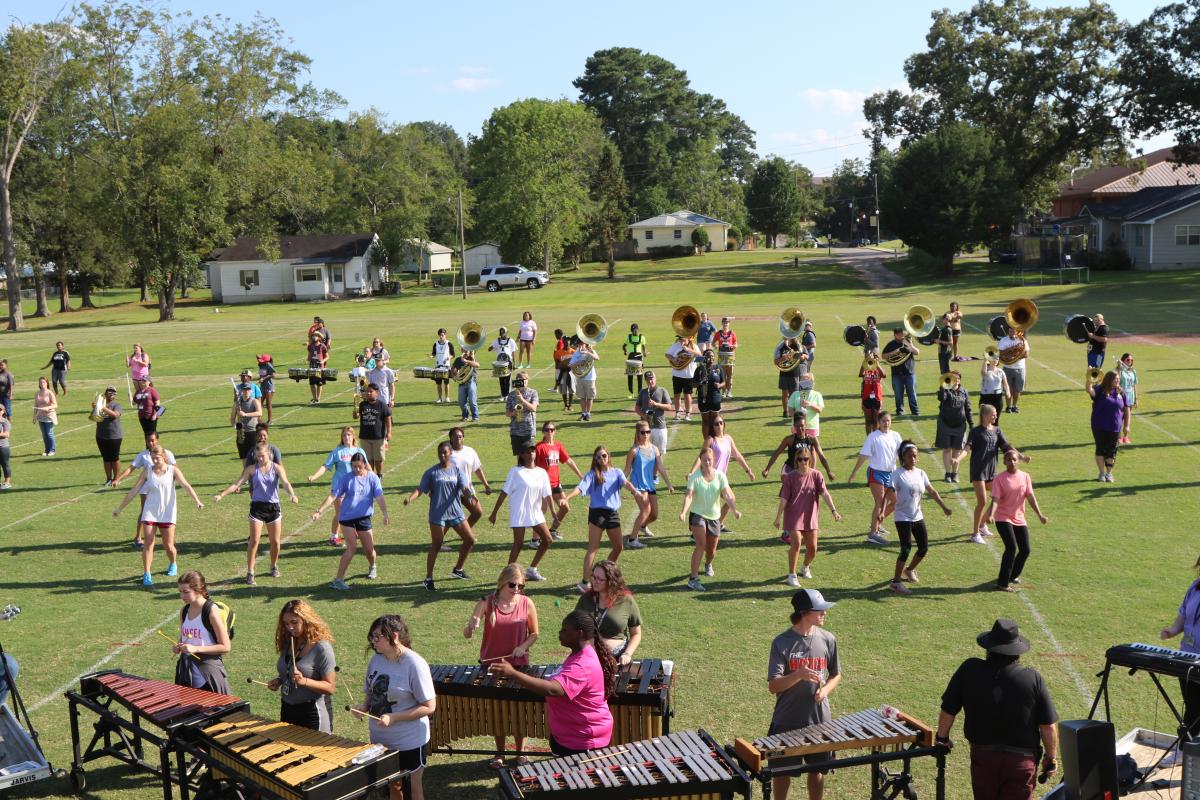 The East Central Community College Wall O' Sound Marching Band is shown during rehearsals for its 2017 show which features a "Tribute to Memphis Soul." 
The 2017 East Central Community College Wall O' Sound Marching Band will present a "Tribute to Memphis Soul" during this year's halftime show of Warrior football games.
Director Ed Girling said the show will feature the music of Memphis' Stax Records and includes hits by Issac Hayes, Booker T and the MGs, Eddie Floyd, The Bar Kays and Otis Redding.
"The tunes will be familiar to most of the audience and this show will be one big party!" he said.
The 2017 edition of the Wall O' Sound features more than 125 musicians and auxiliary members from the college's district of Leake, Neshoba, Newton, Scott and Winston counties, as well as other towns throughout the state. The band performs at halftime of all ECCC home football games. In addition, the full band will travel to Ellisville on Oct. 5 to perform at halftime of the East Central vs. Jones County Junior College football game. A 50-piece Pep Band will travel to all other away games.
Members of the 2017 Wall O' Sound Band, including color guard and Centralettes dance line, and their respective high schools include:
Chantel Makamson of Ackerman
Kaylyn Smith, Erin McGrath, Mia Clark, Eric Malone, Grace Addy and Kelivina Spivey, all of Carthage
Jack Vidals, Nathan Smith, Alex Ceveland and Michael Wright, all of Chunky
Rebekah Scitzs, Alyna Spears and Ryan Dunehew, all of Collinsville
Kaitlyn Morris, Bailey Warren and Makayla Weaver, all of Conehatta
Morgan Barton, Nina Moore, Makaeya Brock, Jessica Everett, Brianna Campbell, Alex Evans, Gabrielle Loper, Keely Spears, Tori Ferguson,  Courtney Tillman, Savanna Baucum,  Leanna Campbell and Collin Gentry, all of Decatur
Alex Moore of Duffee
Shamiyan Bobbit, Faith Curry, Eduardo Rosas, Keri Rigby, Marty Monk, Jovani Mondragon, Ameia Carter, Marrian Haralson, Natorious Ousey, DeShannon Reed, Adam Anderson, Nic Monk, Jonathan Collins, Mahongany Hughes, Miriam Sanchez and Jeremy Collins, all of Forest
Jasmine Cole, Trinity Haper, Madison Mann and Lily Addy, all of Hickory
Courtney Fuller and Eli Starns, both of Koskiusko
Javontea Body, Brianna Ickom, Jabreshia Ickom, Ty Lay, Destiny McClendon, Jakeirra Pace, Belle Yarbrough, LaDarrius Jennings, Dustin Fisher and Dakota Myer, all of Lake
Alexis Rover of Little Rock
Madison Dempsey, Hayden Hudspeth and Cheston Jones, all of Louisville
Elizabeth Hall of Mendenhall
Sydney Luvene and Caleb McGrew, both of Meridian
Jamie Sudduth, Stephanie Vaughan, Javonta Washington, Amber Self, Tavarious James, Taylor Hawkings and Michaela Phillips, all of Morton
Byron Baker of Moulton, Ala.
Jarod Ivey, Mailii Tumbling, Kiersten Johnson, Cheyene Sorrells, Shakia Norman and Albany Davis, all of Newton
Kalie Parks of Noxapater
Thomas Gaddis of Oviedo, Fla.
Cameron Emmons of Pelahatchie
Jacob Dickerson, Olivia Ferguson, Jamerius Clemons, Kaishanna Young, Markeshia Boler, Anna Bowen, Katie Dulay, Jacie Langford, Madison George, Jacinta Nonis, Courtney Smith, Helen McGee, Courtney McNair,  Antonia Dupree, Kourtney Keys, Bailey Smith, Shayla Long, Madison Alford, Marla Wells, Takara Bingham, Cassidy Jenkins, Blake McMillan, Kristen Wilcher, Dustin Lepard, Jakeem Triplett, Amechia Carter, Jonathan Hall, Zack Savage, Hunter Dickerson, Mason Ward, Austin Gray, David Hannah, Jeremy Huddleston, Elizabeth Sanders, Matthew Smith and Wesley Akins, all of Philadelphia
Hannah Shirley and Kaylin Shirley, both of Quitman
Garrett Sawyer of Raleigh
Josh Statham of Richland
Brady Thrash, Matthew Beasley and Laicon Partain, all of Sebastopol
Taylor Hardy of Starkville
Dylan Smith, Antonea Bailey, Dauja Temple, Madeline LeBlanc, Symone Cleveland, Jaquala Patrick, Hunter Mckay, Zane McElhenney and Justin Bishop, all of Union
Daniel Street of Vero Beach, Fla.