August 9, 2017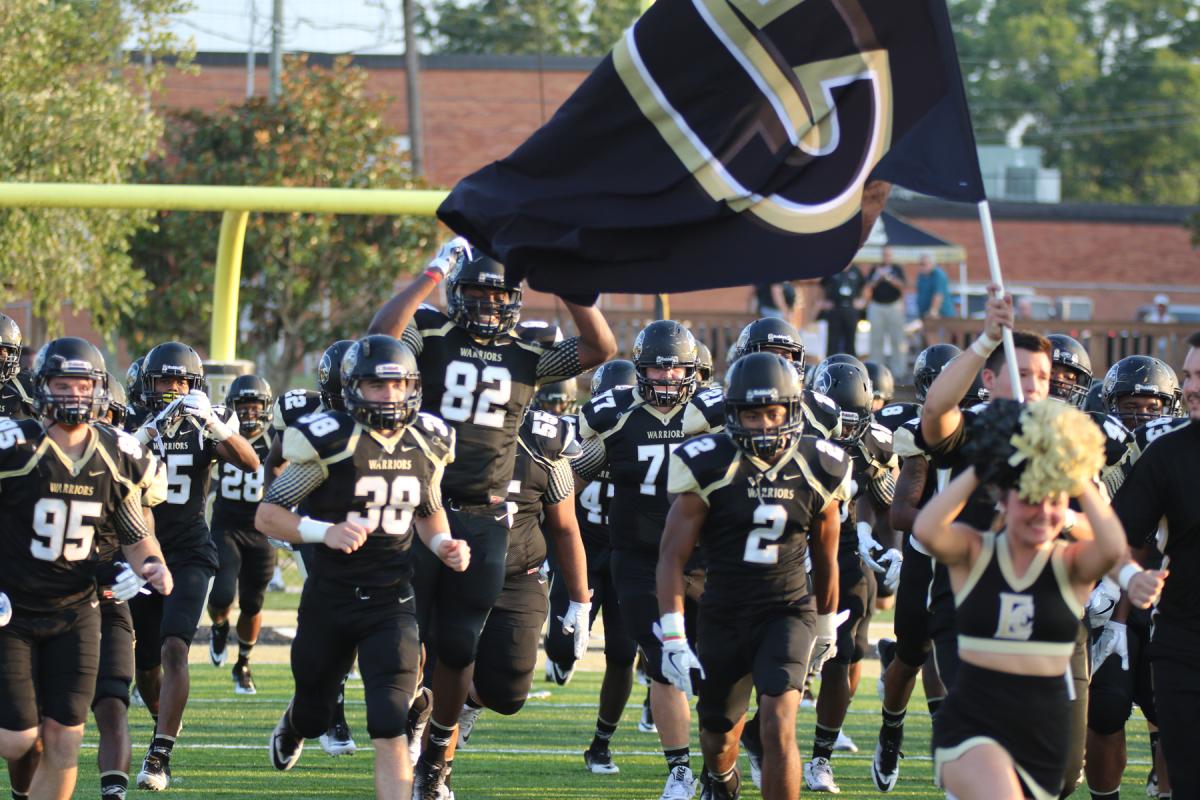 The East Central Community College Warriors open the regular season on the road Aug. 31 looking to make the state playoffs for the third straight year. Something that's never been done on the Decatur campus.
But if Coach Ken Karcher's Warriors are to compete in the postseason in 2017 it will take replacing nine starters on defense, adjusting to several newcomers on offense, and playing five of nine games on the road.
The 2017 edition of the ECCC Warrior football team, the fifth under the direction of Karcher, will open the season with two straight road games, at Holmes Community College in Goodman on Aug. 31 at 6:30 p.m. and then traveling north again to Booneville on Sept. 7 to face Northeast Mississippi Community College at 6:30 p.m.
ECCC won its first-ever Mississippi Association of Community and Junior Colleges South Division title in 2016 and hosted defending National Junior College Athletic Association national champion Northwest Mississippi Community College in a state semifinal game in Bailey Stadium in Decatur. Northwest ended the Warriors' season with a come-from-behind 21-14 win.
It was the first time East Central had competed in the playoffs in consecutive seasons in 40 years. The Warriors finished the season 5-5 overall. In 2015, Karcher led East Central to an 8-3 record, a playoff date at Northwest, and a C.H.A.M.P.S. Heart of Texas Bowl victory.
The road to a third straight trip to the MACJC state playoffs began Aug. 7 when 70 players reported to campus. They are competing for 55 roster and five practice squad spots.
Among them are six returning offensive starters, including wide receiver Antonio Gibson. The product of Eagles Landing High School in McDonough, Ga., caught 29 passes for 563 yards and nine touchdowns in 2016. He also rushed for 156 yards and a score. Gibson was also in the return game.
Tight end Chris Deloach out of Columbus also returns. He hauled in four touchdowns last season. Both Gibson and Deloach are ranked among the best at their positions in the nation.
Running back Dwayne Barnett from Harrison Central returns after posting team-highs of 957 yards rushing and 10 scores last season.
Returning on the offensive line are Brandon Harrison out of Newton County Academy, Josh McMullen who prepped at East Webster, and Connor Merrill from Brandon.
Gone from an offense that averaged 31 points per game is quarterback Dom Marino, who is now battling for the starting job at Missouri Western State. The Sarasota, Fla., product threw for more than 1,400 yards and 23 touchdowns while earning first team MACJC All-State and NJCAA All-Region 23 honors. He also rushed for 564 yards and two touchdowns.
The Warriors will also need to replace Lucas Orchard from Vancleave, who held down the center position last season and is now at Southeast Missouri State; offensive lineman Bradston Burnside of Hattiesburg, now at Nicholls State; tight end Kalen Meggs of Richton, now at Northwestern State; and wide receiver Noah Nix of West Lauderdale, now at the University of the Cumberlands.
Karcher is looking to University of Toledo transfer Quentin Gibson to take over for Marino. The 6-3, 195-pound quarterback prepped at Archbishop Shaw High School in Marrero, La.
Three other newcomers who will be expected to contribute are wide receiver and athlete Tyriq French, a 6-3, 200-pound product of Idabel (Okla.) High School, running back James Smith III from Velma Jackson in Camden, and wide receiver Octavious Olowo-ake out of Murrah in Jackson.
Returning to the Warrior defense this season is linebacker Aaron Rainey of Harrison Central and his 52 total tackles. Defensive back Xavier Williamson of Heidelberg also returns.
Gone from the defense are the top three tacklers, including linebacker Eric Barnes of Seminary and defensive back Torran Davis of Red Bank High School in Chattanooga, Tenn., who both had 83 total tackles. Isiah Thomas of Madison contributed 65 tackles in 2016. Davis also had a couple of interceptions. Gone from the defensive line are Rosheem Collins from Ware County High School in Waycross, Ga., and his 42 tackles and 2.5 sacks, and Jalon Sangster of Louisville and his 4.5 sacks and 9.5 tackles for a loss. Davis is now at Austin Peay, Thomas at Alcorn State, Collins at Middle Tennessee, and Sangster at Northwestern State.
"Defensive line will be the big question for our team going into the season," said Karcher, who has won Mississippi Association of Coaches Coach of the Year the past two seasons. "There will be a lot of guys battling, but until we get them in pads it will be hard to tell where we are at that position.
"Our defense will be very young. August camp will be important to determining the best 11 on defense."
The Warriors will also have to replace all-conference kicker Aaron Garrett out of Meridian High School, who handled punting, extra points, field goals and kickoffs last season.
"There will be a wide open battle for our kickers this year," said Karcher.
Despite the youth of the 2017 Warrior squad and the five road trips, Karcher believes team unity is the path to a third straight playoff appearance.
"I'm a firm believer that after four years, the team that builds family the quickest will win," he explained. "That means they feel loved, accepted, and valued. If we can do that with this team in August then we have a chance to be successful."
There will be three new faces on Karcher's coaching staff in 2017. Antonio Baker, a former two-time all-Western Athletic Conference linebacker at Louisiana Tech, will take over coaching that position at ECCC. Devin Fosselman will coach wide receivers this season. He played that position for Mississippi State and Jackson State. Karcher's son, Clayton Karcher, will take over coaching the running backs. The Newton County High School and University of Alabama graduate was a student coach for the Crimson Tide last season.
After two straight road games to open the season, the Warriors will host Pearl River Community College Thursday, Sept. 14, at 6:30 p.m. in the home opener. ECCC will also host preseason No. 15 Copiah-Lincoln Sept. 28, No. 18 Northwest Oct. 19 for Homecoming, and Southwest Mississippi Community College Oct. 26. The other three road games include No. 6 Mississippi Gulf Coast Community College Sept. 21 in Perkinston, Jones County Junior College Oct. 5 in Ellisville, and Hinds Community College Oct. 12 in Raymond.
East Central will also scrimmage Hinds in Decatur on Aug. 18.
All nine regular games this season will be on Thursday evenings.
All East Central football games in 2017 can be heard on WKOZ "Cruisin" 98.3. Melvin Wooten will once again have the play-by-play and longtime college and high school coach Steve Cheatham will provide analysis.
The audio, as well as live stream video for all home games, will be streamed online at www.eccc.edu/eccc-media and at www.kicks96news.com

Wide receiver Antonio Gibson dives for a score against Holmes last season.

 


Running back Dwayne Barnett returns in 2017 as the leading rusher from a season ago.

 


Head Coach Ken Karcher begins his fifth season in charge of the football Warriors.


Antonio Gibson saw action at receiver, running back and returner in 2016.

Linebacker Aaron Rainey (No. 50) had 52 total tackles in 2016.

Tight end Chris Deloach sprints for a touchdown against Gulf Coast last season.