November 18, 2021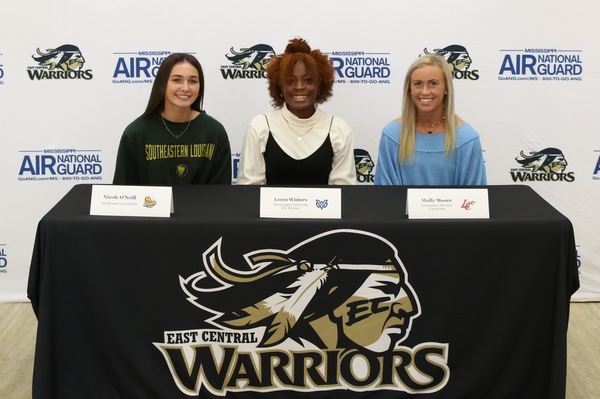 From left Nicole O'Neill, Loren Winters, and Molly Moore.​
The East Central Community College's Lady Warrior soccer team had three sophomores ink with four-year programs to continue their academic and athletic careers on Wednesday. Nicole O'Neill (Dublin, Ireland), Loren Winters (Ocean Springs), and Molly Moore (Meridian) all signed to move on to the next level. 
O'Neill signed with Southeastern Louisiana University. She played and started in 13 matches and posted four goals and four assists on the year. She finished her career at ECCC with eight goals and eight assists. 
Winters is moving on to the Mississippi University for Women. Winters was a key ECCC defender that started and played in 14 matches this season. In her career at ECCC, she started in 30 matches. 
Moore, who signed with Louisiana Christian University, played and started in 13 matches for ECCC this season and finished the year with two assists and five shots on goal. During her tenure at ECCC, she played in 29 matches. 
The trio of graduating sophomores continue ECCC's tradition of sending Lady Warrior soccer players to the next level as they join seven players from just the last three seasons playing at four-year schools and universities.