November 17, 2021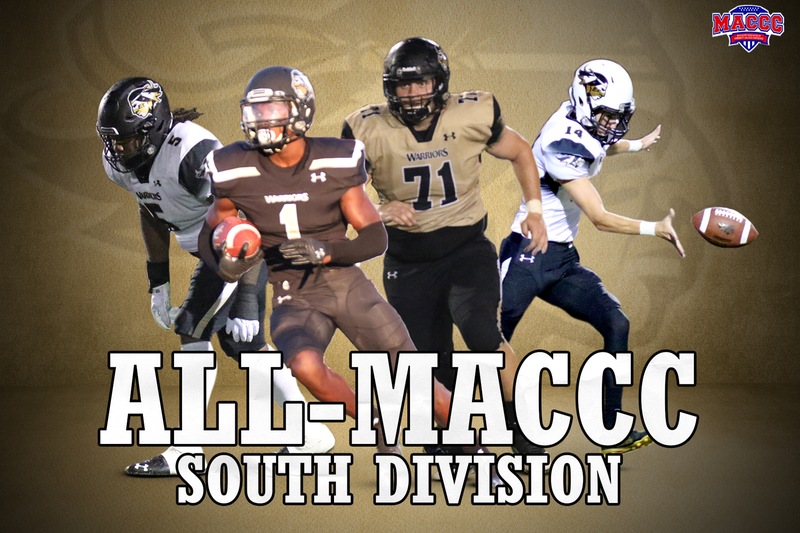 Four East Central Community College Warriors closed out the 2021 football season with All-MACCC South Division honors for their efforts on the gridiron throughout the season. Desmond Williams (Forsyth, Ga.) picked up First-Team honors, while Drake Carroll (Alexandria, La.), Ross James (Flowood), and Dareon Goodrum (Watkinsville, Ga.) were all named Second-Team.
Williams, a third-year sophomore, shined this year at defensive back as he led the NJCAA in interceptions with seven. A notable performance came against Pearl River when he posted an ECCC record four interceptions on the way to a 17-14 win. The incredible performance earned him MACCC and NJCAA Defensive Player of the Week honors. Along with his impressive interception numbers, Williams finished the season second in the nation in breakups with 14 and he led the nation with four blocks on special teams. Additionally, he racked up 304 kickoff return yards and returned a punt for an 81-yard touchdown. Williams finished his career at East Central with 23 games played, 103 tackles, 13 interceptions, 28 breakups, and 627 all-purpose return yards. 
Carroll, a Louisiana Tech transfer, played and started in all nine games for the Warriors this year and was the foundation of the ECCC offensive line from the center position. Carroll helped the Warriors pass the century mark in rushing three times and post 885 total rushing yards. 
Goodrum saw action in all nine games for ECCC this season as a defensive lineman and posted 46 tackles on the year, including three sacks and eight tackles for loss. He posted one forced fumble, one fumble recovery, and had two blocks on the year as well. After playing in four games last season, he has 60 career tackles, six sacks, and 12 tackles for loss as a Warrior. 
James set the Warrior defense up numerous times throughout the 2021 season with booming punts that often fell inside the 20-yard line. He was seventh in the country in distance, averaging 40.5 yards per punt on 62 kicks, the second-most in the NJCAA. 21 of James' 62 punts fell inside the 20-yard line while just two found their way to the endzone for touchbacks. James' biggest performance came against Southwest when the freshman posted punts of 59, 43, 63, 14, 57, 50, 50, 49, and 60 yards for a 49.5 yards per punt average. James' 63-yarder is the fourth-longest ECCC punt on record and his efforts earned him MACCC Special Teams Player of the Week.
The Warriors finished the 2021 season 3-6 overall with wins over Southwest, Pearl River, and season-ending home victory over Coahoma.