July 11, 2022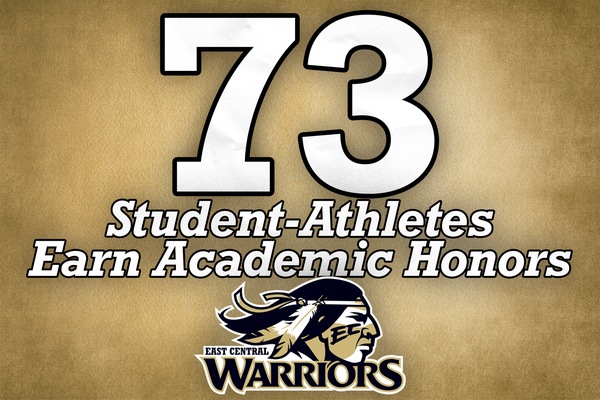 The East Central Community College athletic department is excited to announce that 73 student-athletes have been honored by the Mississippi Association of Community Colleges Conference (MACCC) for their academic performances in the 2021-22 school year, with 39 of those student-athletes earning National Junior College Athletic Association (NJCAA) All-Academic honors.
"Providing student-athletes an opportunity to become well-rounded individuals is what we strive for at ECCC, and academic accolades such as these prove that our student-athletes and coaches are reaching that goal," said East Central President Dr. Brent Gregory. "Our outstanding student-athletes continue to show dedication to their work, both on the field and in the classroom year in and year out. As a college, we are excited for each of these students and we look forward to continuing to build an atmosphere of success academically and in competition."
To qualify for athletic honors student-athletes must maintain GPAs of 3.25 or higher for all credit hours. At the conference level, awards are separated into Distinguished Academic All-State for student-athletes that maintain GPAs of 3.8 or higher and Academic All-State for those with GPAs ranging from 3.25 to 3.79.
At the national level, awards are broken down into three categories; First Team (4.0 GPA), Second Team (3.8-3.99), and Third Team (3.6-3.79). East Central is excited to announce that eight student-athletes were able to obtain NJCAA All-Academic First Team honors across four different sports. Those recipients are Seline Decoteau and Annabelle Miller (women's soccer), Emmi Harkins, Ndrah Tanksley, and Caroline Jackson (softball), Kaleb Parish and Dominik Simunovic (men's tennis), and Spencer Winans (men's soccer).
Along with individual awards, the ECCC athletic department fielded six teams that qualified for the NJCAA Academic Team of the Year by maintaining a team GPA of 3.0 or higher. Those teams included softball (3.58), women's soccer (3.53), men's tennis (3.45), baseball (3.23), women's tennis (3.05), and golf (3.01). 
Recipients

NAME
SPORT
CLASS
NJCAA AWARD
MACCC AWARD
Seline Decoteau

WSoc

So.
First Team (4.0 GPA)
Distinguished Academic All-State (>3.8 GPA)
Annabelle Miller

WSoc

So.
First Team (4.0 GPA)
Distinguished Academic All-State (>3.8 GPA)
Emmi Harkins

SB

Fr.
First Team (4.0 GPA)
Distinguished Academic All-State (>3.8 GPA)
Ndrah Tanksley

SB

Fr.
First Team (4.0 GPA)
Distinguished Academic All-State (>3.8 GPA)
Caroline Jackson

SB

Fr.
First Team (4.0 GPA)
Distinguished Academic All-State (>3.8 GPA)
Kaleb Parish

MTenn

Fr.
First Team (4.0 GPA)
Distinguished Academic All-State (>3.8 GPA)
Dominik Simunovic

MTenn

Fr.
First Team (4.0 GPA)
Distinguished Academic All-State (>3.8 GPA)
Spencer Winans

MSoc

Fr.
First Team (4.0 GPA)
Distinguished Academic All-State (>3.8 GPA)
Morgan Massey

WSoc

Fr. 
Second Team (3.8-3.99 GPA) 
Academic All-State (3.25-3.79 GPA) 
Eden Green

 WSoc 

Fr. 
Second Team (3.8-3.99 GPA)  
Academic All-State (3.25-3.79 GPA) 
Sasha Clare

WSoc

So.
Second Team (3.8-3.99 GPA)  
Academic All-State (3.25-3.79 GPA)
Taylor Pittman

 SB 

Fr. 
Second Team (3.8-3.99 GPA)  
Academic All-State (3.25-3.79 GPA) 
Emily McDonald

SB

So.
Second Team (3.8-3.99 GPA) 
Academic All-State (3.25-3.79 GPA) 
Anna Caime

SB

So.
Second Team (3.8-3.99 GPA)  
Academic All-State (3.25-3.79 GPA) 
Mary Widemire 

 SB 

So.
Second Team (3.8-3.99 GPA)  
Academic All-State (3.25-3.79 GPA) 
Meadow Villar

 SB 

Fr.
Second Team (3.8-3.99 GPA)  
Academic All-State (3.25-3.79 GPA) 
Cade Hall

BSB

Fr.
Second Team (3.8-3.99 GPA)  
Academic All-State (3.25-3.79 GPA) 
Hayze West

 BSB 

Fr.
Second Team (3.8-3.99 GPA)  
Academic All-State (3.25-3.79 GPA) 
Grant Edwards

BSB

Fr.
Second Team (3.8-3.99 GPA)  
Academic All-State (3.25-3.79 GPA) 
Mason Willis

 BSB 

Fr.
Second Team (3.8-3.99 GPA)  
Academic All-State (3.25-3.79 GPA) 
Trey McMullan

MBkb

So.
Second Team (3.8-3.99 GPA)  
Academic All-State (3.25-3.79 GPA) 
Faith Guy

WBkb

So.
Second Team (3.8-3.99 GPA)  
Academic All-State (3.25-3.79 GPA) 
Orren Ladner

 MTenn

Fr.
Second Team (3.8-3.99 GPA)  
Academic All-State (3.25-3.79 GPA) 
Addison Hardy

SB

Fr.
Third Team (3.6-3.79 GPA) 
Academic All-State (3.25-3.79 GPA) 
Madison Hodge 

SB

So.
Third Team (3.6-3.79 GPA) 
Academic All-State (3.25-3.79 GPA) 
Jayce Currie

SB

So.
Third Team (3.6-3.79 GPA)
Academic All-State (3.25-3.79 GPA) 
Drewnae Pickens

SB

So.
Third Team (3.6-3.79 GPA)
Academic All-State (3.25-3.79 GPA)
Morgan Pruitt

SB

Fr.
Third Team (3.6-3.79 GPA)
Academic All-State (3.25-3.79 GPA)
Kara Wager

WSoc

Fr.
Third Team (3.6-3.79 GPA) 
Academic All-State (3.25-3.79 GPA) 
Gabrielle Falla

 WSoc 

So.
Third Team (3.6-3.79 GPA) 
Academic All-State (3.25-3.79 GPA) 
Lily Butcher 

WSoc

Fr.
Third Team (3.6-3.79 GPA) 
Academic All-State (3.25-3.79 GPA) 
William Wilkerson

 BSB 

Fr.
Third Team (3.6-3.79 GPA) 
Academic All-State (3.25-3.79 GPA) 
Michael Jenkins

BSB

Fr.
Third Team (3.6-3.79 GPA) 
Academic All-State (3.25-3.79 GPA) 
Eli Collins 

BSB

Fr.
Third Team (3.6-3.79 GPA) 
Academic All-State (3.25-3.79 GPA) 
J.T. Vance 

BSB

So.
Third Team (3.6-3.79 GPA) 
Academic All-State (3.25-3.79 GPA) 
Austin Green 

 BSB 

Fr.
Third Team (3.6-3.79 GPA) 
Academic All-State (3.25-3.79 GPA) 
Madison Gregg

WTenn 

So.
Third Team (3.6-3.79 GPA) 
Academic All-State (3.25-3.79 GPA) 
Jacey Cooper 

WBkb 

So.
Third Team (3.6-3.79 GPA) 
Academic All-State (3.25-3.79 GPA) 
Rish Alford

 FB 

So.
Third Team (3.6-3.79 GPA) 
Academic All-State (3.25-3.79 GPA) 
Gabriel Larry

FB

Fr.
--
Academic All-State (3.25-3.79 GPA)
Keason Pearson

FB

Fr.
--
Academic All-State (3.25-3.79 GPA)
Trustin Northington

FB

Fr.
--
Academic All-State (3.25-3.79 GPA)
Ethan Dailey

FB

Fr.
--
Academic All-State (3.25-3.79 GPA)
Tony Gibson

FB

Fr.
--
Academic All-State (3.25-3.79 GPA)
Riley Cain

FB

Fr.
--
Academic All-State (3.25-3.79 GPA)
Damon Mapp

FB

Fr.
--
Academic All-State (3.25-3.79 GPA)
Jaylin Thompson

FB

Fr.
--
Academic All-State (3.25-3.79 GPA)
Dylan Grayson

BSB

So.
--
Academic All-State (3.25-3.79 GPA)
Trey Lewis

BSB

So.
--
Academic All-State (3.25-3.79 GPA)
Gage Tufnell

BSB

So.
--
Academic All-State (3.25-3.79 GPA)
Caleb Ritchie

BSB

Fr.
--
Academic All-State (3.25-3.79 GPA)
Reginald Martin

BSB

So.
--
Academic All-State (3.25-3.79 GPA)
Brendon Minor

BSB

Fr.
--
Academic All-State (3.25-3.79 GPA)
Ramie Harrison

BSB

Fr.
--
Academic All-State (3.25-3.79 GPA)
Manning Huffman

BSB

Fr.
--
Academic All-State (3.25-3.79 GPA)
Jordan Sanders

MTenn

So.
--
Academic All-State (3.25-3.79 GPA)
Samuel Turner

MTenn

So.
--
Academic All-State (3.25-3.79 GPA)
Ian Gordon

MTenn

So.
--
Academic All-State (3.25-3.79 GPA)
Taylor Coltin

MTenn

Fr.
--
Academic All-State (3.25-3.79 GPA)
Ivey Bruntlett

WTenn

Fr.
--
Academic All-State (3.25-3.79 GPA)
Maria Vanegas

WTenn

Fr.
--
Academic All-State (3.25-3.79 GPA)
Mary Harrington

SB

Fr.
--
Academic All-State (3.25-3.79 GPA)
Madison Holton

SB

So.
--
Academic All-State (3.25-3.79 GPA)
MaKayla White

SB

Fr.
--
Academic All-State (3.25-3.79 GPA)
Kaedre Denson

WBkb

So.
--
Academic All-State (3.25-3.79 GPA)
Kennedee Shelton

WBkb

Fr.
--
Academic All-State (3.25-3.79 GPA)
Isaac Maskew

Golf

Fr.
--
Academic All-State (3.25-3.79 GPA)
Elijah Miller

Golf

Fr.
--
Academic All-State (3.25-3.79 GPA)
Trinity Barden

WSoc

Fr.
--
Academic All-State (3.25-3.79 GPA)
Juliana Wells

WSoc

Fr.
--
Academic All-State (3.25-3.79 GPA)
Olivia Clark

WSoc

So.
--
Academic All-State (3.25-3.79 GPA)
Victoria Mosely

WSoc

Fr.
--
Academic All-State (3.25-3.79 GPA)
Avery Liles

MSoc

Fr.
--
Academic All-State (3.25-3.79 GPA)