July 12, 2021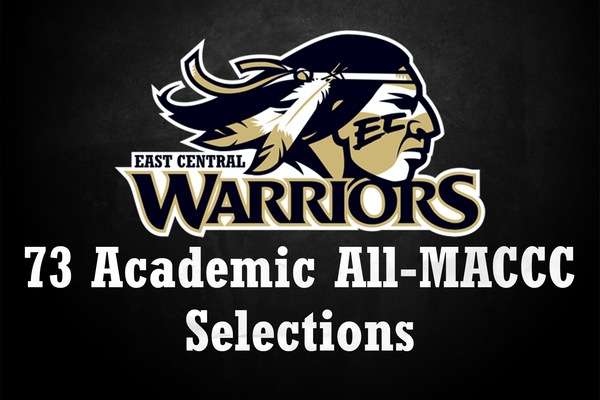 The East Central Community College athletic department is excited to announce 73 student-athletes have been honored by the Mississippi Association of Community Colleges Conference (MACCC) for their academic performances in the 2020-21 school year.
"Providing student-athletes an opportunity to become well-rounded individuals is what we strive for at ECCC, and honors such as these show that our students are working hard to obtain that goal," said East Central President Dr. Brent Gregory. "Our outstanding student-athletes all showed tremendous dedication to their work, both on the field and in the classroom, during a year that saw many challenges. We are excited for each of these students and we look forward to continuing to build an atmosphere of success academically and in competition."
To earn the honor, student-athletes must maintain a GPA of 3.25 for a minimum of 24 cumulative hours. Academic All-State is awarded to student-athletes that posted a GPA between 3.25 and 3.79, while the Distinguished honor is awarded to those with 3.8 and higher. 
In addition to individual awards, the ECCC Women's soccer team was named MACCC All-Academic Team of the Year for their sport with a conference-best 3.67 team GPA.
Student-athletes receiving honors:
| | | |
| --- | --- | --- |
| Gracey Baucum | Softball | Distinguished |
| Anna Caime | Softball | Distinguished |
| Sidney Rone | Softball | Distinguished |
| Alana Edmonds | Softball | Distinguished |
| Molly Moore | Softball/Women's Soccer | Distinguished |
| Seline Decoteau | Women's Soccer | Distinguished |
| Annabell Miller | Women's Soccer | Distinguished |
| Nicole O'Neil | Women's Soccer | Distinguished |
| Susanna Stevison | Women's Soccer | Distinguished |
| Kelsea Archer | Women's Soccer | Distinguished |
| Brendaisha Garrett | Women's Soccer | Distinguished |
| Jacob Vickers | Men's Soccer | Distinguished |
| Natalie Beltran | Women's Tennis | Distinguished |
| Madison Gregg | Women's Tennis | Distinguished |
| Alejandro Alvarez | Women's Tennis | Distinguished |
| Madison Autry | Women's Tennis | Distinguished |
| Anna Moore | Women's Tennis | Distinguished |
| Sarah Cline | Women's Tennis | Distinguished |
| Isaac Santitto | Men's Tennis | Distinguished |
| Ian Gordon | Men's Tennis | Distinguished |
| Tate Ryder | Men's Basketball | Distinguished |
| Jesse Boydstun | Baseball | Distinguished    |
| Roper Ball | Baseball | Distinguished    |
| Garrett Crimm | Men's Tennis | Academic All-State |
| Samuel Turner | Men's Tennis | Academic All-State |
| Chris Albert | Men's Tennis | Academic All-State |
| Chris Lawrance | Men's Tennis | Academic All-State |
| Jacob Gardner | Men's Tennis | Academic All-State |
| Courtney Gill | Women's Tennis | Academic All-State |
| Drewnae Pickens | Softball | Academic All-State |
| Faith Guy | Softball | Academic All-State |
| Madison Holton | Softball | Academic All-State |
| Elizabeth Hollingsworth | Softball | Academic All-State |
| Katelyn Gibson | Softball | Academic All-State |
| Kaytlin Hillman | Softball | Academic All-State |
| Braelyn Boykin | Softball | Academic All-State |
| Coleton Smith | Baseball | Academic All-State |
| Dylan Grayson | Baseball | Academic All-State |
| Brian Johnson | Baseball | Academic All-State |
| Trevor Waddell | Baseball | Academic All-State |
| Amani Larry | Baseball | Academic All-State |
| Luke Odom | Baseball | Academic All-State |
| Gary Hicks | Baseball | Academic All-State |
| Jacob Holifield | Baseball | Academic All-State |
| Vanessa Martinez | Women's Soccer | Academic All-State |
| Daelyn Kell | Women's Soccer | Academic All-State |
| Jada Flores | Women's Soccer | Academic All-State |
| Makaylin Alex | Women's Soccer | Academic All-State |
| Olivia Clark | Women's Soccer | Academic All-State |
| Madison Diers | Women's Soccer | Academic All-State |
| Gabriella Falla | Women's Soccer | Academic All-State |
| Sasha Clare | Women's Soccer | Academic All-State |
| Loren Winters | Women's Soccer | Academic All-State |
| Ameris Taylor | Women's Soccer | Academic All-State |
| Megan Harris | Women's Soccer | Academic All-State |
| Abbie Rutledge | Women's Soccer | Academic All-State |
| Kayro Serrano-Arteaga | Men's Soccer | Academic All-State |
| Kai VanCourt | Men's Soccer | Academic All-State |
| Raphael Salles | Men's Soccer | Academic All-State |
| Chase Graham | Men's Soccer | Academic All-State |
| Hugo Chagas | Men's Soccer | Academic All-State |
| Mercades Miller | Women's Basketball | Academic All-State |
| Jacey Cooper | Women's Basketball | Academic All-State |
| Landyn Shows | Men's Basketball | Academic All-State |
| Kristian Hopkins | Football | Academic All-State |
| Robert Holifield | Football | Academic All-State |
| Christopher Edwards | Football | Academic All-State |
| Ethan Bond | Football | Academic All-State |
| Trenton Ladner | Football | Academic All-State |
| Edsel Tanner | Football | Academic All-State |
| Michael Goss | Football | Academic All-State |
| Holman Edwards | Football | Academic All-State |
| Robens Beauplan | Football | Academic All-State |