April 22, 2022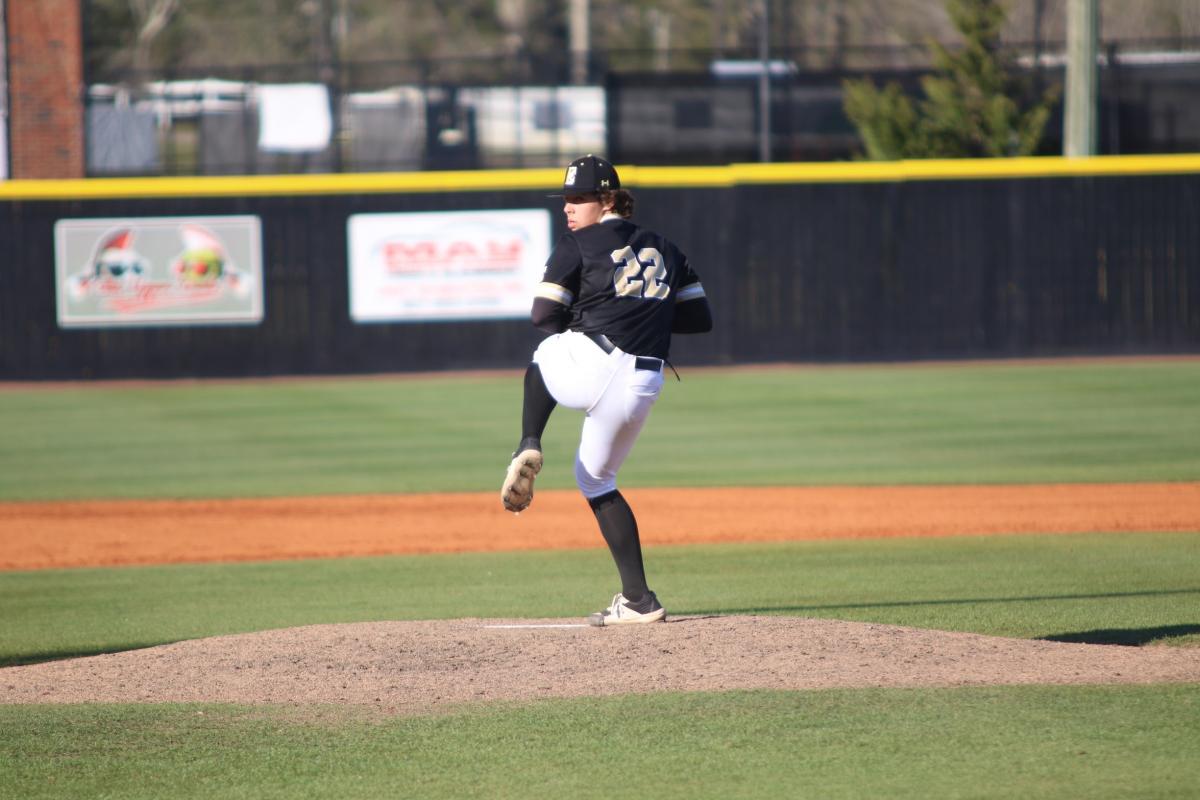 The East Central Community College baseball team split a pair of games with the Hinds Eagles this week as the Warriors took game one on Wednesday, April 20, and fell in game two which was played on Thursday due to a lightning delay that postponed the contest. The Warrior baseball team is now 27-13 overall and 13-11 on the season and is currently in a logjam of four MACCC schools with 13 conference wins on the year. 
The Warriors racked up 18 hits through the two contests and were led at the plate by Clayton Cook and Trey Lewis who combined for eight hits in the doubleheader.
Game One | W, 8-3
The Warriors took a late lead in game one against Hinds as the Warriors plated one run in the seventh and eighth before adding another three in the top of the ninth to secure an 8-3 win in the opener. 
After a Trey Lewis homer in the first, the Eagles took the lead with three runs in the bottom. An RBI single from Clayton Cook and an error knotted the game at 3-3 in the fourth, before a J.T. Vance sac bunt put ECCC in front in the seventh. Another Cook single made it 5-3 in the eighth, but the game was broken open in the ninth with RBI singles from Coleton Smith and Jalen Ayers that pushed the lead to 8-3. 
Grant Edwards got the win for the Warriors as he went four innings, allowed no runs on three hits, and struck out four. Miles Miller threw one and a third in relief and fanned one batter, while Mason Willis got the start and threw three and two-thirds. Holland Townes took the loss for Hinds.  
Cook finished the day going 4-for-5 from the plate to lead the Warriors. 
Game Two | L, 6-0
A lightning delay forced the second game to be delayed by one day as the Warriors made the trip back down to Raymond on Thursday. The Warriors could not recover from an early deficit and fell 6-0. 
The Eagles scored three in the first and another three in the fourth to run away with the win. 
The Warriors posted five hits on the day with Eli Collins' double in the top of the first being the only extra-base hit. 
Conner Nation got the win for Hinds as he went the distance, while Luke Odom got the loss for ECCC after throwing two-thirds of an inning allowing three runs – all earned – on four hits. Miller, Cade Hall, and Ervin Simmons all threw in relief with Miller striking out two and Simmons fanning three. 
Up Next
The ECCC baseball team plays host to Meridian in a doubleheader beginning at 4 and 7 p.m. on Tuesday, April 26. Those games can be seen live at eccclive.com/gold.