May 25, 2022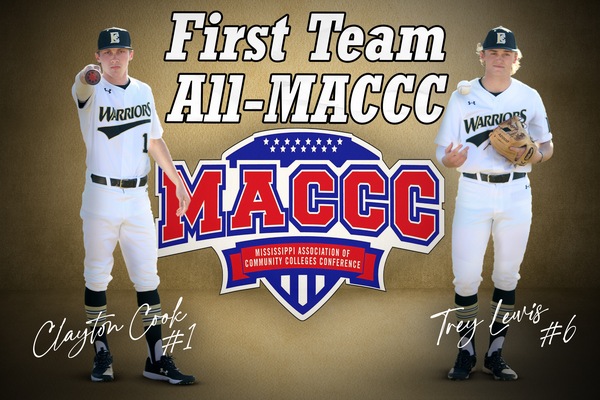 The East Central Community College baseball program had two players earn First Team All-MACCC honors in Trey Lewis of Silas, Ala., and Clayton Cook of Mize. The duo picked up the All-Mississippi Association of Community Colleges Conference honors for standout seasons on the diamond, particularly in the batter's box as the pair led off nearly every game for the Warriors and led the program in batting average, slugging percentage, hits, runs, and walks.
Lewis, a middle infielder, posted a team-high batting average of .428 after racking up 68 hits, which were second-best in the entire MACCC. The sophomore drove in 44 runs and had a .535 on-base percentage as he drew 28 walks throughout the year. In his career at ECCC, Lewis finished with 94 hits through 84 games played with six homers, 66 RBIs, a .364 batting average, and 35 stolen bases. Lewis has signed with the University of South Alabama to continue his playing career. 
Cook, an outfielder and the Warriors' leadoff batter for the 2022 season, was another stellar bat as he posted a .388 batting average after picking up 66 hits in 46 games. He drove in 34 runs from the leadoff spot and had a .475 on-base percentage. Cook was 12th in the conference in batting average and fourth in hits. Cook finished his three-year career with 148 hits through 105 games with 79 RBIs, 32 doubles, 10 home runs, 40 stolen bases, and a .387 batting average. Cook signed with Southeastern Louisiana University to continue his playing career.
Cook and Lewis led the Warriors to a 30-17 overall record and a playoff berth as the team's season came to an end in the NJCAA Region 23 Best-of-Three series against East Mississippi earlier in the month.