January 13, 2022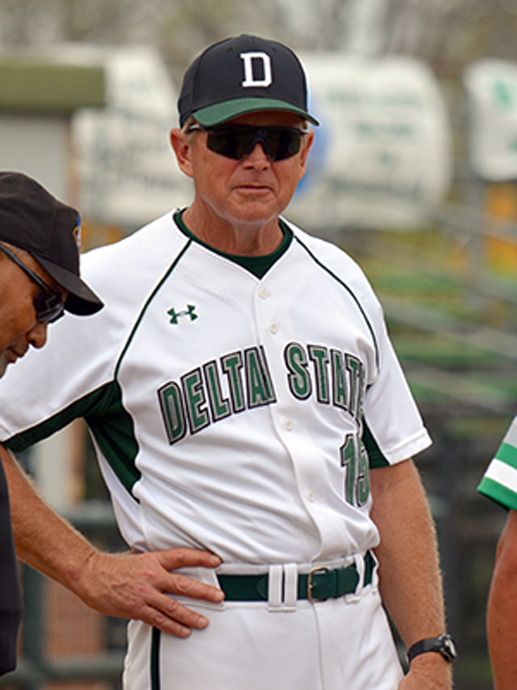 Legendary Delta State University baseball coach, and current DSU Athletic Director, Mike Kinnison will be the featured speaker at the annual East Central Community College Baseball First Pitch Dinner scheduled for 6:30 p.m. on Friday, February 4. The event will be held in the Mabry Memorial Cafeteria on the Decatur campus.
The public is invited to the event which annually kicks off the ECCC baseball season. Tickets are $40 for adults and $20 for children age 12 and under.
In addition to dinner and Kinnison's address, ECCC Head Baseball Coach Neal Holliman will introduce his 2022 team, the 2022 Diamond Darlings, and honor coaches from across the state as each ECCC player will have an opportunity to bring former coaches that had positive impacts on their lives as special guests. 
The Warriors will start their season the following Monday, February 7 with a home doubleheader against Northeast Mississippi Community College at 2 p.m. at the Clark/Gay Baseball Complex in Decatur. ECCC has an additional four home dates in the month of February. Fans can find a complete schedule of the season at www.ecccathletics.com/schedule.
Kinnison, a 2010 inductee into the Mississippi Sports Hall of Fame, posted a collegiate coaching record of 981-313-2 and a career record of 1,271-396-2 when including his high school stints. The 2004 ABCA National Coach of the Year led the Statesmen to the 2004 NCAA Division II national title, six College World Series appearances, 15 NCAA Regional appearances, 11 GSC Western Division titles, six NCAA South/South Central Regional championships, and eight Gulf South Conference titles. 
The Benton native earned his bachelor's degree in mathematics education in 1977 from Delta State University, and one year later earned a master's degree in mathematics education, also from DSU.
Tickets are now available and interested parties should not hesitate as space for the event is limited. For more information or to purchase tickets, contact Coach Neal Holliman at 601-635-6374 or nholliman@eccc.edu.