October 8, 2021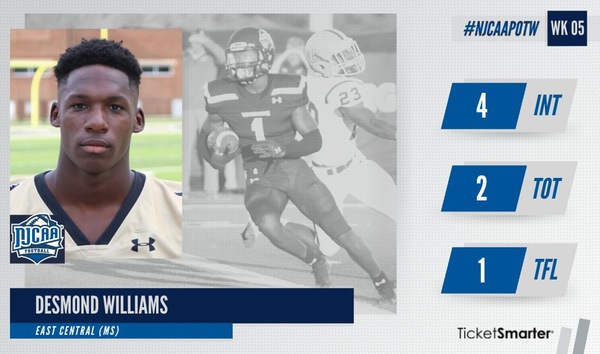 After having a career night against the Pearl River Wildcats last Thursday, Sept. 30, sophomore defensive back Desmond Williams (Forsyth, Ga.) not only picked up MACCC Player of the Week honors but now NJCAA Player of the Week honors, the first for ECCC since Robens Beauplan was named NJCAA Special Teams Player of the Week in 2019. 
Williams matched his season totals from 2019 and 2020 (five games) in just 60 minutes. Williams was tied for the season-high interception leader in the modern era at ECCC with four on the year (tied with Juwon Hayes-Keyes, 2016 and Austin Balthazor 2015), but the sophomore has now separated as the lone player a top that list with five thus far in the 2021 campaign.
Along with the interceptions, Williams also picked up two tackles including a tackle for loss. On the year, Williams has 22 tackles, five interceptions, four pass breakups, and three field goal blocks.