October 9, 2018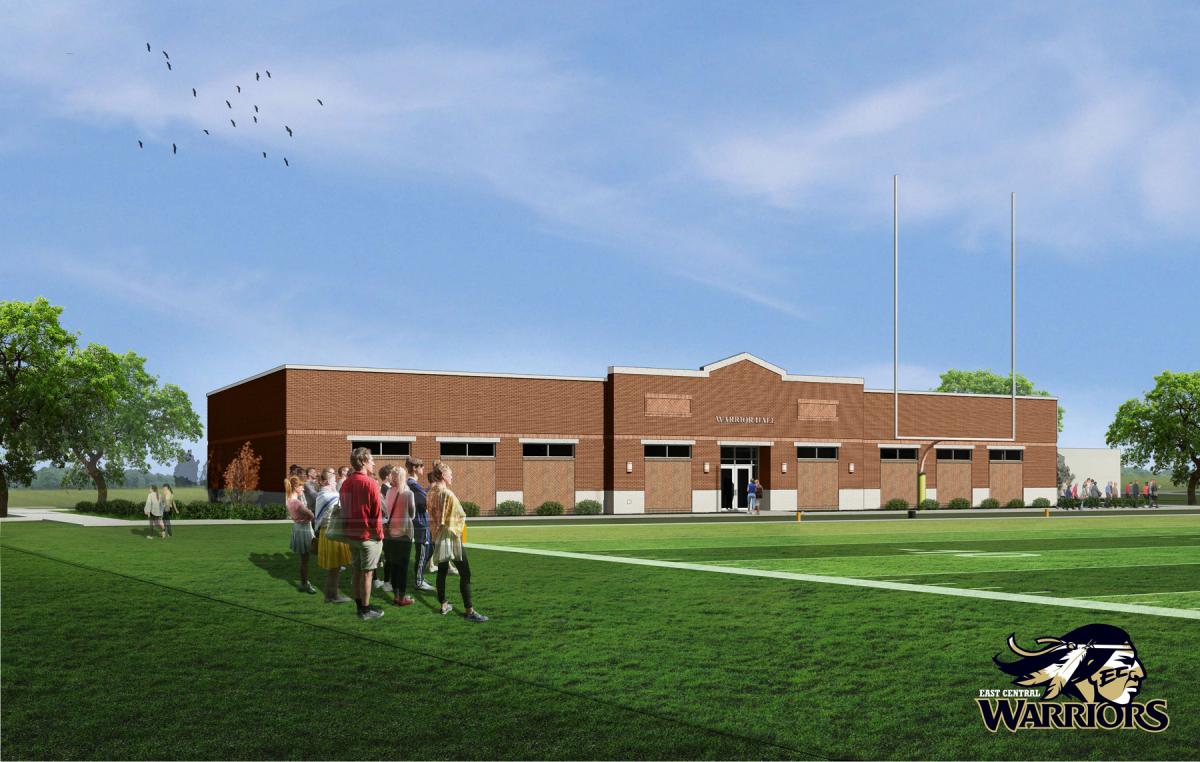 Architect's rendering of East Central Community College's football operations center, Warrior Hall.
East Central Community College announced plans today to construct a $2.6 million football operations center at Bailey Stadium on the campus in Decatur.
The funding and plans for the facility were approved at the Oct. 9 Board of Trustees meeting on campus. The college is currently finalizing plans for a groundbreaking ceremony at the site of the center.
To be initially called Warrior Hall, the 12,300-square-foot facility will be located just outside the North end zone of Warrior Field at Bailey Stadium.
The building will contain locker rooms for players and for coaches, a team meeting room, position conference rooms, coaches' offices, an equipment room, a players' lounge, and a laundry room.
Warrior Hall will also house a state-of-the-art training room to be used by student-athletes in all nine varsity sports at the college.
More than $320,000 of the funding for construction of Warrior Hall comes from private donations, including the naming of most rooms inside the facility. This amount is in addition to the $160,000 in private donations used to assist in the installation of the artificial turf at Bailey Stadium in 2014. The $480,000 reflects the most private donations ever contributed to construction-related projects in the history of East Central Community College.
The remaining $2.25 million in construction costs will come from college funds that will be repaid over the next few years. The college will also utilize a $430,000 certificate of deposit to fund other items related to the new facility including, but not limited to, a scoreboard, fencing, and utilities.
East Central President Dr. Billy Stewart stated that the construction of the football operations center is another project included in the college's long-range strategic plan for facilities adopted by the Board of Trustees in September 2016.
"As a component of the Campus Master Plan, I am pleased that the college is able to move forward with this project," said Stewart. "Many individuals and groups have contributed their money, time, and effort to make this facility a reality and we are so appreciative to each one. By utilizing the fund balance in our auxiliary budget to fully fund this project, the college will not be required to secure a loan and thus will save in the long run with no accrual of interest. We will simply pay ourselves back over time. We are eating the elephant one bite at a time, and this is the next bite."
Stewart added, "In addition to the football operations center, there are several other projects that are nearing realization including construction of a new Band Hall, the addition of several parking lots throughout campus, renovations to residence halls, and other infrastructure improvements."
With the college's synthetic turf installed in 2014 and a new scoreboard expected to be in place by the first football game of the 2019 season, East Central's football facilities will be among the best in the Mississippi Association of Community and Junior Colleges.
East Central head football coach Ken Karcher said Warrior Hall will be a tremendous benefit to his program.
"It is a very exciting day for the East Central football program," said Karcher. "This facility will help us attract and prepare future Warrior football players for success on and off the field."
In just his sixth season as head coach, Karcher has guided the Warriors to two appearances in the MACJC state playoffs, an MACJC South Division title in 2016, and a C.H.A.M.P.S. Heart of Texas Bowl victory in 2015.
East Central's new Director of Athletics Paul Nixon said that Warrior Hall will continue the college's commitment to excellence in its athletics facilities and serve to benefit all student-athletes.
"Coach Ken Karcher and his staff do an excellent job of preparing young men to be successful in life beyond their football careers," said Nixon, who assumed his duties in June. "The approval of this project will give them the space they need to enhance the tremendous work they are already doing. As the new director of athletics, one of the main things that attracted me to the position was the college's commitment to excellence in all areas, and the existing athletic facilities reflect this. The addition of this football operations center will be a huge step forward for our department and will benefit all of Warrior Athletics for years to come."
There are still naming opportunities available for Warrior Hall, including the building itself, the equipment room, individual player's lockers, team meeting room seats, and other areas.
For more information on naming opportunities and donations, contact David LeBlanc, ECCC's director of alumni relations and the foundation, at 601-635-6327 or dleblanc@eccc.edu.
The architect for Warrior Hall is Eley Guild Hardy Architects of Biloxi. The contractor is J&J Contractors Inc. of Collinsville.