February 20, 2017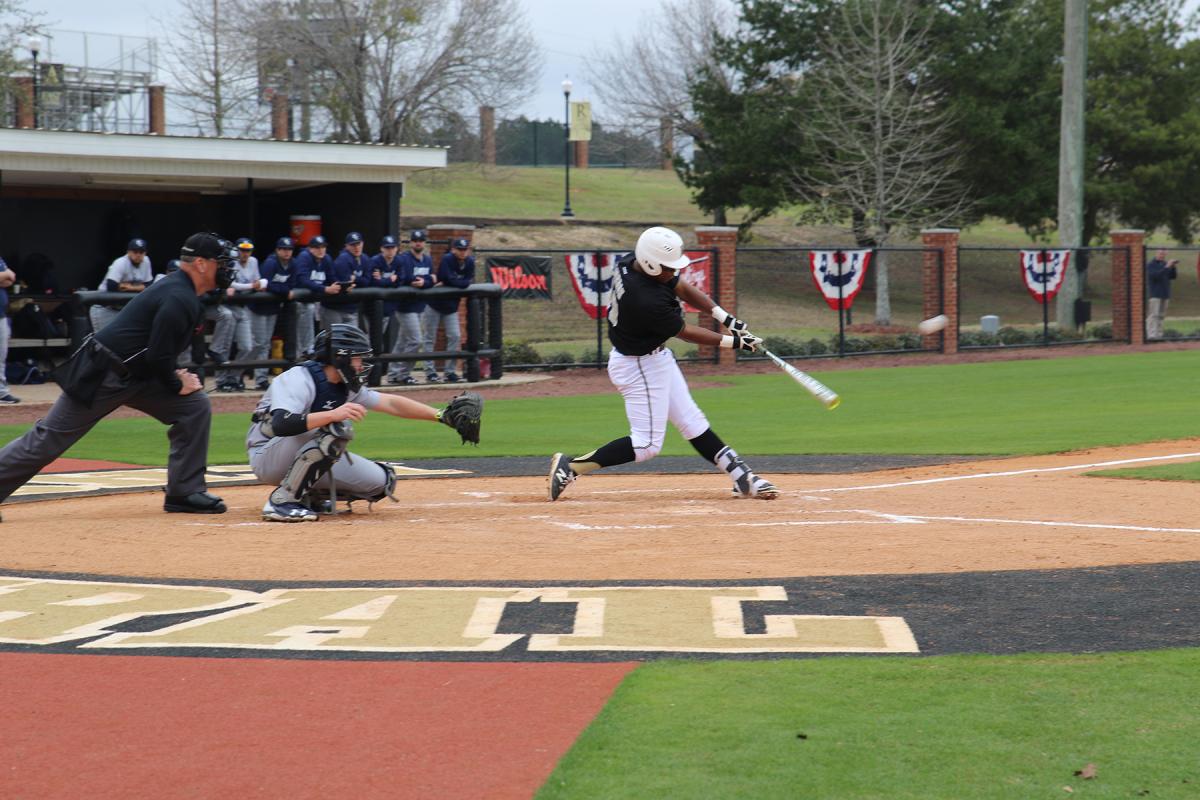 ECCC's Billy Cameron had four hits in seven trips to the plate in two ECCC Invitational games, including a home run, double, and four RBI. (EC Photo)
The No. 8 East Central Community College baseball team posted big wins in its own ECCC Invitational Saturday, Feb. 18, at the Clark/Gay Baseball Complex against Kaskaskia College and Coastal Alabama Community College.
The Warriors defeated Kaskaskia of Centralia, Ill., 20-2 in a seven inning game early in the day. In the nightcap, ECCC beat Coastal Alabama, formerly known as Faulkner State, 10-3.
The bats were hot for ECCC in the game against Kaskaskia, as the Warriors outhit The Blue Devils 16-6.
East Central jumped out to an early lead, scoring on a double by sophomore infielder Cole Prestegard of Huntsville High School and groundout by Brandon Clark of Neshoba Central in the first inning. They extended the lead on a home run by sophomore outfielder Nathan Roseberry of Purvis High School and a single by Clark in the second inning.
Kaskaskia remained scoreless until the top of the third, scoring on a solo-home run.
The Warriors then added four in the fourth off of a double, single and a two-run homer off the bat of sophomore infielder Billy Cameron of Mendenhall High School.
ECCC added three more in the fifth and seven in the sixth.
Clark racked up six RBI on three hits, Prestegard had four RBI, and Roseberry and Cameron had three RBI each.
Left-handed pitcher Brooks Warren of French Camp High School picked up the win for the Warriors, pitching three and two-thirds innings and allowing one run, three hits, and striking out nine.
Against Coastal Alabama, freshman Cole Gray, a right-hander from Lamar School in Meridian, struck out 10 in his East Central debut on the mound.
Gray threw for six innings and only gave up one run and surrendered two hits against the visitors from Bay Minette, Ala.
The Warriors captured the lead in the second inning off of a sacrifice fly by Hunter Bennett of Chilton County (Clanton, Ala.) High School. After Coastal Alabama tied the score in the top of the third, ECCC took the lead for good with four runs in the bottom half of the inning, scoring on an error, double by Cameron, a passed ball and a wild pitch.
East Central scored once more in the fifth and twice in each the seventh and eighth innings.
Southeastern Community College from Burlington, Iowa, also participated in the tournament.
East Central moved to 4-0 on the season. The Warriors travel to Hinds Community College in Raymond Wednesday, Feb. 22, to face the Eagles at 1 p.m. and Bossier Parish Community College at 4 p.m. They will return home to host the Rush Invitational Friday-Saturday, Feb. 24-25, at the Clark/Gay Baseball Complex in Decatur. ECCC will face Tyler Junior College out of Texas Saturday, Feb. 25, at 1:30 p.m. and Baton Rouge Community College from Louisiana at 7 p.m.