September 23, 2016
The East Central Community College Warrior football team ended a 13-game losing-streak to the Mississippi Gulf Coast Community College Bulldogs with a 42-28 victory in Bailey Stadium in Decatur Thursday, Sept. 22.
The last time ECCC beat Gulf Coast was in 2002 with a 28-21 win over the Bulldogs.
"It feels great and I'm happy for our team and coaches, they've worked hard to get better each week," said East Central Head Coach Ken Karcher. "Anytime you beat a program like Gulf Coast, with its great tradition and great coaching, that's a big win for our program and our kids."
The game went back and forth in the first half.
The Warriors got on the board first on their opening drive when sophomore quarterback Dominic Marino of Venice (Fla.) High School found freshman tight end Christopher Deloach of Columbus High School from 38 yards out for his first collegiate touchdown catch.
Gulf Coast quickly tied the game on its first possession of the game.
ECCC found the end zone again when freshman running back Dwayne Barnett of Harrison Central High School scored from three-yards out. The Warriors led 14-7.
The Bulldogs quickly tied the game at 14-14 on a 62-yard touchdown pass.
Sophomore wide receiver Devonta Jones added another Warrior touchdown on a nine-yard pass from Marino in the second quarter making the score 21-14. His touchdown was set up by a 64-yard pass from Marino to freshman wide receiver Antonio Gibson of Eagles Landing (Ga.) High School.
The game was almost immediately tied again at 21-21 when Gulf Coast returned the ensuing ECCC kickoff for 75 yards and a score.
East Central went up for good when Marino found Gibson on a 45-yard touchdown pass with 29 seconds left in the first half. The Warriors led 28-21 at intermission.
After halftime, Deloach had a 13-yard touchdown catch from Marino to extend the ECCC lead to 35-21.
The Warriors found the end zone a final time when Barnett carried it in from three yards out with 2:32 left in the game to lead 42-21.
The Bulldogs closed the gap to 42-28 with a late touchdown.
For East Central, Marino was 15 for 21 through the air for 231 yards. Barnett was the leader in rushing yards with 123 total yards for the Warriors on 20 carries and two touchdowns. Marino added 107 yards on the ground. Gibson was the top receiver with three catches for 110 yards. Sophomore linebacker Eric Barnes III of Seminary High School and sophomore defensive lineman Charles Bradford of Forest High School were credited with eight tackles each.
"I think tonight Dom took a step toward being a quarterback and not just an athlete," said Karcher. "I'm proud of Dom and really proud of those kids."
"Going into the game we were confident we spent a lot of time fixing some details," Marino noted. "We knew we could compete, but we just had to take care of the ball offensively and get some big stops on defense, and we did tonight."
The Warriors improved to 2-2 on the season and 2-0 in the MACJC South Division.
East Central will travel to Wesson Thursday, Sept. 29, for a big South Division match up against Copiah-Lincoln Community College (2-2, 1-1). Kickoff is set for 7 p.m.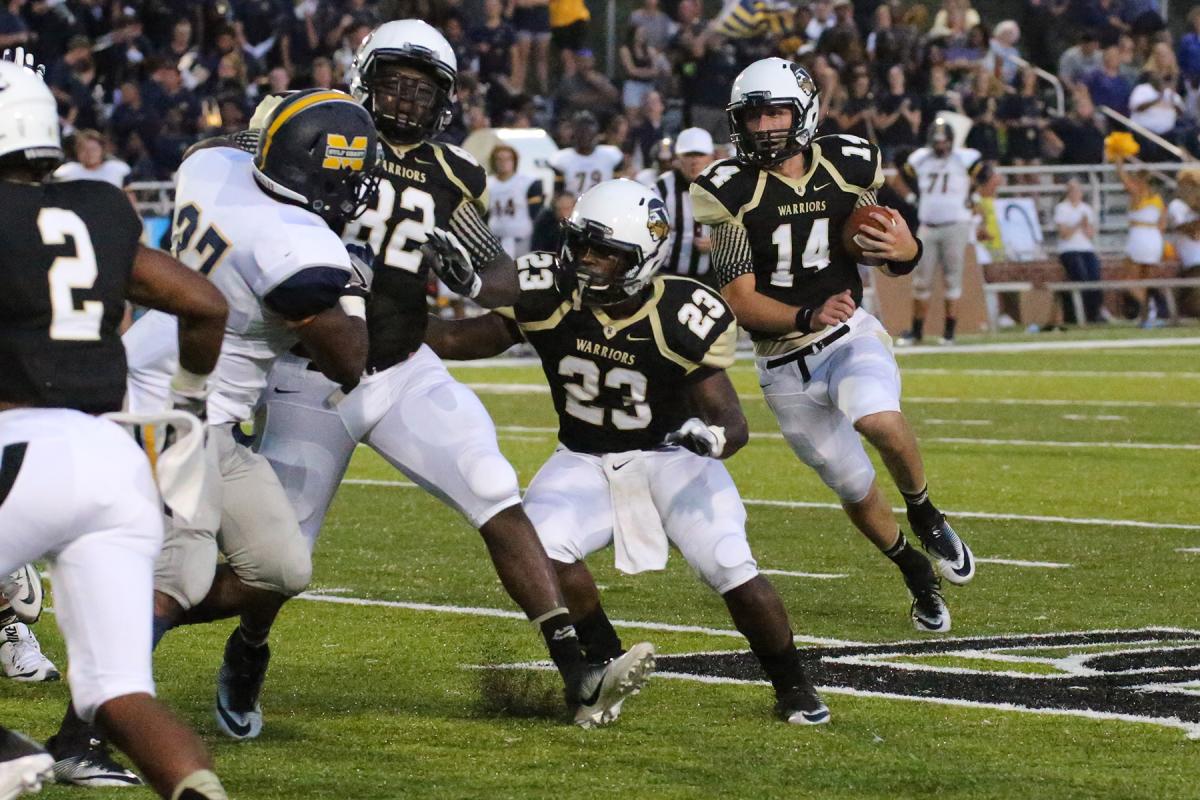 East Central sophomore quarterback Dom Marino rushed for 107 yards and threw for another 231 as the Warriors snapped a 13-game losing streak against Gulf Coast Sept. 22. (EC Photo)