April 13, 2023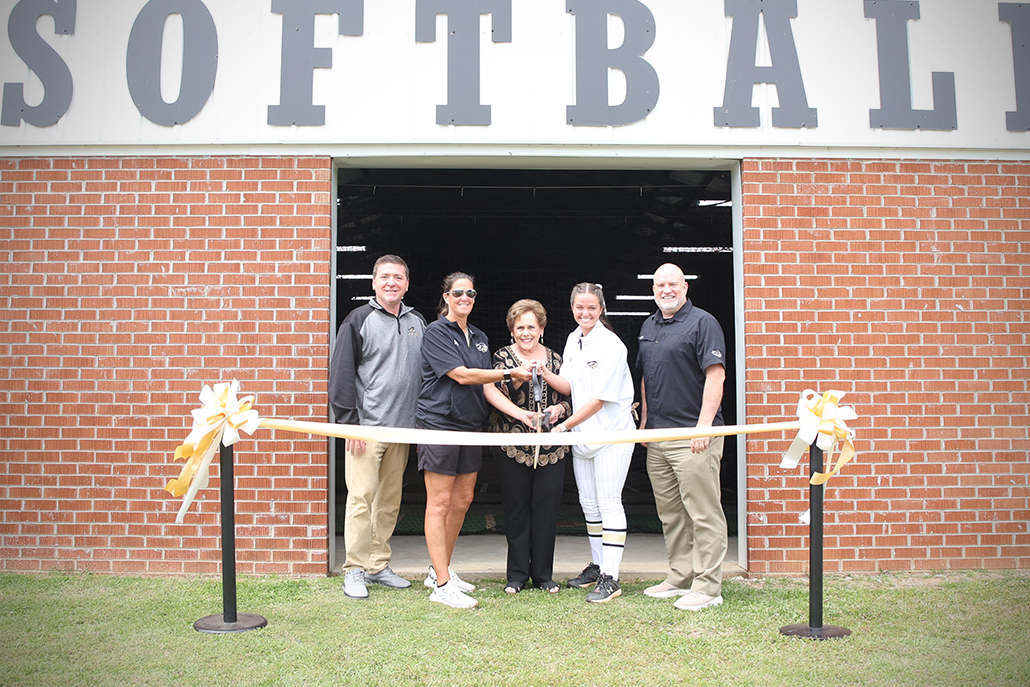 Cutting the ribbon to officially open the ECCC Softball Hitting Facility are (from left) ECCC President Dr. Brent Gregory, Head Softball Coach Leigh White, donor Carolyn Cook Huey, sophomore Emmi Harkins, and Director of Athletics Paul Nixon
East Central Community College (ECCC) in Decatur, Mississippi, held a ribbon-cutting ceremony on Wednesday, April 12, to officially open the softball hitting facility. The state-of-the-art facility features exceptional hitting spaces that will directly impact ECCC's softball student-athletes, providing them with the resources they need to improve their game. 
The ceremony also marked the unveiling of the new Max & Carolyn Cook Huey Weight Room, located at the north end of the building. This new facility gives the ECCC softball team a dedicated workout space to help the student-athletes build strength and endurance, giving them a competitive edge on the field. 
"We are proud to offer these outstanding resources to our student-athletes," said ECCC President Dr. Brent Gregory. "This project took a lot of hard work from a variety of people including current and former coaches, athletic administrators, and players in fundraising efforts. We are thankful for all our donors who bought into our program with financial contributions as they are the ones who make projects like these come to fruition."  
The program consisted of remarks from Dr. Gregory, Head Softball Coach Leigh White, and Director of Athletics Paul Nixon before those in attendance participated in self-guided tours of the facilities. 
The softball hitting facility and weight room are a testament to ECCC's commitment to providing its student-athletes with the best possible resources to succeed. As ECCC continues to build on its tradition of excellence in athletics, these new facilities will play an important role in helping the college's softball team achieve even greater success in the years to come.