April 9, 2017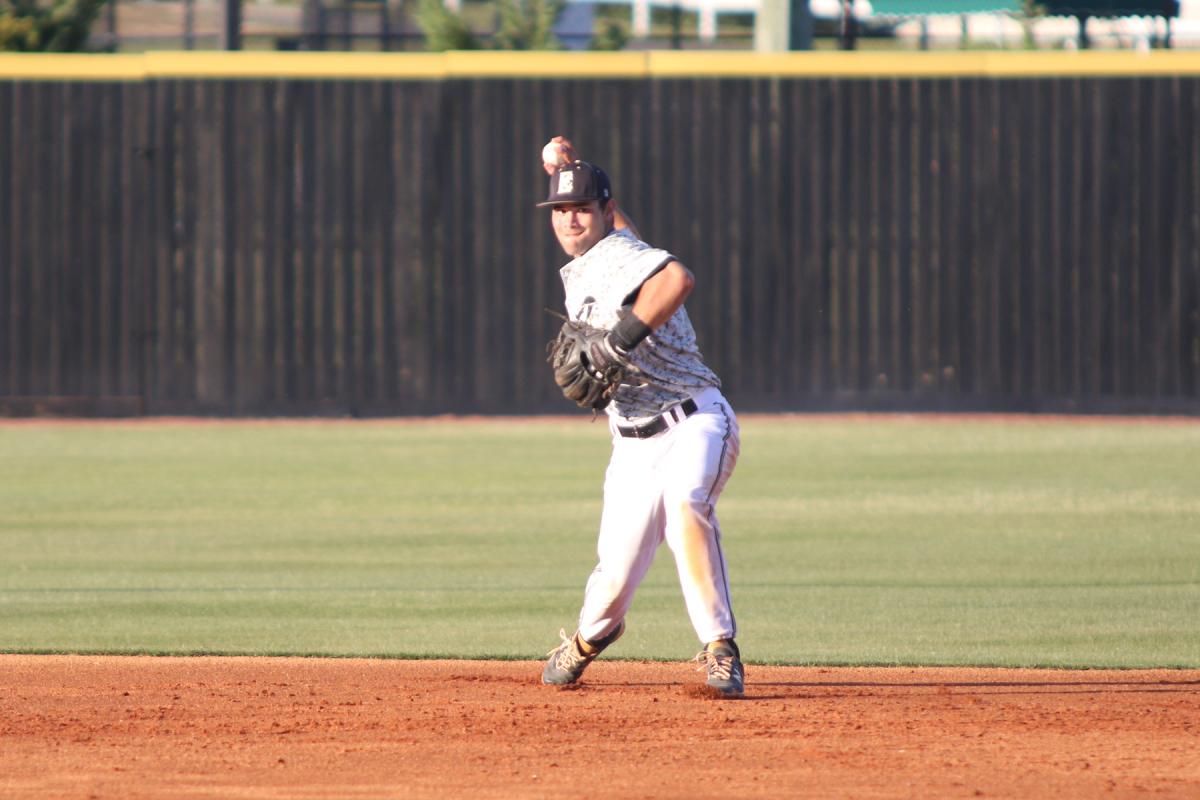 Wyatt Ball throws out a runner against East Mississippi. Ball's walk-off single in the bottom of the ninth gave the Warriors the game one win. (EC Photo)
Wyatt Ball's walk-off single just inside the first base bag with two outs in the bottom of the ninth gave East Central Community College a 9-8 win in game one of an important baseball doubleheader sweep over East Mississippi Community College Saturday, April 8, at the Clark-Gay Baseball Complex in Decatur.
With the wins, the No. 13 ranked Warriors improved to 22-10 overall on the season and 8-6 in MACJC league play. More importantly, the wins snapped a six-game losing streak against league competition. East Central is currently tied for seventh place in the 15-team league.
Game one was a back and forth affair with East Mississippi taking an 8-7 into the Warriors' last at-bat. With one out in the bottom of the ninth, Billy Cameron from Mendenhall drew a walk followed by a single off the bat of Cole Prestegard out of Huntsville (Ala.) High School. Ty Alderman from Newton County Academy hit into a fielders' choice, advancing Cameron to third. A sharp grounder off the bat of pinch hitter Johntrell Pickens out of Philadelphia High School was mishandled by the EMCC shortstop, scoring Cameron and sending Alderman to third.
Ball, a product of Nanih Waiya, then hit his game-winning single into right field to score Alderman for the 9-8 East Central win.
Brock Morris out of West Jones picked up the win going the last inning and a third and allowing no runs.
Ball, Cameron, and Prestegard each had two of the Warriors' 10 hits. Jacob Edwards out of Newton County had three hits and two RBI.
The Warriors had an easier time of it in game two, jumping out to an 8-1 lead after three innings and holding on for the 10-4 win.
Luke Yancey from East Rankin Academy, Brandon Clark out of Neshoba Central, and Cameron each had two-hit games, while Yancey, Clark, and Tyler Ladner from Pass Christian each had two RBI. Clark hit a two-run home run in the bottom of the sixth, his third of the year.
Peyton Lott out of Seminary got the win with four and a third innings of four-hit baseball, allowing two runs.
The Warriors will host two home doubleheaders next week. Hinds Community College comes to town on Tuesday, April 11, for games at 3 p.m. and 5 p.m. at the Clark-Gay Baseball Complex. Northeast Mississippi Community College will visit on Friday, April 14, for games at 2 p.m. and 5 p.m. Radio and live stream will be available for all four games at www.eccc.edu/eccc-media.