September 30, 2017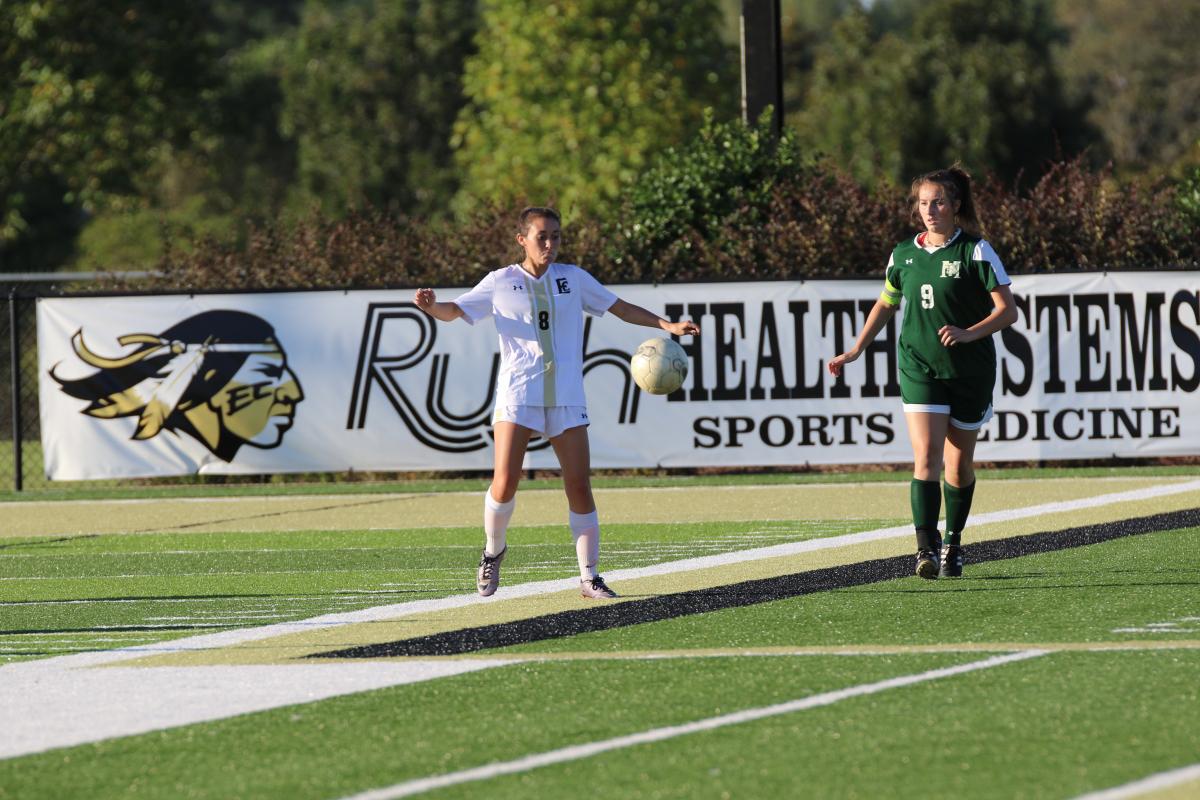 Cailee Helen McClain controls the ball in first half action against Meridian. McClain scored one of three ECCC goals in the 3-2 win. (EC Photo)
A goal by Tanner Lindsey with three minutes left in the second overtime gave the East Central Community College men's soccer team a 2-1 win over the Meridian Community College Eagles Friday night, Sept. 29.
The Warriors scored first in the match on a goal by freshman midfielder Francisco Romero out of Ripley in the 20th minute. Meridian would tie the match 1-1 with a goal in the 49th minute. The two teams remained tied after one 10-minute overtime period, before the game winner by Lindsey late in the second overtime. Lindsey, a sophomore forward from Northwest Rankin, was assisted by sophomore wing Joseph Stewart out of Callaway.
East Central improved to 6-4-1 on the season, while Meridian fell to 0-8-1. The Warriors defeated Meridian 5-0 earlier this season in a match played in Meridian.
In the first match of the night, the East Central women defeated Meridian 3-2. East Central got goals from sophomore forward Cailee Helen McClain of Starkville, freshman midfielder Kelsey Bayles from Northwest Rankin, and sophomore midfielder Aubree Patterson of Richland in the win. The match was tied 1-1 at the intermission.
The East Central women are now 3-3-1. Meridian is 2-7.
The matches were played in Bailey Stadium on the ECCC campus in Decatur.
The ECCC teams will stay at home on Wednesday, Oct. 4, to host MACJC North Division foe Holmes at 2 p.m. and 4 p.m. on the soccer pitch in Decatur. East Central will then travel to Fulton to play Itawamba, another North Division opponent, on Friday, Oct. 6, at 1 p.m. and 3 p.m.