February 16, 2017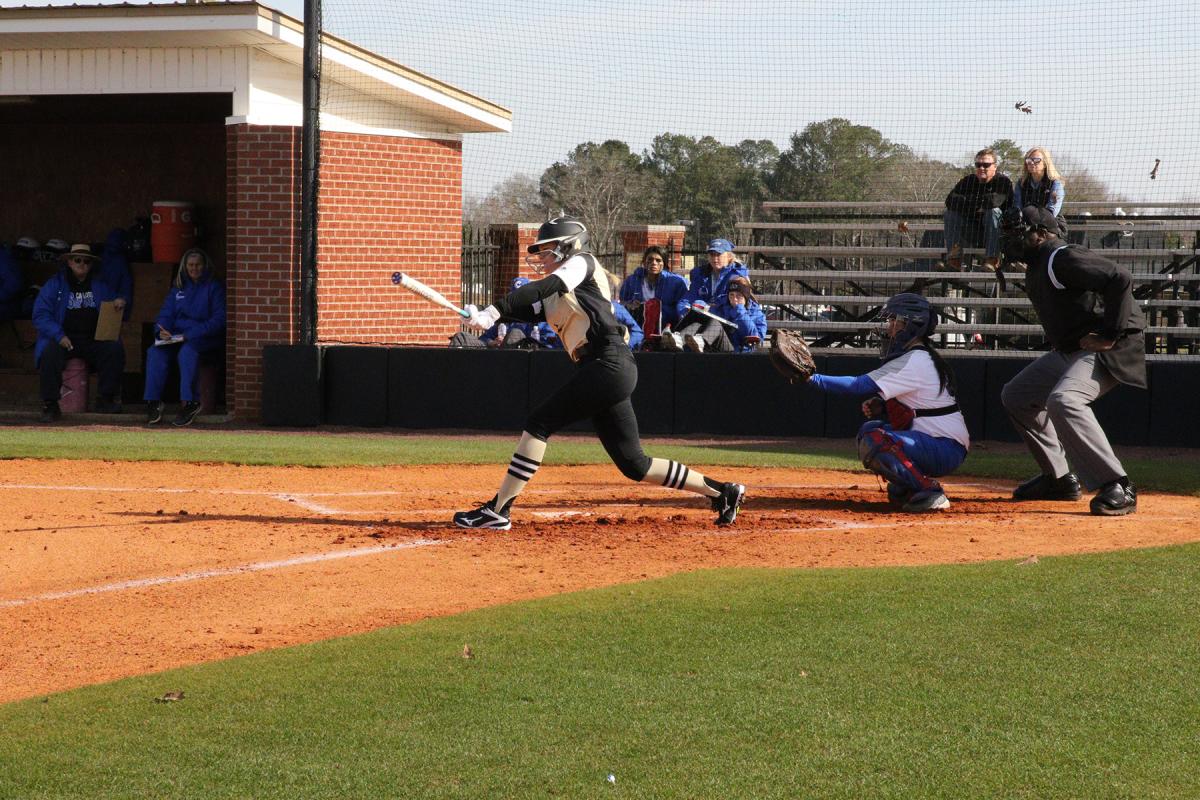 ECCC's Abby Winstead drove in four runs with a home run and a double in the sweep over EMCC. (EC Photo)
The No. 12 East Central Community College Lady Warrior softball team picked up another sweep Wednesday, Feb. 16, this time over East Mississippi Community College in Scooba.
East Central won big in the opener of the doubleheader 14-8, and then took game two by run rule 10-2 in four innings.
The Lady Warriors are now 6-0 on the young season. East Mississippi drops to 0-6.
East Central took the lead for good in second inning of game one after falling behind 2-1 early.
Sophomore left fielder Abby Winstead of Sebastopol High School doubled in two runs in the top of the second inning to help ECCC take the lead. Sophomore second baseman Latesia Davis of Newton County High School also doubled to score another Lady Warrior in the second. ECCC added the final run of the inning on an error by the Lady Lions.
The Lady Warriors added two more runs in the top of the fifth and sixth, but in the top of the seventh ECCC ran away with the lead going up 14-3.
Freshman designated hitter Katherine Shell of Brookhaven High School hit a solo home run to begin the scoring in the top of the seventh, and Kayla Beckham of Neshoba Central singled out to center field scoring two. East Central scored two more runs in the seventh on an EMCC error.
Beckham had three hits in game one with two RBI, while Mackenzie Johnson of Nanih Waiya High School and Winstead had two hits each.
NJCAA National Division II Softball Pitcher of the Week Kaitlyn Oswalt out of Heritage Academy in Columbus picked up her fourth win of the year in the circle. She pitched seven innings, surrendering three runs, seven hits, striking out six, and walking one.
In game two, ECCC went up early scoring six in the top of the first.
The Lady Warriors scored on a double by Beckham, a double by Brittney McCray of Sumrall High School, a stolen base by Shell, and two-run homer by Winstead.
East Central extended its lead to 10-1 in the second inning on a sacrifice fly, a two-run double off the bat of freshman Tagen Remmel of Clinton High School, and an RBI single from freshman Marlee Parkes of Nanih Waiya.
Freshman pitcher Mackenzie Rousseau out of Vanderbilt Catholic High School in Houma, La., picked up her second win of the year allowing two runs, four hits, and striking out five.
The Lady Diamond Warriors return home Saturday, Feb. 18, to host Shelton State Community College out of Tuscaloosa at 1 p.m. and 3 p.m. Shelton State is ranked No. 10 in the most recent NJCAA Division I poll.
Most East Central home softball games game can be heard on the radio at WKOZ "Cruisin" 98.3. The radio broadcasts are also streamed online on the ECCC website at www.eccc.edu/eccc-media and at www.kicks96news.com.