Coming off the best season in 16 years, fourth-year East Central Community College head football coach Ken Karcher anticipates another successful season for the Warriors in 2016.
East Central finished the 2015 season ranked No. 10 in the National Junior College Athletic Association Top 20 poll after winning the C.H.A.M.P.S Heart of Texas Bowl last December.
Karcher's squad will have to continue improving on both sides of the ball in order to carry last year's success into the 2016 season.
"We lost a lot of players on offense, but we have a few returners who will need to step up this season," Karcher said as fall practice opened. "Defense is usually ahead at the start, but I like what I see on offense."
Approximately 78 players reported for fall practice Aug. 7 to compete for 55 roster and 10 practice spots. The Warriors will scrimmage August 19 at Hinds Community College before beginning the 2016 season taking on Holmes Community College in Bailey Stadium in Decatur at 6:30 on Thursday, Sept. 1.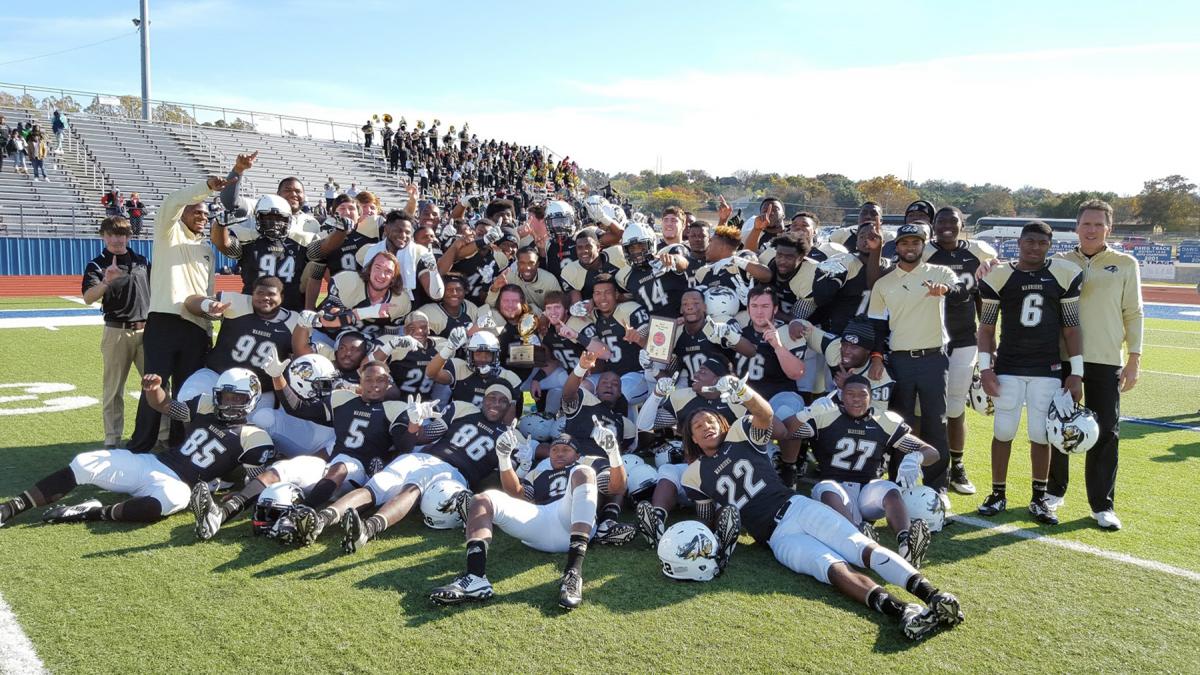 Last year the Warrior defense allowed 16.5 points per game, and Karcher feels that the defensive front will be the strength of the team this year.
"It's too soon to tell without being in pads yet, but I think our defensive line is growing," Karcher said. "If they develop like I think, they will really impact the team."
Returning on the defensive front will be Rosheem Collins, a 6-2, 300-pound defensive tackle out of Ware County High School in Waycross. Ga.; Charles Bradford, also a 6-2, 300-pound defensive tackle out of Forest High School; and Breyron Jackson, a 6-1, 225-pound defensive end from Germantown High School in Madison.
Karcher said the secondary is pretty much newcomers, but he expects a lot from Pat Walker, a 6-foot, 210-pound linebacker who prepped at North Forrest High School. Walker was third on the team in 2015 with 52 tackles.
Offensively, Karcher hopes to see good things from his newcomers and a few returners.
"I think we have a lot of exciting guys on offense who are new this season," Karcher said.
Not new to the league, but new to the Warriors, is 6-2, 190-pound quarterback Dominic Marino from Venice High School in Sarasota, Fla. Marino is a transfer from Coahoma Community College where he passed for over 1,200 yards last season and accounted for seven total touchdowns passing and rushing, and Karcher feels confident that he will be the starting quarterback this season. 
Also new for the Warriors are freshman wide receivers Antonio Gibson of Eagles Landing High School in McDonough, Ga., and Otis Cross Jr. of Kemper County High School. 
Returning on the offensive side of the ball will be Lucas Orchard, a 6-1, 295-pound offensive lineman out of Vancleave High School, who will switch to center and will be a key ingredient for the team Karcher says. Running backs Mikell Daniels from Forest High School, who rushed for 102 yards in 2015, and Donterrius Poe of Philadelphia High School both return to the backfield.
Karcher believes the kicking game will have to be consistent across the board for the Warriors to be successful this season. 
"Aaron Garrett (Meridian High School) kicked well for us in punting and on kick off, but we have to make sure we are consistent," Karcher said.
The bar is set high for the Warriors in 2016 after the success of last season, and in order for the East Central football program to continue to improve things will have to go well early, according to Karcher.
"Last year we won our first two games at home and we have two home games to start the season again this year," Karcher said. "If we can start out 2-0 going on the road to Pearl River I think that'll be the jump start we need."
"Slowly but surely we are growing into the football program we want to be," Karcher added. "We aren't the top in this league, but our goal as coaches is whoever we sign, we want them to be as good as the guys we have on the team, or better." 
There is one addition to Karcher's coaching staff for the 2016 season. Jonesboro, Ga., native Garrett Liberty is serving as assistant coach of running backs after joining the staff this month. 
Returning coaches include Scott Brock, defensive coordinator and cornerbacks coach; Mickey Mays, defensive line, special teams coordinator and run game coordinator; Charles Jones, safeties and falcons coach; Dennis Alexander, offensive line coach; Tylan Martin, wide receivers coach; and Derek Welch, linebackers coach. 
East Central will play five home games: Thursday, Sept. 1, against Holmes at 6:30 p.m.; Thursday, Sept. 8, against Northeast Mississippi Community College at 6:30 p.m.; Thursday, Sept. 22, against Mississippi Gulf Coast Community College at 6:30 p.m.; Thursday, Oct. 6, against Jones County Junior College at 6:30 p.m.; and Saturday, Oct. 15, against Hinds Community College in the annual Homecoming game. All home games are on the synthetic turf of Bailey Stadium in Decatur. 
The Warriors will travel to Pearl River Community College on Sept. 15, Copiah-Lincoln Community College on Sept. 29, Northwest Mississippi Community College on Oct. 20, and Southwest Mississippi Community College on Oct. 29.