January 23, 2018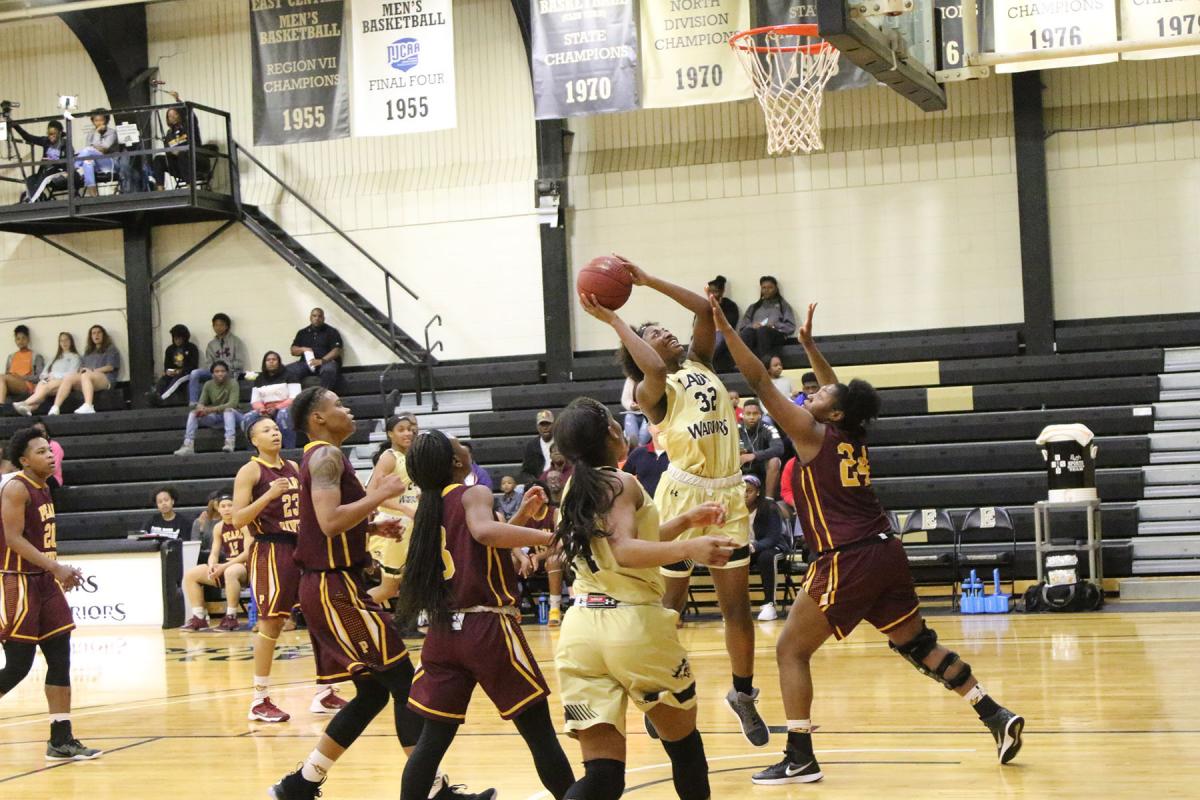 (Left Photo) ECCC's Sharan Turner drives to the hoop in first half action against Pearl River. (Right Photo) ECCC's Thurston McCarty slams home two of his team-high 15 points against Pearl River. (EC Photos)
The Pearl River Community College men's and women's basketball teams came into Brackeen-Wood Gym in Decatur on Monday, Jan. 22, and left with a pair of MACJC South Division wins over East Central Community College Warriors and Lady Warriors.
The Pearl River Lady Wildcats picked up a 49-47 win over the ECCC Lady Warriors in the opener, while the Wildcats took the men's game 77-65 over the ECCC Warriors.
In the women's contest, both teams shot poorly from the floor in the low-scoring contest. East Central shot just 20 percent for the game, hitting 15 of 74 shots, including just 5 of 31 from beyond the three-point line. The Lady Warriors made just 12 of 27 free throws for 44 percent. Pearl River didn't fare much better shooting 34 percent from the floor in the win.
Freshman guard Sharan Turner (Gonzales, La., Ascension) was the only Lady Warrior in double figures with 11 points. She also had eight rebounds.
With the loss, the East Central Lady Warriors fell to 9-4 overall and 2-3 in MACJC South Division play. The Pearl River Lady Wildcats improved to 8-4 and 2-3.
In the men's game, MACJC South Division leader Pearl River controlled the first half, taking a 41-29 lead into the locker room. The Wildcats led by as many as 18 in the second half. East Central never led in the contest.
The Warriors had three players in double figures in the loss. Sophomore guard Thurston McCarty of Quitman scored 15 points to lead ECCC, with freshman guard Roti Ware of Morton and sophomore guard Cayman Ruffin of Neshoba Central with 12 each. McCarty also led the Warriors with eight rebounds.
East Central's overall record fell to 8-6. The Warriors are 2-3 in MACJC South Division play. The Pearl River Wildcats improved to 12-1 and 4-1.
ECCC will travel to Ellisville on Thursday, Jan. 25, to face Jones County Junior College. Women's action is at 5:30 p.m. and the men follow at 7:30 p.m.
The Warriors and Lady Warriors return home on Monday, Jan. 29, to host Hinds Community College at 5:30 p.m. and 7:30 p.m. in Brackeen-Wood Gym in Decatur.
All home basketball games can be heard on WKOZ Cruisin 98.3 or via audio stream and live stream video at www.eccc.edu/eccc-media.