February 20, 2018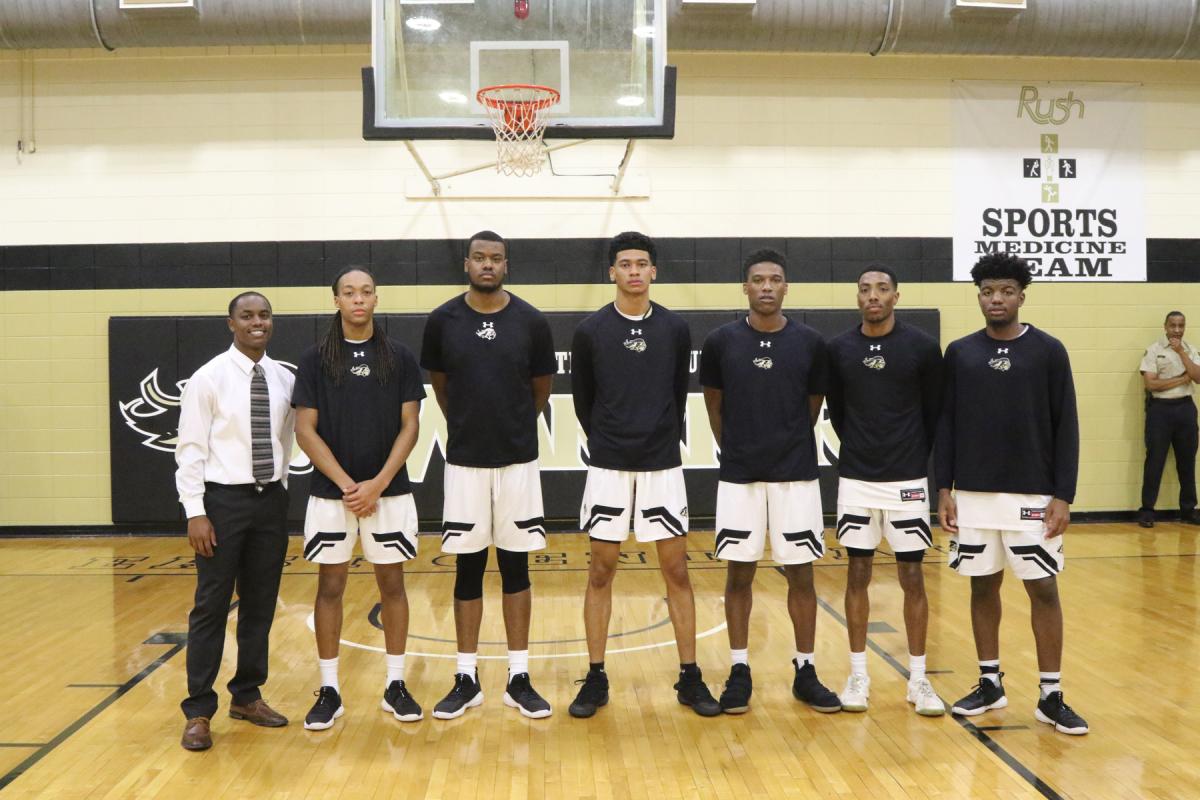 Sophomore members of the 2017-18 East Central Community College Warrior basketball team honored at their final home game Feb. 19 and their high schools include (from left) manager Javontae Spivey, Forest; guard Cayman Ruffin, Neshoba Central; forward Cameron Diggs, Mobile, Ala., Blount; guard Thurston McCarty, Quitman; guard Jaquan Dotson, Neshoba Central; guard Jerome Adkins, Clarkdale; and guard Tavonta Jones, Meridian. (EC Photo)​
The East Central Community College Warriors broke a three-game losing streak with a 72-63 win over MACJC South Division foe Jones County Junior College on Sophomore Night Monday, Feb. 19, in Brackeen-Wood Gym in Decatur. The ECCC Lady Warriors opened the evening with a 77-64 loss to the No. 7 ranked Jones County Lady Bobcats.
The Warrior and Lady Warrior sophomore players were honored prior to the start of each game, along with the sophomore members of the Cheerleading squad, Centralettes dance line, and Color Guard.
In the Warriors' victory, East Central led almost the entire game in grabbing the nine-point win. Jones County's only lead was 2-0 at the start of the contest.
East Central's biggest lead of the first half was 37-25 at the intermission. Jones County pulled to within four on a couple of occasions in the second half, before East Central went on a late run to take a 14-point lead at 69-55 and seal the win.
A pair of sophomores out of Neshoba Central High School led the way for East Central. Jaquan Dotson had 17 points and nine rebounds and Cayman Ruffin added 15 points and eight rebounds. Sophomore forward Cameron Diggs (Mobile, Ala., Blount) chipped in 10 points and eight boards.
East Central improved to 10-12 overall and 4-9 in MACJC South Division play. The Jones County Bobcats fell to 11-11 and 6-7 in the league.
In the women's action, No. 7 Jones County jumped out to a quick 12-0 lead to take control of the game early. The Lady Bobcats led by as many as 18 in the first half and 22 in the second half. The Lady Warriors did pull within 10 points late in the game, but could get no closer as the Lady Bobcats took the 13-point win.
East Central shot just 20 percent from the floor for the game and was outrebounded 77-48.
Sophomore guard Autumn Taylor had a stellar performance in her final home game. The Newton High School product scored a game-high 25 points to go with seven rebounds and three assists. She was the only Lady Warrior in double figures. Freshman forward Whitney Waters of Heidelberg pulled down 13 rebounds for East Central.
The East Central Lady Warriors fell to 12-9 overall and 5-8 in the MACJC South Division. The Jones County Lady Bobcats improved to 19-3 and 12-1.
The East Central teams will play their final games of the season on Thursday, Feb. 22, in Utica against Hinds Community College. The women tip off at 5:30 p.m. and the men follow at 7:30 p.m.
All home basketball games can be heard on WKOZ Cruisin 98.3 or via audio stream and live stream video at www.eccc.edu/eccc-media.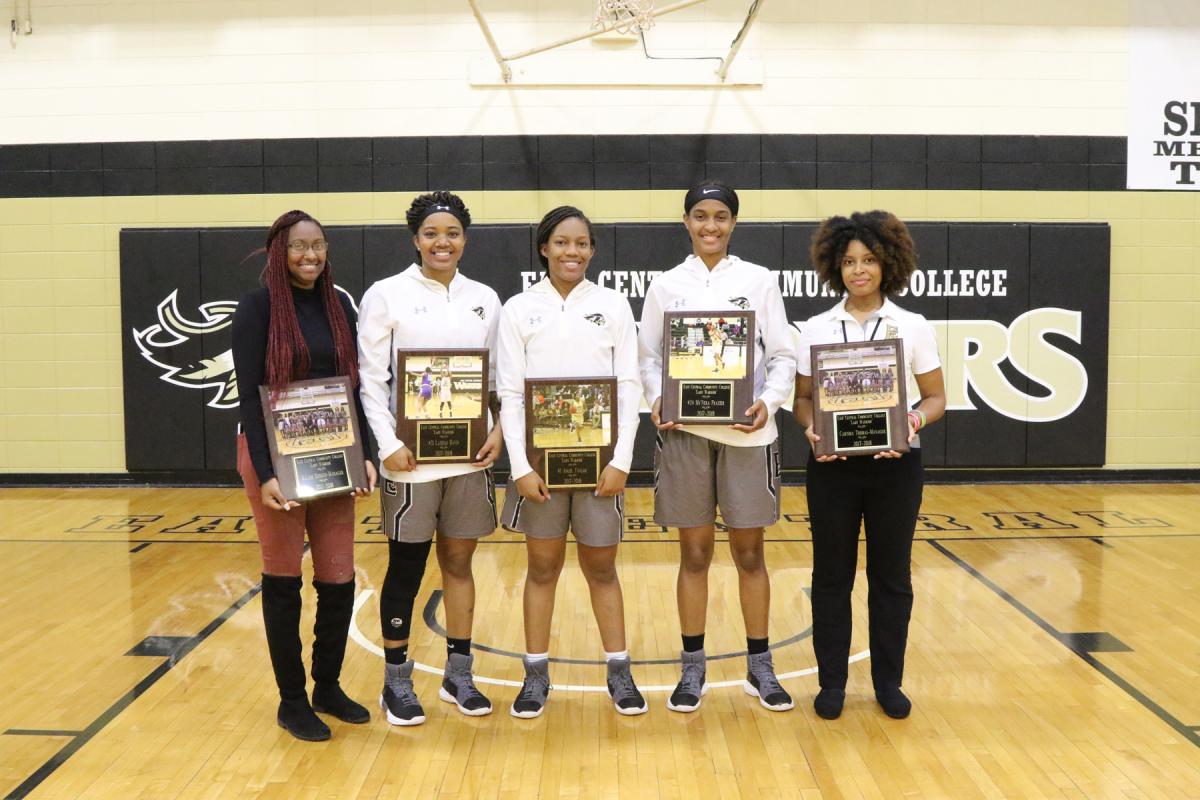 Sophomore members of the 2017-18 East Central Community College Lady Warrior basketball team honored at their final home game Feb. 19 and their high schools include (from left) manager Rajah Hodges, Newton; forward Latesia Davis, Newton County; guard Autumn Taylor, Newton; forward My'Neka Frazier, South Pike (McComb); and manager Carisma Thomas, Morton. (EC Photo)