May 4, 2018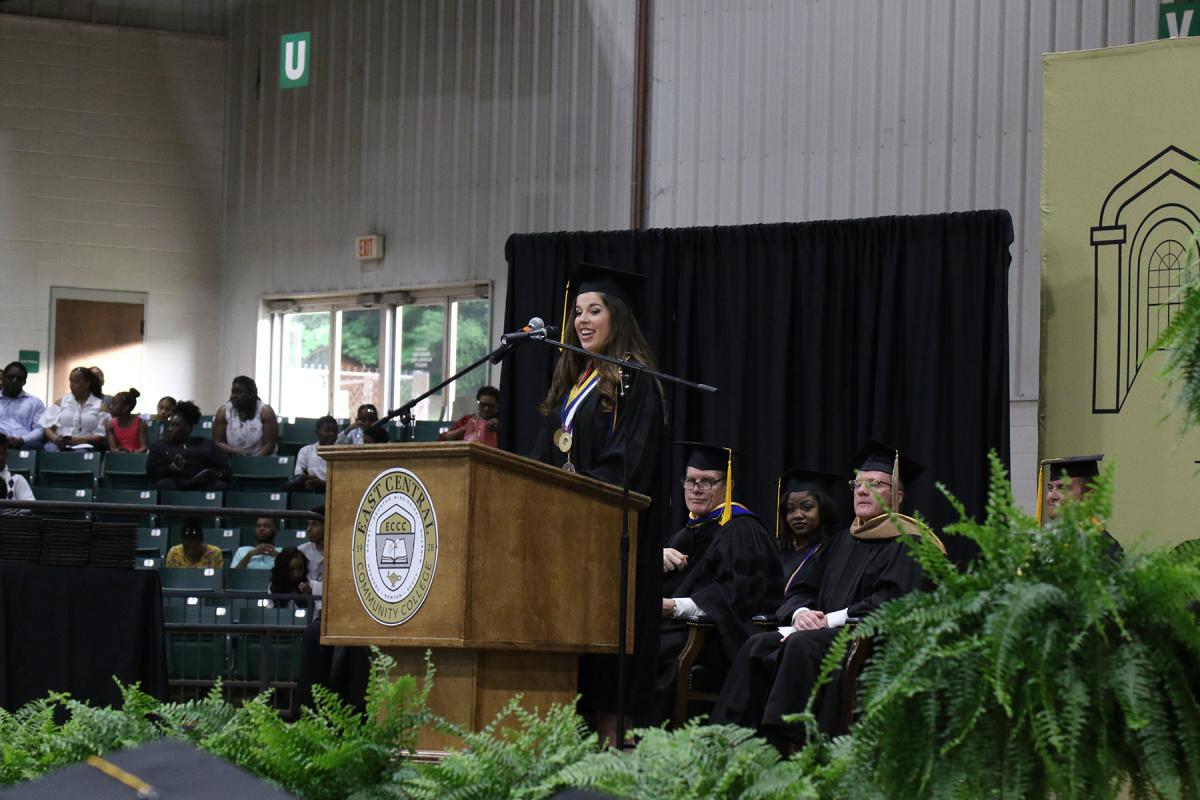 Reagan Gorgas of Decatur, a 2018 graduate and member of the ECCC Hall of Fame, delivers the commencement address during East Central Community College's graduation ceremonies held Friday, May 4, at the Neshoba County Coliseum in Philadelphia. (EC Photo)
Addressing guests and her fellow graduates at East Central Community College's 89th Commencement held Friday, May 4, 2018, at the Neshoba County Coliseum in Philadelphia, Reagan Gorgas of Decatur quoted the late Barbara Bush and stressed to the audience it's how we treat others that is most important in life.
Gorgas said, "… She (Bush) has said many memorable things, but this is the one that stands out to me the most, and the one I will always remember: 'Never lose sight of the fact that the most important yardstick of your success will be how you treat other people ­­– your family, friends, coworkers, and even strangers you meet along the way.'
Dr. Teresa Houston, vice president for instruction, presented the candidates for graduation, and ECCC President Dr. Billy Stewart awarded degrees and certificates during the ceremony.
More than 600 students applied to graduate, which would be a record graduating class. Included in the total were those who completed degree requirements following the spring 2018 and fall and summer 2017 terms. The final number of students who met all criteria to graduate will be determined next week.
East Central had its largest graduating class in history in May 2016 when 599 students received diplomas or certificates.
Continuing her remarks, Gorgas spoke of the exciting and scary days as a freshman on the ECCC campus and how the way the faculty and staff treated her made a huge difference.
"Little did I know that we were all feeling the same way, and everyone was just as clueless as I was. I believe that I speak for the entire class when I say that the administration, faculty and staff at East Central have tremendously contributed to our accomplishments. They have made it their mission to help us get to this point. They truly exemplify the EC Way – Excellence with Class. So, I think I speak for all my classmates when I say thank you!"
Gorgas said she was also encouraged to get involved as a student and that campus organizations like Phi Theta Kappa, SkillsUSA and Warrior Corps gave her multiple opportunities to give back to her community.
"One of my favorite memories has been participating in the Special Needs Prom for the past two years," she said. "Having these experiences has reminded us of the importance of giving back and leading others to do the same. As we go on in our lives, I pray we all remember to look out not only for ourselves, but for the people that are in need around us, too."
She also encouraged students as she spoke of graduation not only being the end of one chapter, but the beginning of another.
"… Everything we've known for the past two years is about to change. As we embrace this change, we will be faced with times of uncertainty. Regardless, I know we all will find comfort in the new journey that God has planned for us. Proverbs 3:5-6 says 'Trust in the Lord with all your heart and do not lean on your own understanding. In all your ways acknowledge him, and he will make straight your paths.'"
Gorgas, a President's List scholar and member of the ECCC Hall of Fame, also thanked those who have been part of her journey to this point and concluded her remarks with a final quote by the former First Lady.
"There are so many people who have impacted and inspired me to do more than I ever thought I was capable of doing. I wish I could thank each and every one of you, but I would be standing here all night. I hope that we will remember that our character is not defined by our academic success, but how we treat other people. As we go our separate ways tonight, I would like to leave you with a final quote from the former First Lady: 'At the end of your life, you will never regret not having passed one more test, not winning one more verdict or not closing one more deal. You will regret time not spent with a husband, a friend, a child, or a parent.' Thank you for your attention and congratulations to the class of 2018!"
In addition to Gorgas, other graduating sophomores participating in the commencement program were Demetreuna Rankin of Forest, who gave the invocation, and Peyton Ryals of Louisville, benediction. Presenting the musical selection "An Offering" were graduating sophomores Landon Bounds of Union, Jonathan Hall and Kaishanna Young, both of Philadelphia; Maiah Patrick of Forest and Brittany Perkins of Conehatta.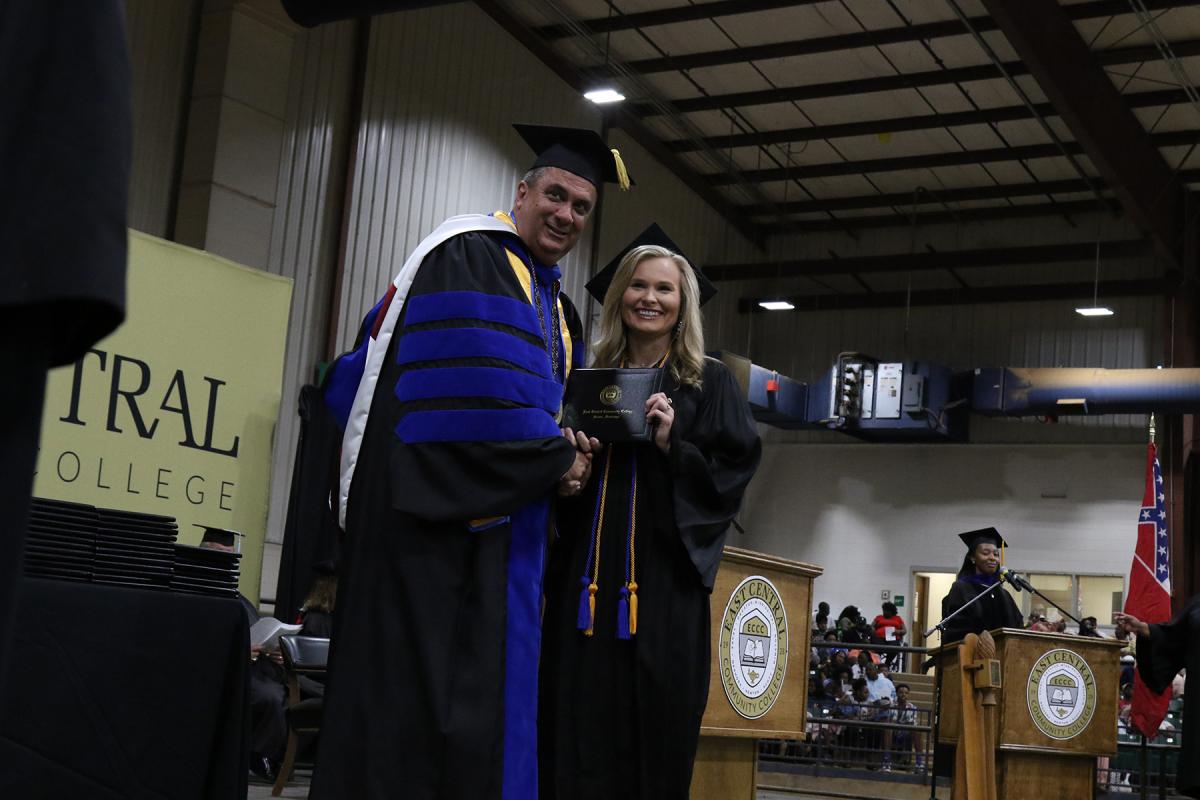 ECCC President Dr. Billy Stewart (left) awarded degrees and certificates during the college's 89th Commencement held Friday, May 4, at the Neshoba County Coliseum in Philadelphia. At right is 2018 graduate Kirbi Hurst of Hickory. (EC Photo)