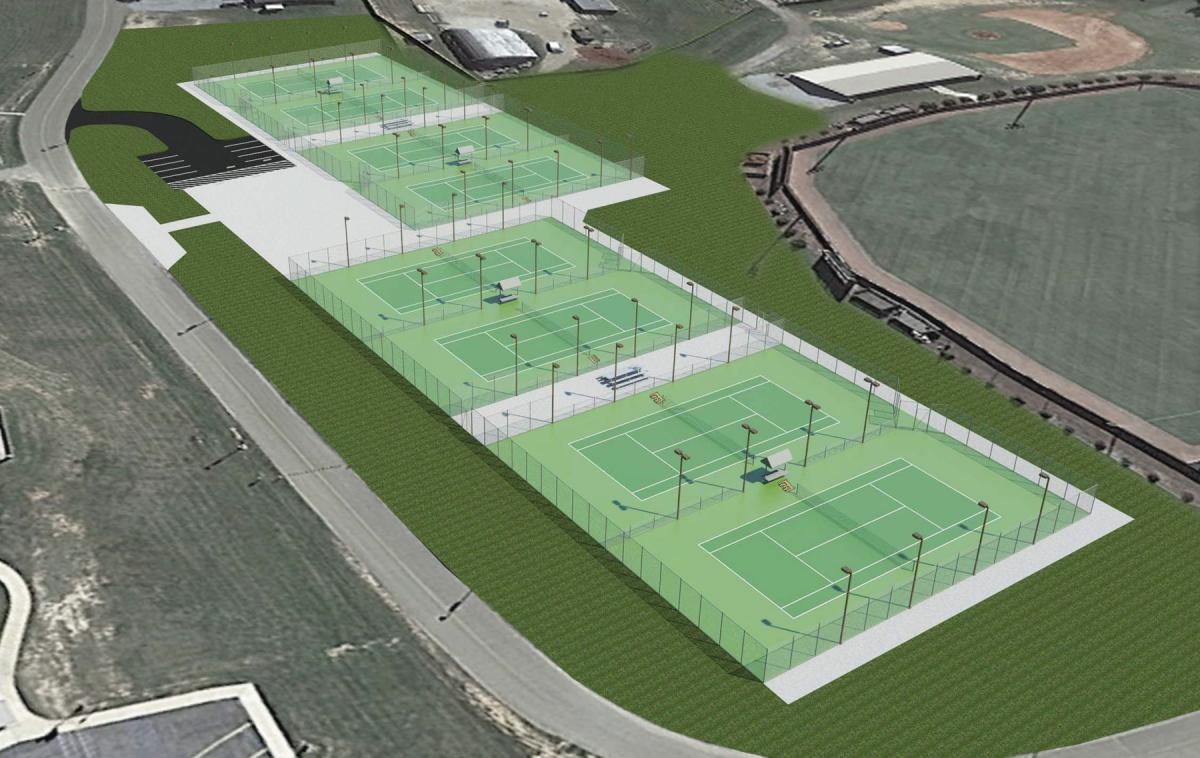 Architect's rendering of the new Tennis Complex at East Central Community College.
January 31, 2017
A ribbon cutting will mark the official opening of the new Tennis Complex on the East Central Community College campus in Decatur during ceremonies Tuesday, Feb. 14.
The ceremony will begin at 3:30 p.m. at the new Tennis Complex located at the north side of campus between the softball and baseball facilities.
Attendees will be allowed to tour the complex following the ceremony.
The $1.2 million Tennis Complex includes eight lighted courts to serve the ECCC men's and women's varsity tennis teams, as well as the campus and local communities. The facility includes parking and spectator areas, which were very limited at the current four-court tennis complex on campus that was originally built in 1969.
A fundraising effort is underway to fund the construction of a building near the main entrance of the new Tennis Complex to house men's and women's locker rooms, coach's office, team meeting room, concessions area, and restrooms.
"This is an important day not only for our tennis program, but for our college and the communities we serve," said ECCC President Dr. Billy Stewart. "These state-of-the-art tennis courts will be a tremendous asset to the young men and women who play tennis for East Central, but also for those in our communities who love and play tennis."
Stewart said that the project was part of the college's new Campus Master Plan approved by the Board of Trustees in September 2016 that will ensure campus physical resources are used in the most effective and efficient means as opportunities for growth are explored. He explained that the goal of the Campus Master Plan is to provide the best learning environment possible for students.
Second year ECCC Tennis Coach Jay Pacelli said the new complex will help him to better train and attract tennis players.
"This is a much-needed addition to our tennis programs," said Pacelli. "It gives us the adequate court space needed by a college program that will make our training more effective and our dual matches more efficient. We also will be able to host tournaments in the future.
"It also will be a huge draw for prospective recruits. I have seen firsthand the impact our college has on the lives of students, and it is exciting to know that these courts will help us attract student-athletes so that we can make a difference in their lives. It is definitely going to be one of the top tennis complexes in the state of Mississippi."
Pacelli said that all of his players will now be able to train at the same time rather than split practice schedules and that dual matches that once took up to eight hours on the existing four courts at ECCC will now take four hours or less.
The new Tennis Complex was designed by Eley Guild Hardy Architects of Biloxi. Construction was by J&J Contractors Inc. of Collinsville.