March 8, 2018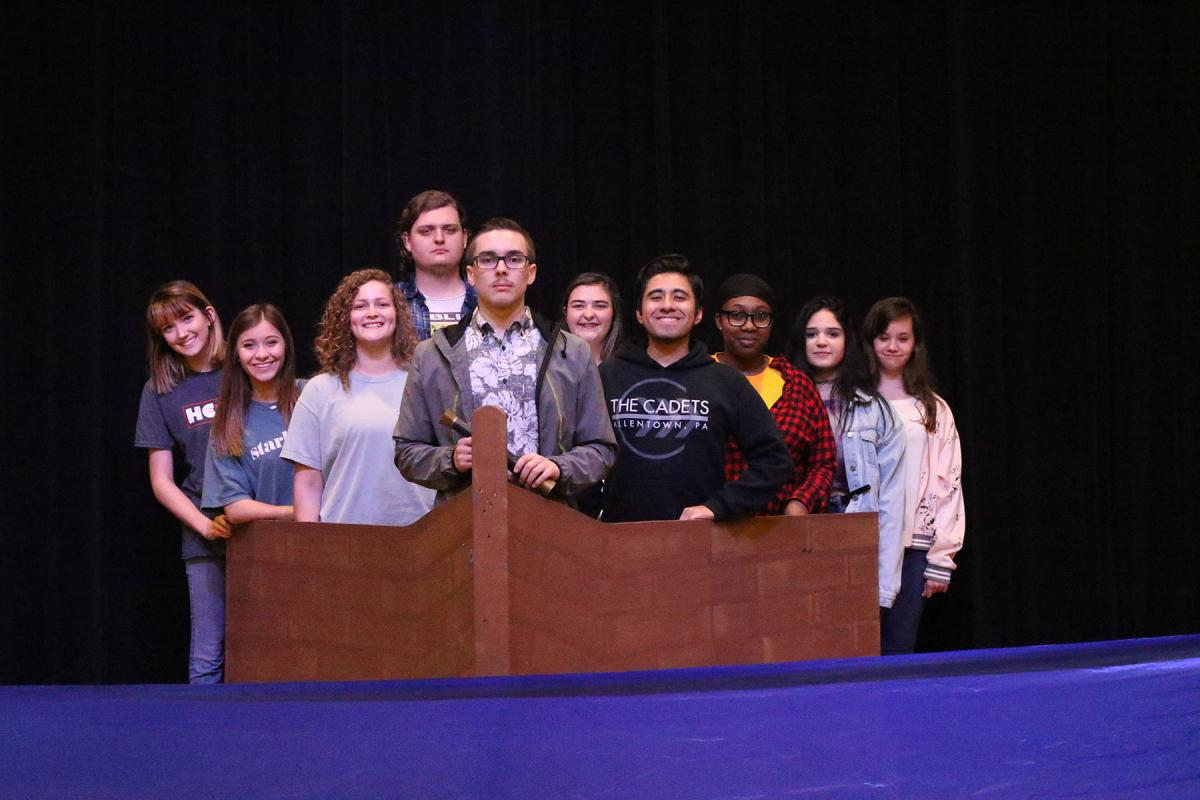 Cast members rehearse a scene for the upcoming ECCC musical production of "The Little Mermaid," which will be presented March 21-27, 2018, in the Vickers Fine Arts Auditorium on the Decatur campus.
The East Central Community College Encore Players will present "The Little Mermaid" March 21-27, 2018.
Matinees will be held at 9 a.m. and noon Wednesday, March 21; 2 p.m. Sunday, March 25; and 9 a.m. Monday and Tuesday, March 26-27. Evening performances begin at 7 p.m. Saturday, March 24, and Monday and Tuesday, March 26-27. All performances will be held in the Vickers Fine Arts Auditorium on the Decatur campus. Tickets are $10 each and may be purchased by calling 601-635-2111.
The script is by Doug Wright with music and lyrics by Alan Menken, Howard Ashman and Glenn Slater.
According to director Jessica Price, "In The Little Mermaid, Ariel, King Triton's youngest daughter, wishes to pursue the human Prince Eric in the world above, bargaining with the evil sea witch, Ursula, to trade her tail for legs. But the bargain is not what it seems and Ariel needs the help of her colorful friends, Flounder the fish, Scuttle the seagull, and Sebastian the crab, to restore order  under the sea."
Cast members include Kaishanna Young (Ariel), Wesley Akins (Jetsam) and Jonathan Hall (Sebastian), all of of Philadelphia; Thomas Gaddis (Prince Eric) of Oviedo, Fla.; Marzell Triplett (King Triton) of Forest; Ellie Hall (Ursula) of Mendenhall; Madison George (Flotsam) and Molly Catherine Cliburn (Aquata), both of Union; Caleb Williams (Flounder), Maggie Gressett (Arista), Emma Kate Williams (Windward), and Mark Savell (Leeward), all of Lake; Kaitlyn Morris (Scuttle) of Conehatta; Mason Garner (Grimsby) and Meilii Tumbling-Jordan (Atina), both of Newton; Jack Vidals (Pilot) of Chunky; Savanna Baucum (Allana) of Decatur; Julia Galarza (Andrina) of Barcelona, Spain; and Taylor Hardy (Adella) of Starkville
Sea Creatures include Macie Pilgrim and Mason Pilgrim, both of Union; Noah Skipper of Decatur; and Maddie Walton, Harper Gibbs and Aubrey Gibbs, all of Lake.
The orchestra is directed by Chas Evans, Fine Arts Division chairperson. Musicians include Abby Miller, piano; Ed Girling, drums; Justin Sharp, synthesizer; and Ryan Clarke, bass.