The East Central Community College Warrior football team lost a hard-fought ballgame in front of a standing room only crowd during "Black-Out" night at Bailey Stadium Sept. 1 on the Decatur campus.
The Warriors scored two touchdowns in the fourth quarter to close the gap, but eventually fell to the Holmes Community College Bulldogs 48-40 during opening week of Mississippi Association of Community and Junior Colleges play.
"I'm proud of our kids that they didn't quit," said head coach Ken Karcher. "That's what we pride ourselves on here in our East Central football program."
The game was back and forth until the Bulldogs scored 28 points in the third quarter to take the lead for good.
East Central wasted no time getting on the scoreboard in the first quarter.
Quarterback, Dom Marino of Venice (Fla.) High School, found freshman wide receiver Antonio Gibson of Eagles Landing (Ga.) High school, with 12:17 left in the first quarter to score on the first drive of the game.
The Bulldogs responded with a touchdown, but the PAT was no good bringing the score to 7-6 at the end of the first.
Holmes gained the lead after scoring again with 14:22 left before going into halftime with the score 12-7.
Right after halftime, East Central linebacker Eric Barnes III of Seminary High School returned a fumble for a seven-yard touchdown to give the Warriors a 14-12 lead.
Not long after, Holmes quarterback Dejerric Bryant of Mize High School ran for a 64-yard touchdown run to put the Bulldogs back on top at 19-14.
The Warriors responded with an 18-yard pass from Marino to Gibson for an ECCC touchdown with 8:54 left in the third and raised the score to 21-19.
Holmes scored two more times before Marino found sophomore wide receiver Toriano Howard Jr. of Quitman High School for a 67-yard touchdown to make the score 33-27 with the Bulldogs still in the lead.
Holmes added another touchdown before ending the third.
In the third quarter both teams combined for 48 points, 28 of those points in the first eight minutes of the third.
Holmes scored its final touchdown of the night with 6:35 left in the game and the Warriors trailed 48-27.
The Warriors "don't quit attitude" helped them put up two more touchdowns during the fourth quarter to close the deficit to eight.
Those late touchdowns were on a 31-yard pass from Marino to sophomore wide receiver Devonta Jones of Morton High School and a 10-yard pass from Marino to freshman wide receiver Otis Cross Jr. of Kemper County High School with 29 seconds left in the ballgame.
ECCC finished the game with 458 yards of total offense. Marino, in his ECCC quarterback debut, led the Warriors, completing 20 of 40 passes for 225 yards with four touchdowns, while Gibson had two receiving touchdowns.
"Dom has a lot of athletic ability, he just has to grow as a quarterback and he's willing to learn," Karcher said.
East Central, 0-1, will host Northeast Mississippi Community College Thursday, Sept. 8, at 6:30 p.m. for Military Appreciation Night at Bailey Stadium on the Decatur campus. Holmes, 1-0, will host Southwest.
Northeast (1-0) defeated Pearl River Community College 17-14 during week one of MACJC action.
"Whichever team can make the adjustments and get better from week one to week two will be the team that wins the game," Karcher said.
If you can't watch East Central Community College play in person, follow the Warriors on the radio or watch them on live stream video. Tune in to WKOZ, Cruisin 98.3 or watch live at www.eccc.edu.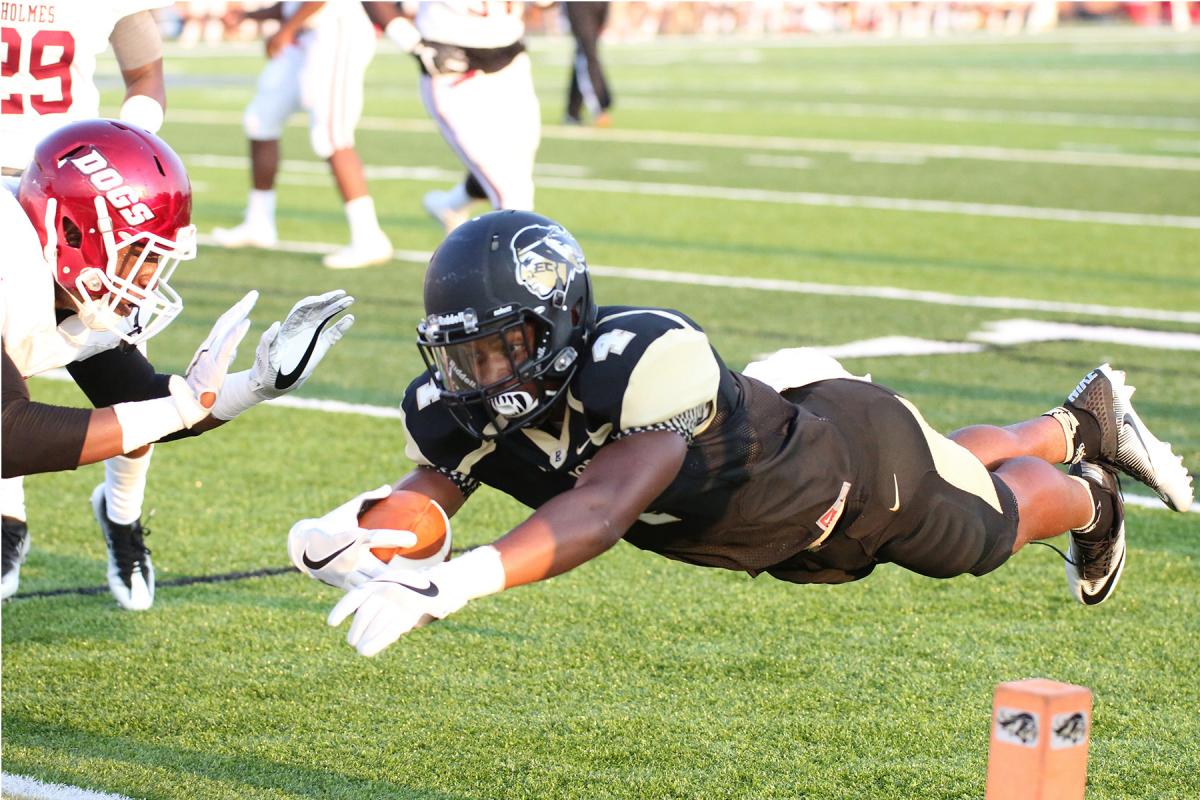 East Central freshman wide receiver Antonio Gibson of McDonough, Ga., dives in for a first quarter touchdown on a pass from sophomore quarterback Dom Marino of Sarasota, Fla.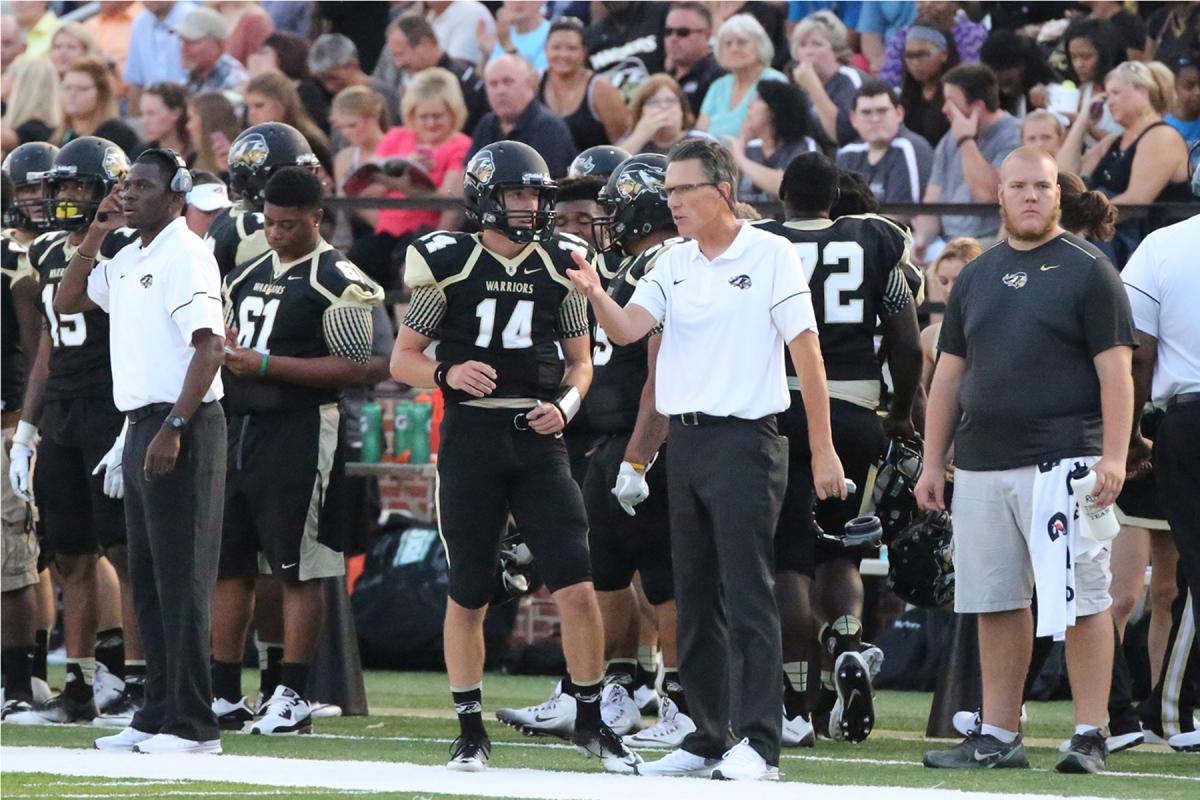 Head coach Ken Karcher speaks with new starting quarterback, Dom Marino of Sarasota, Fla.