October 7, 2016
The East Central Community College football team took over sole possession of first place in the MACJC South Division after beating nationally ranked No. 8 Jones County Junior County 37-24 Thursday, Oct. 6, in Bailey Stadium on the Decatur campus.
The Warriors led 30-24 with 20 seconds left in the game, with Jones County facing a third and goal from the seven yard line. Sophomore defensive lineman Jalon Sangster of Louisville High School hit the Jones quarterback to force a fumble that freshman defensive lineman Ja'Mario Craft of Newton County High School picked up and rambled 85 yards for the Warrior touchdown and the victory.
"We worked on those scenarios throughout the week and when we needed it our defense made a play," said ECCC head coach Ken Karcher. "They took care of closing out the game; it was a great job by our team and showed a lot of character."
ECCC jumped out to an early lead in the game when freshman defensive back Xavier Williamson picked off a JCJC pass and carried it 63 yards for a touchdown.
East Central's defense then held Jones to a field goal to lead 7-3.
ECCC got on the board again on the first play after the kickoff on a 75-yard pass from quarterback Dominic Marino of Venice (Fla.) High School to freshman to Antonio Gibson of Eagles Landing (Ga.) High School.
The next six points added were by East Central kicker Aaron Garrett of Meridian High School with 27-yard and 37-yard field goals in the first quarter.
In the second quarter, Sangster intercepted a Jones pass and carried it to the Bobcat 17 resulting in another Garrett field goal, this time from 32 yards and a 23-3 Warrior lead at the half.
The Warriors got on the scoreboard first again in the second half with a 32-yard touchdown pass from Marino to Devonta Jones of Morton High School. East Central's lead was 30-3.
Jones County then gained the momentum scoring twice in the third period on a 65-yard pass and a two-yard run on a fourth and goal.
Jones would get on the scoreboard one final time, this time in the fourth quarter on a 53-yard pass to close the deficit to 30-24.
With the Bailey Stadium crowd on its feet cheering on the Warrior defense, Sangster and Craft teamed for their big play and the win.
"Our defensive line is very aggressive, and I thought they dominated Jones' offensive line," Karcher said.
For East Central, Marino was 11 for 21 through the air for 239 yards. Barnett was the leader in rushing yards with 106 total yards on 20 carries for the Warriors. Gibson was the top receiver with five catches for 153 yards. Sophomore linebacker Eric Barnes III of Seminary High School was the leading tackler with 14 tackles. Freshman Aaron Rainey of Harrison Central High School had 11 tackles and one for a loss. Sangster had two tackles, one for a loss, a sack, an interception and a forced fumble.
"We are a lot better than we were at the beginning of the year," Karcher added. "We have a lot of young guys on this team and they are starting to mold, but we have a long way to go."
The Warriors improved to 3-3 on the season and 3-1 in the South Division, which is good enough for first place.
East Central will host Hinds Community College Saturday, Oct. 15, for Homecoming and sophomore recognition. Kickoff is set for 2:30 in Bailey Stadium on the Decatur campus.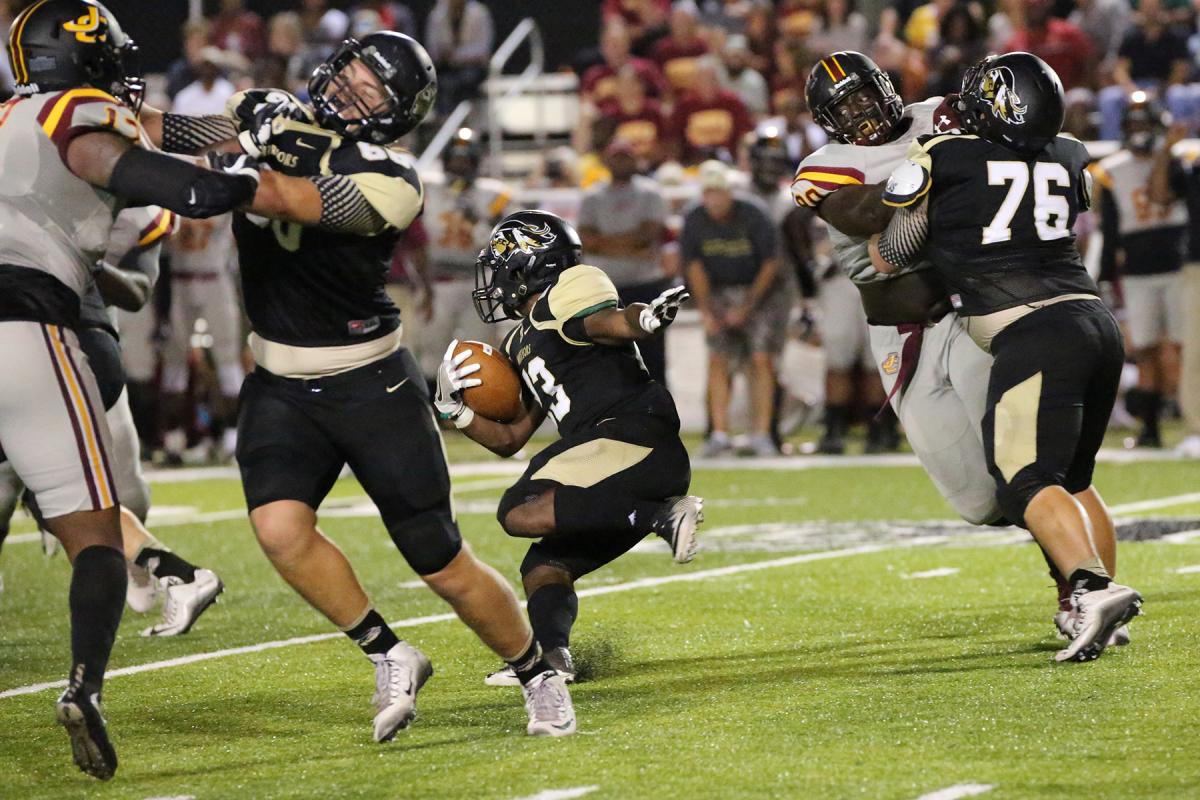 Freshman running back Dwayne Barnett makes a cut to get to a hole during the first half of East Central's 37-24 win over No. 8 ranked Jones County on Oct. 6. Barnett rushed for 106 yards in the game. (EC Photo)