Nov. 8, 2018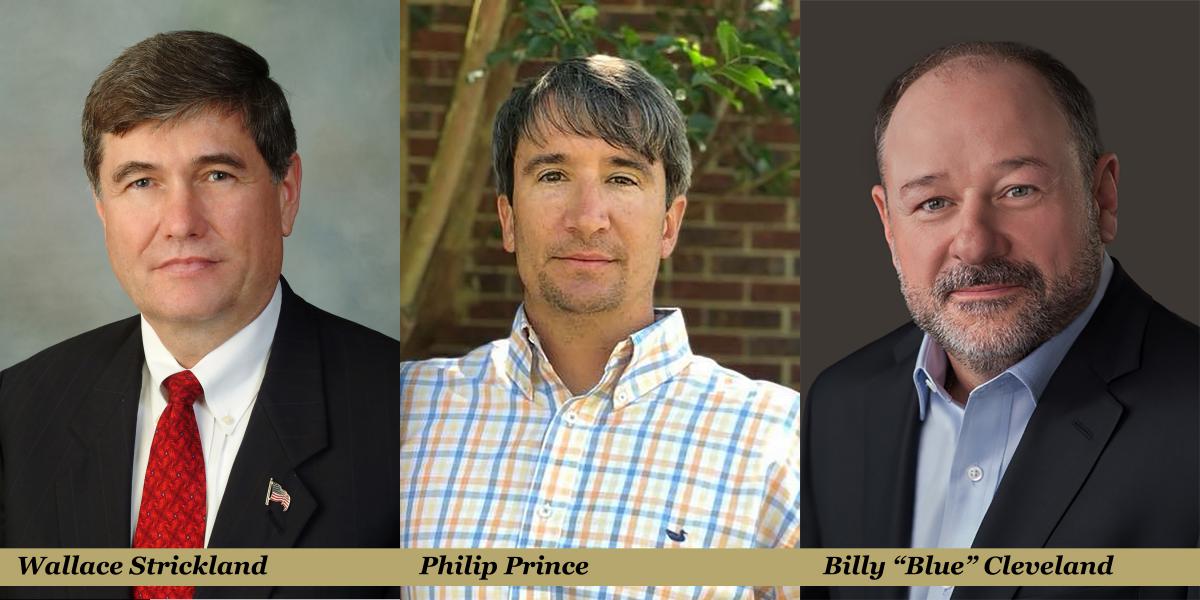 The East Central Community College Foundation recently welcomed three new members to its board of directors. Wallace Strickland of Meridian, Philip Prince of Philadelphia, and Billy "Blue" Cleveland of Hickory will serve a three-year term on the board, which meets annually to oversee the finances, policies, and operations of the ECCC Foundation.  These include the scholarship endowments, annual fund, and athletics donations.
Current members include David Boydstun, Melissa Carleton, Aubry Cox (vice president), Ken Gordon, Jr., Dr. Jimmy Hollingsworth, Carolyn Huey, Bill Richardson, Dr. Billy Stewart, Gilbert Thompson (president), Mickey Vance (treasurer), and Larry Waggoner.
Strickland currently serves as Chairman of the Board of Rush Health Systems, Inc. in Meridian, a position he has held since January. He retired as president/chief executive officer of Rush Health Systems, Inc. and has more than 45 years of experience in the healthcare industry.
Strickland and his wife, Judy, have two children: Julie (Jeff Lick) Strickland, a pharmacist, and Jason (Tiffany) Strickland, who serves as corporate compliance officer for Rush Health Systems. 
He is a graduate of East Central Community College, Mississippi State University and the University of Alabama. He was named ECCC Alumnus of the Year in 2012.
Philip Prince is employed by Prince Oil Company, a family business started by his father more than 40 years ago. He has also been actively involved in youth ministry at Carthage Methodist Church since 2000.
A former Warrior, Prince was a member of the 1993-1994 and 1994-1995 men's basketball teams. He and his wife, Valeria, also an EC alumna and member of the ECCC Academic Hall of Fame, have four children.
Billy "Blue" Cleveland is the President of Delta Directional, a leading horizontal directional drilling company that he founded in 2001.    
He began his career as a laborer and advanced through the HDD industry, quickly excelling to leadership roles. He brings nearly three decades of continuous industry experience. Cleveland is a certified welder and gained extensive training at the American Petroleum Institute's HDD drill fluids schools.   
He and his wife, Tammy, have three sons, Colt Cleveland, Cain Cleveland, and Jesus (Kayla) Aleman; and two granddaughters, Chesney and Camila.