July 11, 2017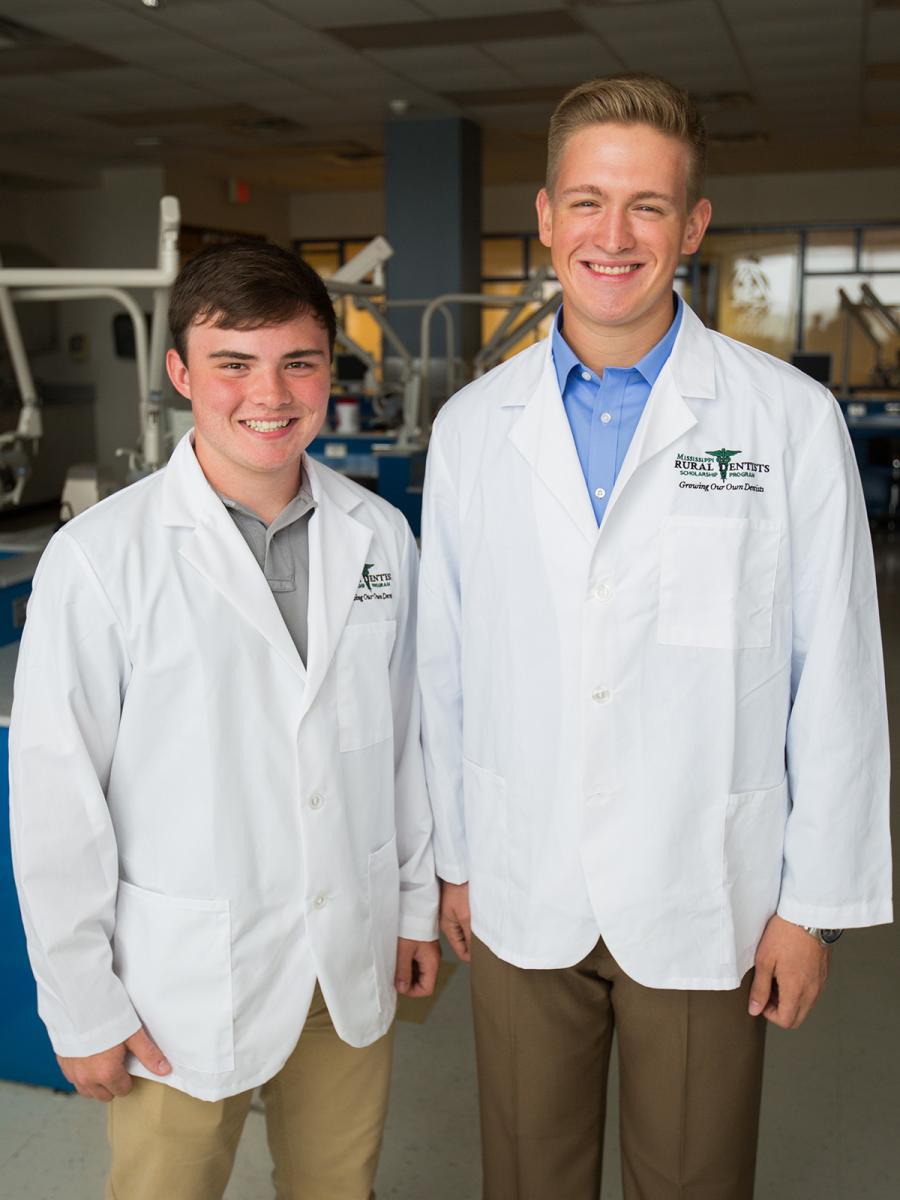 Morgan Cain (left) of Carthage and Graham Murphree of Little Rock were recently selected to participate in Rural Dentists Scholarship Program. (Submitted photo)
East Central Community College graduates Graham Murphree of Little Rock and Morgan Cain of Carthage, both members of the ECCC Class of 2017, were selected to participate in the undergraduate portion of the Mississippi Rural Dentists Scholarship Program.
Murphree is a graduate of Newton County High School and the son of Mart and Joyce Murphree of Little Rock.
Cain is a graduate of Leake Academy and the son of Travis and Robin Cain of Carthage.
Created in 2013 by the Mississippi Legislature, MRDSP identifies up to five college sophomores and juniors who demonstrate the necessary commitment and academic achievement to become competent, well-trained rural pediatric or general dentists in the state. The program offers two years of undergraduate academic enrichment including DAT (Dental Admission Test) preparation and clinical experience in a rural setting. Upon completion of all dental admissions requirements, the student can be admitted to the University of Mississippi School of Dentistry.
During dental school, each MRDSP scholar may receive $35,000 per year based on available funding. The program will award nine scholarships in 2017-2018, totaling $350,000.  With continued legislative support, the program hopes to grow to 12 scholarships totaling $420,000 by 2018.  Additional benefits include personalized mentoring from practicing rural dentists and academic support. 
After completing dental school, MRDSP scholars must practice general or pediatric dentistry in a rural or medically underserved community.  The MRDSP scholar must provide dental services as determined by the MRDSP in a full-time clinical practice in an approved Mississippi community of 10,000 or fewer population located more than 20 miles from a medically served area.
The MRDSP provides a means for rural Mississippi students to receive DAT preparation, benefit from mentoring, learn the art of oral healthcare from practicing rural dentists, and earn a $140,000 dental school scholarship in return for four years of service.
For more information, contact MRDSP Associate Director Dan Coleman at 601-815-0654, jdcoleman@umc.edu or http://www.umc.edu/mrdsp.