April 28, 2017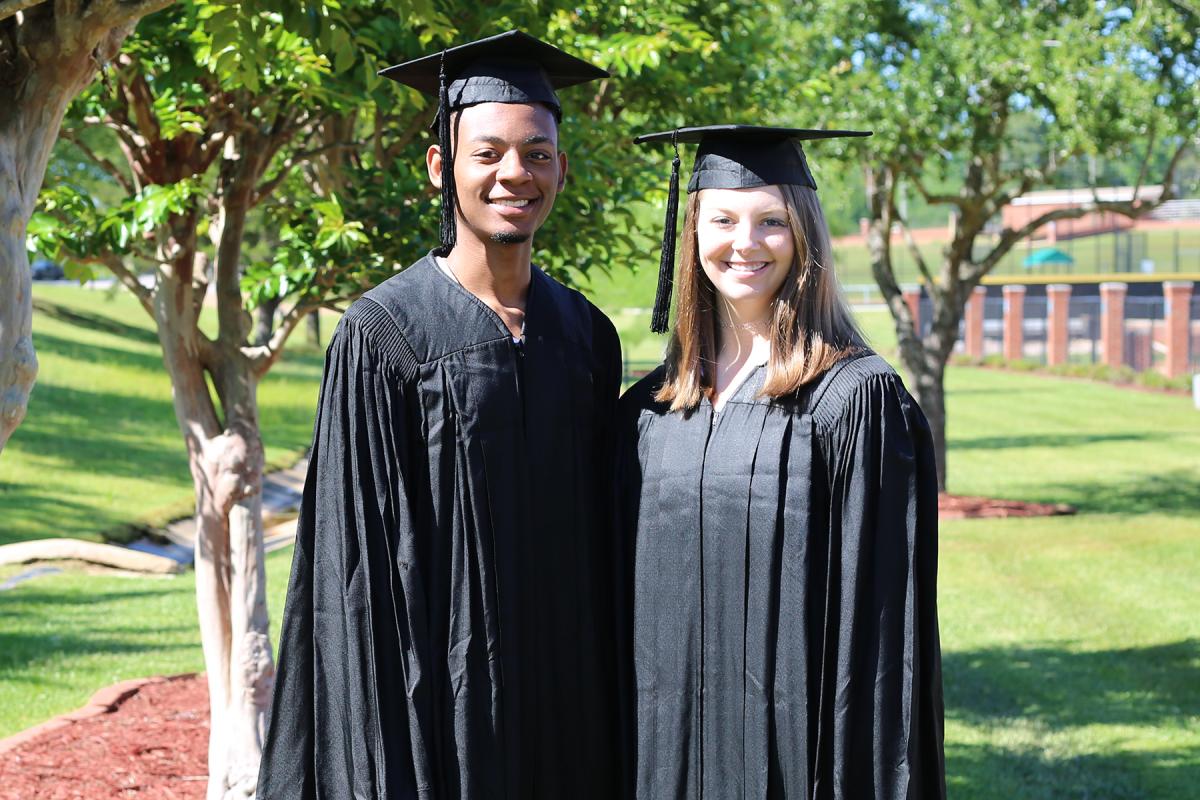 More than 600 students have applied to receive diplomas Friday, May 5, 2017, when East Central Community College holds its 88th Commencement beginning at 6 p.m. in the Neshoba County Coliseum in Philadelphia. Graduates participating in the program include (from left) Khalil Triplett of Philadelphia, who will give the invocation; and Katie McCool of Louisville, commencement speaker. Not pictured is Laneisha Jeans of Pensacola, Fla., who will give the benediction. 
East Central Community College President Dr. Billy Stewart said the college could have another record graduating class, with more than 600 students applying to graduate May 5 when the institution holds its 88th Commencement beginning at 6 p.m. in the Neshoba County Coliseum in Philadelphia.
East Central had its largest graduating class in history in May 2016 when 599 students received diplomas or certificates.
Stewart said that the final number of graduates will be determined after all applications for graduation are reviewed and final grades for the spring 2017 semester are posted.
Included in the total are those who completed degree requirements following the 2017 spring and the 2016 summer and fall terms, according to Dr. Teresa Houston, vice president for instruction.
Those participating in the commencement program May 5 include graduating sophomores Khalil Triplett of Philadelphia, who will give the invocation; Katie McCool of Louisville, commencement speaker; and Laneisha Jeans of Pensacola, Fla., benediction. Presenting the musical selection "An Offering" will be graduating sophomores Anastasia Crout and Zachary Emmons, both of Lake; Mackenzie Gray, Mendenhall; Patricia Jones, Carthage; Gage Leifried, Meridian; Coy McMullan, Union; Cassi Pearson, Louisville; Kimberly Reyes, Forest; Samuel Tero and Sylvia Thames, both of Decatur; and McCool.
This year's Commencement will also be available for viewing on live stream video by visiting ECCC's website at www.eccc.edu/eccc-media.
Houston will present candidates for graduation and Dr. Stewart will award degrees and certificates to the following:
CANDIDATES FOR MAY GRADUATION
(by hometown)
CARROLTON, AL: Andi McCrimon and Samantha McCrimon
HAMPTON COVER, AL: Cole Jackson Prestegard
ORURO, BOLIVIA: John Jimenez
ANTHONY, FL: Alec Hayes
PENSACOLA, FL: Laneisha Jeans
NORCO, LA: Shaquille Benson
BRANDON: Jala Bonet Hobson, Kenzie Jaclyn Jenkins, Presley Lane McLemore, Zachary Vickers and Caleb Elijah Welch
CANTON: Jessey Withers
CARTHAGE: James M. Alexander, Landon Conner Alexander, Joseph Cole Atkison, Steven Zachary Barnett, Candice Dean Barrett, Elizabeth Ann Brackett, Bethany Caton Bradley, Joseph Blakeney Burgess, Bobby N. Burns, James Morgan Cain, Autumn Guler Cheek, Hailey Joyce Clark, Triston Paige Coats, Daelin Lexus Cotton, Jimmi Callie Craig, Rebecca Hitt, Adrian Maurice Douglas Sr., Courtney Duncan, Phillip Mark Golden, Stephanie Griffin, Nikkole Isaac, Keishala Anita Johnson, Tristan Michael Johnston, Kelvin K. Jones, Patricia A. Jones, LaKenya Delynsha Latiker, Daleshia Leflore, Jaycie Leigh Malone, Joseph Momon, Meagan LeAnne Perry, Dylan Pilgrim, Candace Mae Reeves, Joshua W. Sanders, Jessie Graham Scott, Brandon Michael Sellers, Chelsea Smith, Tyreke Stewart, Mary Katelyn Thompson, Katilyn Michelle Walker, Charlie Savannah Wilcher, Destiny Shae Wilcher, Shelby Lynn Wilcher and  Justin Lane Wooten
CHOCTAW: Cynthia Cooley, Bo Joe, Julia Deon Ketcher and Lucius Todd York
CHUNKY: Denise Glover, Nathan Smith and Jerry Allen Thompson
CLINTON: Purtina Y. Jenkins
COLLINSVILLE: Kyle Hoskins, Steven Mason Bufkin, Jamie Michelle Cantey, Sarah Georgianna Johnson, Parker McWhirter and Veronica Moore
COLUMBUS: Jaylon Bardley and Bryson Ellis
CONEHATTA: Makenzie Currie Byrd, Kambree Chickaway, Baylee Layne Green, Shaya LeAnn Hicks, Shadaedra Davonna Jones, Holly McCullough, Genieveve Nichols, Caylin L. Nickey, Joey O'lay Nickson, Kellie Nicole Nickson and Hannah B. Sam
DECATUR: Victoria Christine Adams, Niva Alexander, Andrew C. Barnett, Rebekah Hope Buckley, Amber N. Chaney, Luke Hemmingway Clark, Treylon T. Cleveland, Latesia Davis, Jessica Lauren Forrest, Maria Hawks, Abby Reeves, Keely Jones, Courtney Kelly, Sydney Kennedy, Michael Key, Courtney Kidd, Jordan Taylor Loper, Cody Mulford, Ryan Scott Packer, Belinda Patton, Jordan Mackenzie Phillips, Tyler A. Richardson, Christina Shoemaker, Will Stewart, Samuel J. Tero, Sylvia Nicole Thames, Samuel James Thompson, Nathaniel Thorne, Nicole Cater Tucker, Andrew J. Wagnon, Cassandra Renee Warnsley and Joshua Warnsley
DEKALB: Shammah Grady and Whitney Chantel Rush
ENTERPRISE: Shea Morgan Alexander
FOREST: Courtney Bell, Tyler Brewer, Sherry Annette Broach,
Darrell Brogdon, Anna Brown, Dalton Glenn Burns, William Coleman, Myeshia L. Dukes, Emily Dykeman, Florencia Echave, Trenton Barnett Evers, Christopher Blake Fortenberry, Alan Graham, Jodashia Vanyeil Greenhouse, Taren Reannah Harrell, Taren Reannah Harrell, Anita Faye Hatcher-Williams, Holly Blaire Hendershot, Louis Hernandez, Joshua Eli Jolly, Morgan Leach, Kelli Grace Lewis, Celeste McDonald, Ta'Nissa McNair, Tomaz McNair, Nicholas D. Monk Jr., Andrea Hayden Neal, TaMaya Louise Pace, Elliott H. Parish, La'Kimberly Anastasiya Patrick, Shelby Patterson, Breiana LeKeshia Payton, Madison Taylor Pettigrew, Jessica Reed, Kimberly Nicole Reyes, Jerrikus D. Robinson, Joseph Sanders, Chandler Smith and Sharlee Bre'Anna Walley
FULTON: Aniyah Marshall and Bryona Denise Stewart
GAUTIER: Hagan Scott Brown
GULFPORT: Christian Bellew
HATTIESBURG: Shantavis Nicole Hughes and Patrick Walker
HEIDELBERG: Myeisha Shanell Streeter
HICKORY: Shelby Nicole Bishop, Patrick T. Bounds, Mary Rachel Brand, Austin Chaney, Harleigh Embrey, Chaney Mills, Madison Nicole Parks, Lauren Pierce, Justice Smith, Jonathan M. Valentine and Jamiah Denise Wesley
JACKSON: Eboni M. Lyles
LAKE: Jawuan Anfernee Bell, Tyler Wayne Bennett, Christian Blum, Angela Michelle Boyd, Erynne Lyndsey Breland, Shadejha Alexusia Dashae Brown, Adrianna Danielle Crout, Alexandria B. Crout, Anastasia Camille Crout, Hagan Scott French, Mary Katlyn Harris, Surpriyce McDaniel, Cassidi Mitchell, Joshua Seth Parkman, Kaitlyn Taylor Ware and Shelby Lauren Wilkerson
LAUREL: Heath Brashier Morris Jr.
LAWRENCE: Caleb Lucas Bates, Bryan Bobbett, Shawna Leigh Bush, Kateilyn Breana Edwards, Davis Andrea Jackson and Tyler Richardson
LENA: Paxton McMurphy Holmes, Douglas Kennedy, Wanda Suzanne Liggett, Dylan Warren Sessums, Hayley Nicole Slay and Dearron Stewart
LITTLE ROCK: Jeffery Alexander, Daniel Scott Ellingburg, John Foreman, Candace LeAnne Lanier, Billy Graham Murphree, AmberLynne Ratcliff, Kory Swift and Brice Keith Walton
LOUIN: Kayla DeAnne Dawkins
LOUISVILLE: Madelyn Carrie Ball, Jason Michael Dempsey, Hallie Renee Doster, Malik Eichelberger, Kaci Reel Ewing, Kwasniewski D. Glenn, Adam Britt Hamill, Aaron Jarrod Hathorn, Lydia Nicole Holdiness, Reagan Holdiness, Ke'Darius J. Holmes, Deyanna Ingram, Kristen Renae Jennings, Gina Paige Johnson, Peyton Cole Jones, William Bradley King, Alexandria Lee, Katie Madison McCool, Cassidy Taylor Pearson, Abigail Elaine Ray, Allison Roach, Brandon Leyton Rogers, Christian Taylor Russell, Brantlie Allyn Sheets, Amaziah Sierra, Stephanie Brooke Smith, Jerome J. Warren and Logan Webb
MADISON: Kenneth B. Bonds
MCCOMB: Kaylynn Nicole Stephens
MCCOOL: Brittany Black, Brady B. Griffith and Dalton Watts
MENDENHALL: Billy Ray Cameron Jr. and Mackenzie Gray
MERIDIAN: Maliyah D. Brown, T'Naizha L'Duawn Brown, Artavis Crowell, Chantel Debre' Henderson, Kimberly Mahogany Hodges, Alie'sha Toy'sha Houston, Alysia R. Johnson, Micah Isaiah Jordan, Kaitlyn Knuth, Gage Powell Leifried, Natalia F. Londono Davila and Helen Claire Milling;
MORTON: Willie Atkins, Elizabeth Joy Crotwell, Kaitlyn McKenzie Evans, Grayson B. Harrell, Macy Brooke Hudson, Adrian Hunter, Meagan L. Johnson, Aerian Jania Keeton, Mahari D. Kincaid, Carla D. Land, Kyle Porter, Destiny A. Randall, Christina Catherine Shoemaker, Carrie Lynn Thompson, Luke Yancey and Saylee Yount
MOUNT OLIVE: Juwon Hayes
NEWTON: Lindsey Megan Ayllon, Marcus J. Blalock Jr., Thomas Wiley Boswell, Heather E. Campbell, Kevin Chapman, Tim Chapman, Jalen RaShad Cox, Amanda Joelle Creekmore, Keanna Alexandria Evans, Kyra L. Evans, Kenneth Gipson, Kirby Harris, Gloria Joy Jordan, Hester V. Knight, Matthew Lee, Tanya R. Lewis, Deborah Maggie Luke, Meshach Charity Martin, David J. McConnell, Kevin Wade Smith, Destiny Snapp, Miahja L. Tirado and Sarah Beth Whittle
NOXAPATER: Mikella Vance, Weiying Wang, Steven Brice Womble and Dacia Young
OLIVE BRANCH: Courtland Marquis Moore and Kayla Young
PASCAGOULA: Richard S. Jacobson
PASS CHRISTIAN: Tyler Joseph Ladner
PEARL: Lauryn Amanda Tucker
PELAHATCHIE: Marley Breanna Maddox
PHILADELPHIA: Tiffany Anderson, Christina Ann Bates, Sydney Michelle Battle, Emily Lois Beckham, Richard Tali Bell, Hannah M. Bennett, Jerron Bennett, Nicholas T. Black, Natalie Dawn Bounds, Abby Bowman, Cayley Branning, Kaitlyn Elizabeth Butler, Aleaya Carothers, Kelly Renee Copeland, Edna L. Cotton, Erin Nicole Cumberland, Kiara Antonise Cunningham, Daniel Driskell, John Eakes, Chelsee Ferris, Elaina N. Frazier,  Kinsey Meshea Gentry, Lora Camryn Goodin, Jarard Cardale Greer, Brianna Michelle Chunn Griffin, Morgan Tanner Hardy, Nicholas Latrell Harrington, Cole Hodgins, Bradley Horne, Wendy S. Jackson, Amber Jones, Ashton Killen, Chaiydreanna LeFlore, Sequoyah Lewis, Quomesha Lindsey, Hosea C. McBeath, Bradley Ethan Palmer, Maranda Reno Payton, Contessa La Trese Peebles, Chandler Elizabeth Posey, Natalie Catherine Posey, Misty D. Simmons, Shanagia Sims, Tabitha Smith, Lacy Stone, JaQuanna Latrice Stribling, Tatyana Aaliyah Stribling, David Tyrone Thames Jr., Khalil D. Triplett, Skyler Whatley, Larisa Willis, Abby Leigh Winstead, Brittany Leigh Winstead and Herman Young Jr.
PICAYUNE: LaDeja Connley
PORTERVILLE: Tybrisha Clayton
PRESTON: Kayla Thompson
PULASKI: Bethany Barnes, Carlie Rose Batte and Spencer Tullos
PURVIS: William Nathan Roseberry
QUITMAN: Teela McBride and James Zachary Parker
RALEIGH: Ashleigh Hutson Dupree
SEBASTOPOL: Brentley Summer Comans, Shelby Harrison, Billy Jared Marshall, Alejandra Salgado and Colton Tharp
SOUTHAVEN: Nicholas Thomas
STARKVILLE: Thomas Rivers Pugh
TUPELO: Marcus J'von Reed
UNION: William Joseph Alford, Martika D. Anderson, James H. Arthur, Eric Alan Breedlove, Brandon Taylor Clark, Hunter Clay, Jessica Renee' Davis, Karen Evans, Brittany Nicole Graham, Taylor B. Gross, Kolt Hagan, Jacob D. Hamm, Jon 'Kole' Henry, Chelsea Jackson, Thashanna Jackson, Christian Kelly, Tommie Killen, Thu Thi Le, Rachel Dawn Lee, Mason McDill, Tatum Coy McMullan, Dylan Anise Moody, Hannah Ashley Payne, Sha'Nequa Symone Pinkston, Sarah Danialle Ricamore, Kia Rogers, Jayohnnie Slaughter, Cassie Lynn Smith, Christopher Smith, KenLynn Stevens, Clarence Edward Thompson III and Benjamin S. Triplett
WALNUT GROVE: Ashton Randall Bailey, Montria Dequon Carter, Bryant Clay Flake, Rose Mary Johnson, Zachari Tyler Johnson, Derrick Jones, Latevin Tywun McGee, Shannon Alaine McNeill, Molly Ann Neal, Hannah Nicole Pope, Adrianne Sam, Charsala J. Steve and Trace Thrash
WAYNESBORO: Tayler Ordoyne
WEST: Ben Nail
DECEMBER 2016 GRADUATES
GARDENDALE, AL: Jason Matthew Blair
OSPREY, FL: Domenico Marino
WAYCROSS, GA: Rosheem Collins
CHATTANOOGA, TN: Torran M. Davis
BAILEY: Noah Nix
CARTHAGE: Ivy Foster, Robin Alixander Jones, Malcon Marshall, Andy L. Pilgrim Jr. and Danny Carl Smith, Jr.
CHOCTAW: Latonya D. Bell, Jonica Gabrielle Thomas and Malcolm J. York
COLLINSVILLE: Leslie Kinney
COLUMBUS: Bobby Evander Wrench
CONEHATTA: Nathan Perkins and Hannah B. Sam
DECATUR: Codi Ballard, Savannah Gates, Lindsey B. Savell, Kayla Danielle Taylor, Rebekah M. Upton and Tanya D. Willis
FOREST: Courtney Bell, Charles Josh Bradford, JaRod R. Braggs, Myeshia Dukes, Eric Gunn, Matthew Chance Hall, Grecia Hernandez, Ryan Scott Hill,
Heather Erie Hornsby, Joshua E. Jolly, Judy Massey, Laron Moore, TaMaya Louise Pace, Brittany Parrott, Ariel Lakeya Patrick, Yared Arely Roman, Marty Elisha Shepard and Lori Winstead Stevens
HATTIESBURG: Bradston Burnside
JACKSON: Isiah Camelun Thomas
KOSCIUSKO: Kara Lepard
LAKE: Tyler Wayne Bennett, Elwando Darvell Brown Jr., Breanna Clemons, Cody Welch Hollingsworth, Jerdarion Jones and Henry Clayton Noblin IV;
LENA: Karlmeka L. Britton and Paxton McMurphy Holmes
LOUISVILLE: Kiaa De'Shae Haynes, JoNesha Joanne McQueen, Jalon Sangster and Lance Vernon
MADISON: Kaitlin Thrash
MCCOOL: Grayson Freeman
MERIDIAN: Aaron S. Garrett, Felicia Idelltra Jones and Tashun Parker
MORTON: Hunter Aycock, Carly J. Barnes, Tori Franklin, Maci Phillips, Tyler A. Runnels and Brad Westberry
NESBIT: Gabriel Nichole Gross
NEWTON: Samantha Lea Adams, Christopher Caraway, Audrey Carmichael, Anna Griffin, Kendrick Terrell Holder, Ke-Yanna Jacquette Kidd, KeAndre Parker, Cedrick Snow and Tamicka Walker
NOXAPATER: Barbara Lynn Hudson and Shamari Williams
PAULDING: Devon Jones
PHILADELPHIA: Kayla Alexander, Tanesha Ann Barham, Cayley Branning, Cheryl Ann Brown, Paige Brown, Patrick Burrage, Danielle Marshea Cole, Amber Rose Hill, Sophia Bianca Holmes, Katie E. Mills, Kristi Elaine Taylor and Tiffany Vaughn
PRESTON: Madison Danielle Johnson and Alan Michael White
QUITMAN: Toriano Howard
RALEIGH: Whitney Nicole Ainsworth and Delphine Edwards
RICHTON: Kalen Meggs
UNION: Cheyenne Bradley, Aaliyah Monique Cunningham, Toby Edwards, Valarie Nicole Ferguson, Rebecca L. Harrison and Tanner Moss
VANCLEAVE: Lucas Bailey Orchard
WALNUT GROVE: Wesley McDill and Adrianne Sam
AUGUST 2016 GRADUATES
JONESBORO, AR: Shunn Dewayne Frazier
CANTONMENT, FL: Kalybriah Haskin
WENDELL, NC: Shakerya E. Morrison
DOVER, TN: Ethan Dunavant
CARTHAGE: Tristan Wallace Hernandez and Keishala Anita Johnson
CONEHATTA: Michael J. Eichelberger and LaShayla McMillan
DECATUR: Lauren Ezelle, Lindsey Ezelle, Adam Porter and Michael Rush;
ETHEL: Kayla Anne Morehead
FOREST: Tanya Renee Bobbitt, Aline Ramirez Lopez, Yuritza Joselinne Rosas Mondragon and De'Angelo M. Shepherd
HATTIESBURG: Jamylia Q. McLemore
HICKORY: Cody Buckley and Jonathan Matthew Valentine
JACKSON: Randy Poppa Phillips
KOSCIUSKO: Amber Cox
LAKE: Markii Suzanne Posey
LITTLE ROCK: Troy Gregory and Zachary Rigdon
LOUISVILLE: LaShandra Nichole Carter, Tydon Deon Miller, Courtney Elayne Prisock, Jordan Edward Prisock and Lainey Smith
MERIDIAN: Samantha Boykin
MORTON: Kara N. Yates
NEWTON: Shantel Body, Alexandria LaShell Evans, Anthony C. Grimes and Mont'Aja Dawn Norman
NOXAPATER: Christina McKinnion
PEARL: Shaeffer Anne Pennington
PHILADELPHIA: Mykitia Burrage, Kensey Alexis Copeland, Tyieasha Tyshay Evans, Travin Lee Kelly-Arnold, Johnathon S. Moore, Wesley G. Smith, Joshua K. Thomas, Taylor Nicole Ward, Christy A. Weir and Melody Juanita Willis
PRESTON: Chancellor Elaine Taylor
PULASKI: Stephanie Michelle Hord
RALEIGH: Raven Alexia Strong and Justin Thornton
SEBASTOPOL: Michael Paul Harper, Jodi D. Hedrick and Lila Elizabeth Shaw
STARKVILLE: Ciara Harris
TUPELO: Amber Jamerson
UNION: Raven JoAnn Bane, Kristopher Davis, Emily Ann Hunter, Haley Moorehead, Shauna Kate Mowdy, Haley E. Taylor and Ashley Nichole Tillman
WALNUT GROVE: Benjamin S. Davidson