December 9, 2022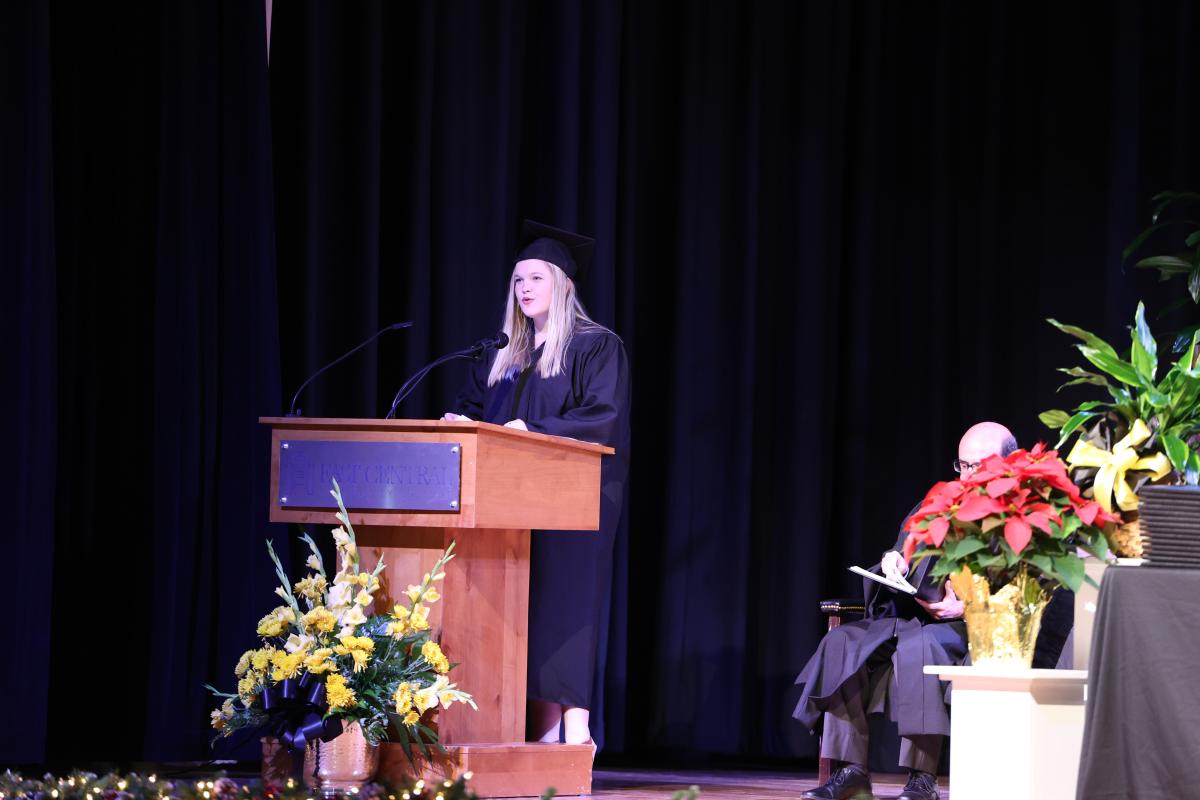 Emily Faith Trippe of Carthage, a Fall 2022 graduate, delivers the address during the East Central Community College commencement ceremony on Friday, December 9, in Huff Auditorium.
Over 200 graduates were awarded degrees and/or certificates during East Central Community College's 95th Commencement Ceremonies and special pinnings held last week. Events were held in Thrash Auditorium, Vickers Fine Arts Auditorium, and Huff Auditorium all located on the Decatur campus honoring students that completed the Electrical Utility Lineman program, Emergency Medical Technician program, Surgical Technology program, and other academic areas.  
Graduating sophomores who participated in the 10 a.m. ceremony included Myla Katran Sanders of Lake who gave the invocation; Emily Faith Trippe of Carthage who gave the commencement address; and Zully Reyes Garcia of Morton who gave the benediction. 
Students who completed degree requirements during the Summer 2022 Term included: 
BAY SPRINGS: McKenna Mystee Bailey Cox 
BRANDON: Jeyde Fitsgerald 
CARTHAGE: Shaniqwia Estellar Gray, Christopher Kendrevian Moore, Hannah Marie Myers, Jasmin Brook Nealy, Lacy Katherine Palokas, Cherie Charnelia Stewart, Emily Faith Trippe, and Landon Rodshawn Wilder 
CHOCTAW: Isabella G Brescia 
CONEHATTA: Shaya LeAnn Hicks and Drew Edward Watkins 
DECATUR: Kaitlyn Marie Irwin, Maggie Lynn Mann, and James Falcon Pippin 
FLORENCE: Jacquan McDonel 
FOREST: Denceonna Bland, Asheley Clark, Endya Latrease Darby, Dylan Brice Grayson, Makaysha Chardannay Hughes, Cameo Kiara Odom, Jordan Simone Smith, Nick Travis Tanksley, and Allyah Dominique Thomas 
HICKORY: Valli Kathleen Weems 
LAKE: Karise Gabrielle Parkman 
LAUDERDALE: Nicholas Rahmad Butler 
LAWRENCE: Brandon LeMar Booth 
LITTLE ROCK: Jake Hunter Dean 
LOUISVILLE Jaylen Nicholas Carter and Brianna Nichole Young 
MERIDIAN: DeMarcus Brown, Chelsi Ricks, and Kadyn Laine Townsend 
MORTON: Brooklyn Leigh Massey 
NEWTON: Derek Zacharias Bowden, Hunter Micheal Boykin, Tayler DeeAnn Cochran, and Makayla Monique Wash 
PHILADELPHIA: Krystal Anne Butler, Halie Nicole Day, Terisita Virginia Roberta Hickman, Justin Daniel Holdiness, Taniyah Dionsa Horne, Shakarra Lanique Johnson, Molly Claire Kuntz, Dallas James Lovern, Devin Tyler McCoy, Sanaa Anniston Merrell, Thomas Dalton Savell, Eddie Jerome Tyson, Lauren Elizabeth Ulmer, Ethan Judd Wright, and Kayleigh Hope Long 
PRESTON: Brittany Brende Clay 
ROSE HILL: Trenity Ray Reynolds 
STARKVILLE: Glynnis Nichelle Barber 
UNION: Andrew James Alderson, Tinesha Rolonda Brown, Anh Hoang Nguyen, Kelsey Nycole Pegram, and Gracie Elizabeth Wilson 
VICKSBURG: Shamar Lee Lott 
WALNUT GROVE: Taylor Michelle Boykin, Carlee S Gainey, KeHanna Shardae Holley, Allison Leigh Lepard, and Randi Nicole Rogers 
Students who completed degree requirements during the Fall 2022 Term included: 
BOSSIER CITY, LA: Gabriel Decarleonne Larry 
BRANDON: Parker Elizabeth Howard and Joseph Dewayne Lee 
CARRIERE: Cayden Jace Holloway 
CARTHAGE: Jessica Ruth Dumas, Seth Michael Green, Connor McCary Henry, Shirley A Horn, Michael Demond Leflore, Chiri Andrea Pierce, Kenadie Laine Quick, Addison Anabelle Smith, Teresa Nicole Sullivan, Abigail Vasquez, and Kasey Wynette Wilson 
CHOCTAW: Breanna Justine Charley, Aiden C Lilly, Angelina A Martin, and Codi Neville Parker 
CHUNKY: David Michael Goetz and Jager Dawson Graham 
CHURCH POINT, LA: Tony Devon Gibson 
COLLINSVILLE: Landon Mitchell Walley 
CONEHATTA: Lexi B Bounds, Isabella Grace Collins, and Jessamine Caterina Thomas 
DECATUR: Hannah S Brown, Aaron Bryan Kelly, Ajari Zierre Allyn Mapp, Damon Deon Mapp, Morgan Ann Massey, and Johnny Reeves 
ENTERPRISE: Daniel Parker Swain 
FLORENCE: Connor Reece Crotwell and Jesse Gregg Gilmer 
FLOWOOD: Jaedyn Earnestine Jefferson 
FOREST: Eli Heath Cooper, Hannah Grace Horton, Landry Elizabeth LeBlanc, Dempsie Michelle McDill, Charles Logan Palmer, Patrick Marcus Palmer, Anyia Simone Smith, and Ronieshia T Smith 
HATTIESBURG: Gabrielle Anne Falla 
JOHANNESBURG, SOUTH AFRICA: Jashil Umesh Vithal 
KOSCIUSKO: Macie Rae Alford 
LAKE: Logan Tyler Hines, Dawanna Rashell Keyes, Myla Katran Sanders, Myla Katran Sanders, Charlotte Mae Street, and Keontae Kortez Towner 
LAWRENCE: JAlex Geni Hardy, KeAreona Ranaesha Rauls, and Easton Carter Tune 
LITTLE ROCK: Corrina Lauren Brashear and Donavon Dontae McCoy 
LONG BEACH: Noah Miles Shockley 
LOUISVILLE: Andre LyShawn Esters, Krystala Lynette Foster, Brayleigh Claire Gregory, Alexis S Jordan, and Selena Maria Phillips 
LUCEDALE: Eden Alexis Green, Victoria Renee Moseley, and Kara Janae Wager 
MADISON: Chandler Isaiah Williams 
MERIDIAN: Catasha Ann Blanks and Hannah Thomas 
MORTON: Sharaile Tashalia Belvin, Karlee Rhianon McCrory, Zully Reyes Garcia, and Rylye Darlene Smith 
NEWTON: Holly Gwen Devine, Jessica Nicole Howard, and Emma Kaden Robinson 
PHILADELPHIA: Jason Glenn Bell, Keesha D Clemons, Tneah Marie Crosby, Takarious Tyrell Donald, Ian Michael Edwards, Natalia Arely Euyoque, Madison Banae Graham, Anna Lavelle Gray, Malahta Mae Henry, Abbagail Elizabeth Ingram, Makaylah Marley McMillen, Landon Gage Porter, Keith Richard Riggen, Matthew Stenson Roark, Jaylan Chrisdion Wilson, and Latif Bankstone Zaffar 
PULASKI: Breanna Lee Copeland 
RALEIGH: Asheala BreAnn Horne 
SEBASTOPOL: Perla Villegas Lopez 
TERRY: Fredrick Kadale Jefferson 
UNION: Maiya Chandra Campbell, Zackary Lane Carnell, Sadie Alexis Dulay, Gavin Bluford Heath, Mallory Dean McGee, Lauren Ashley Pope, James Cody Richardson, Jordan Claire Turner, and Shlonda Lanette Washington 
VICKSBURG: Owen Chase Graham and Jaylin David Thompson 
WALNUT GROVE: Ashley Nicole McClendon and Carrie Nicole Murphy 
---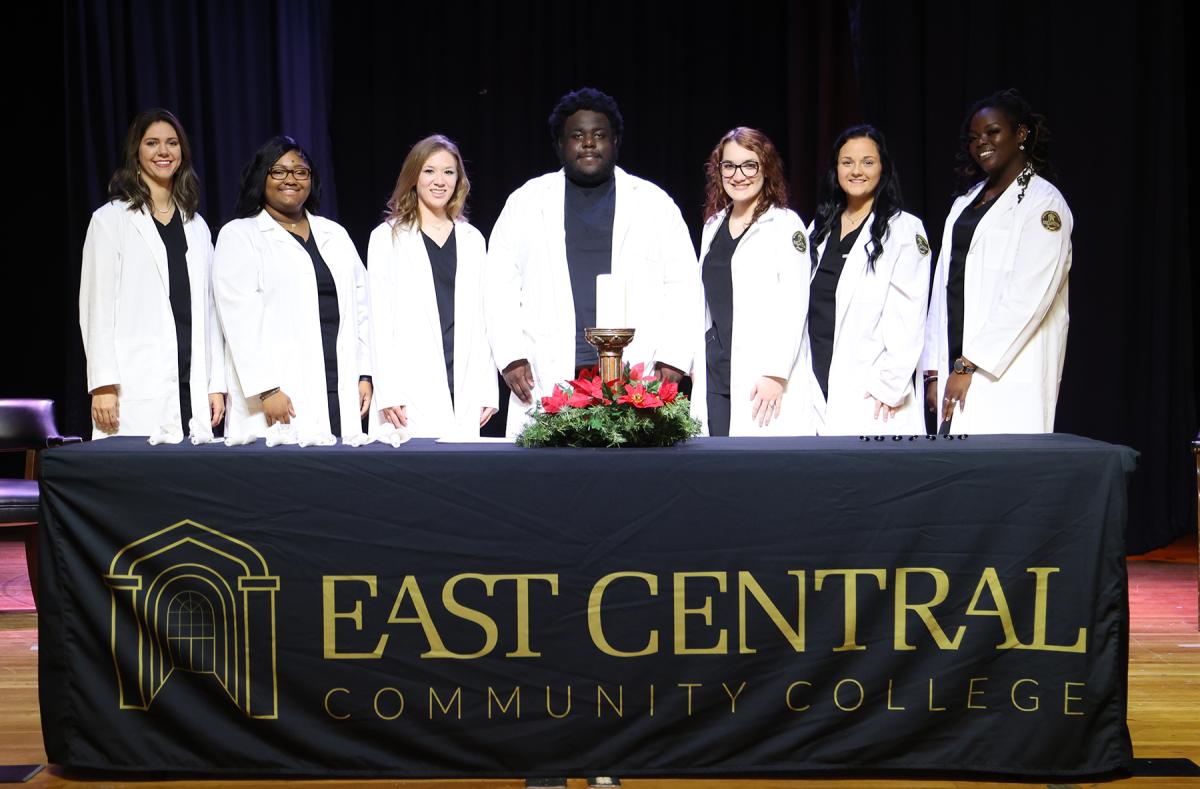 These students are fall 2022 graduates of the East Central Community College Surgical Technology program and were recognized during a pinning ceremony held Thursday, December 8, on the Decatur campus. Pictured are (from left) Hannah Brown of Decatur, Myla Sanders of Lake, Sadie Dulay of Philadelphia, Jaylon Williams of Crystal Springs, Lexi Bounds of Conehatta, Hannah Thomas of Meridian, and Courtney Wood of Philadelphia. Instructors are LeAnn Shirley and Kristie Pilgrim. 
---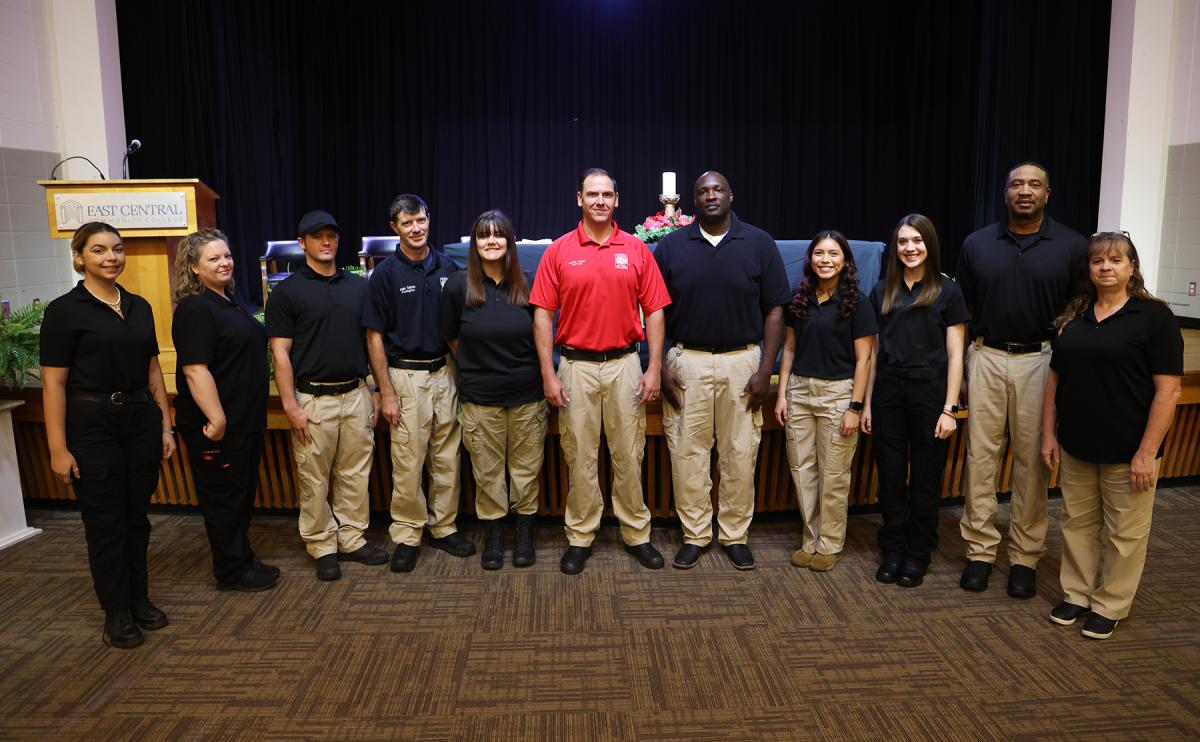 These students recently completed the Emergency Medical Technician program at East Central Community College in Decatur and were recognized during a special ceremony held Thursday, December 8. Pictured are (from left) MaKaylah McMillen, Courtney Russell, Randy Savell, and Adam Osborne, all of Philadelphia; Briana Rogers of Raleigh, Austin Posey of Philadelphia, Quentin Stephens of Noxapater, Charlita Gibson of Choctaw, Alix Withers of Madden, and Justin Coleman of Philadelphia. At right is instructor Tina Savell. 
---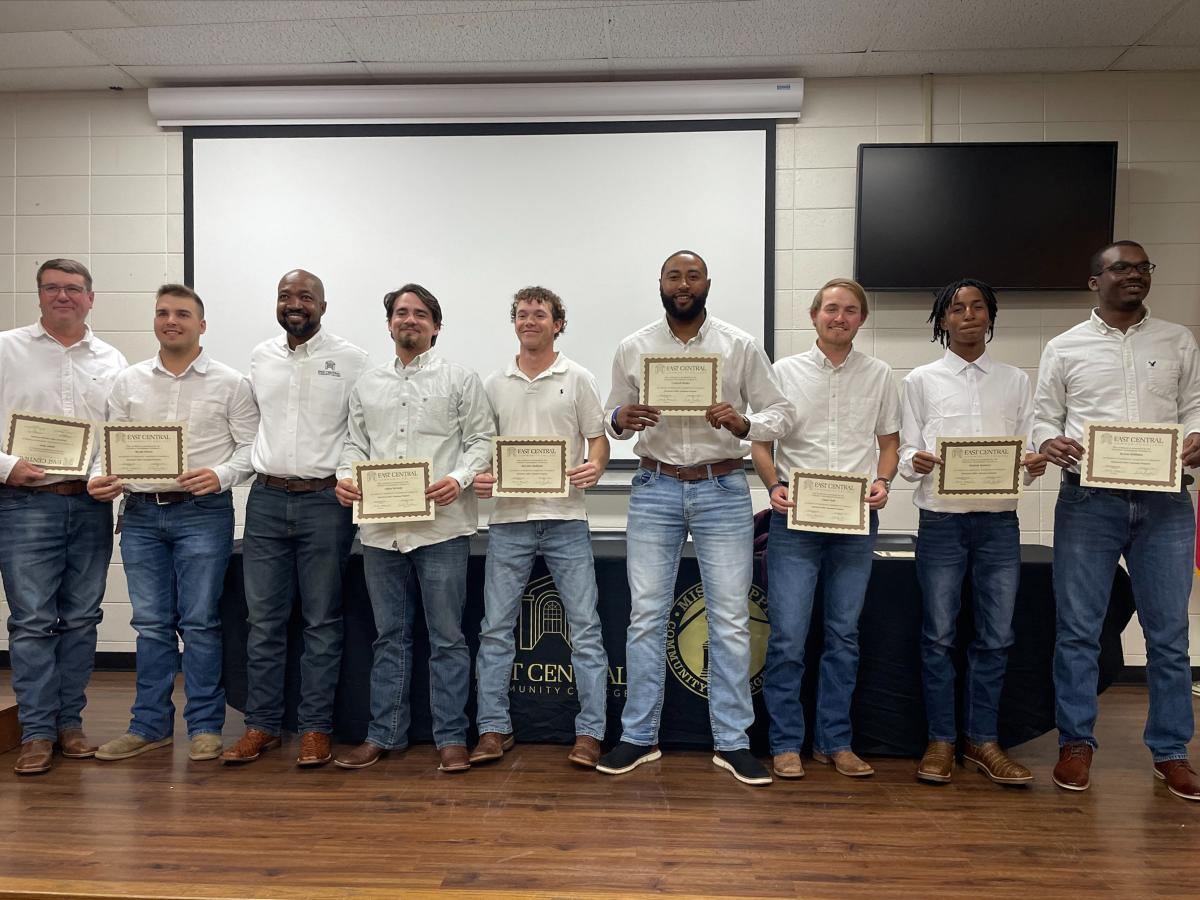 These students are the most recent graduates of East Central Community College's Electrical Utility Lineman program and were recognized during ceremonies held Friday, December 2, 2022. Pictured are (from left) James Sims of Meridian, Skylar Porter of Decatur, program instructor Curtis Bradley, Aiden McNelly of Petal, Brayden Hollimon of Ovett, Cantrell Banks of Lake, Chase Hall of Forest, Derrick Ramsey of Meridian, and Byron Dobbins of Purvis. Not pictured were graduates Coleman Hobgood of Meridian and Noah Thornton of Lake.