September 15, 2023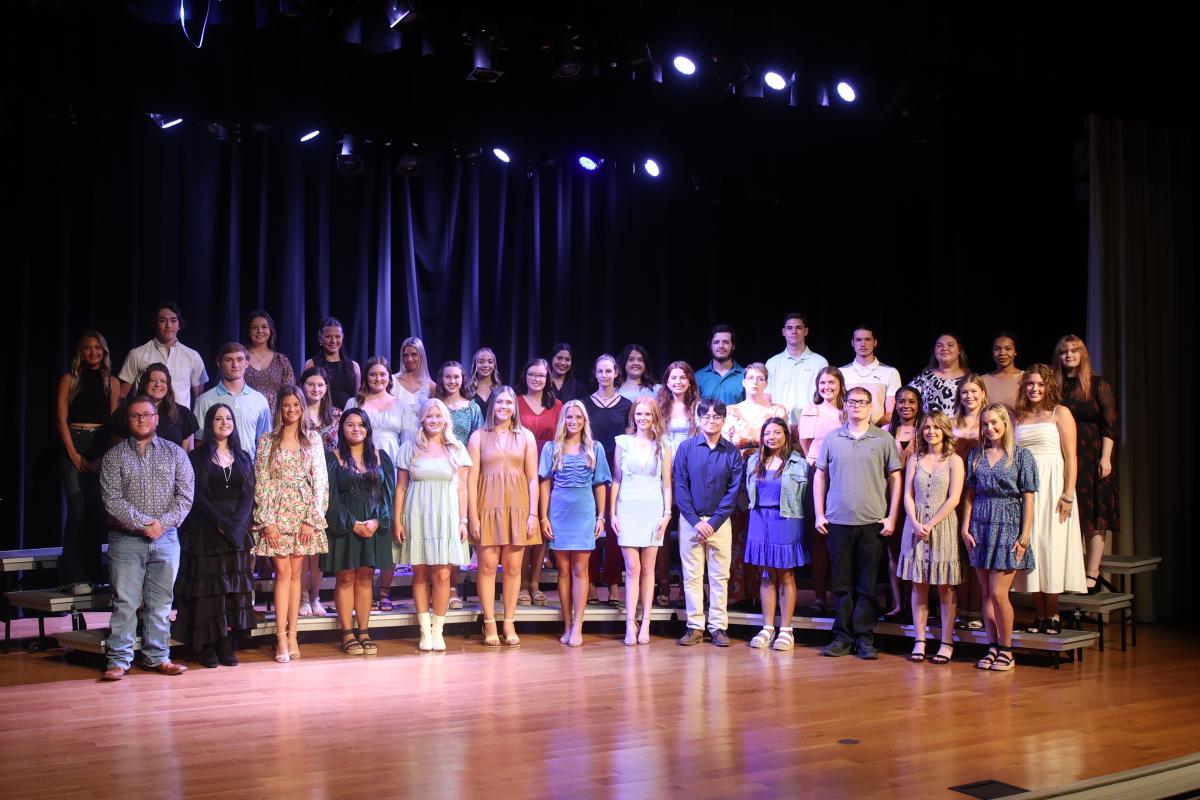 East Central Community College in Decatur inducted 67 students into the Theta Xi chapter of Phi Theta Kappa on Tuesday, September 12, 2023, in Huff Auditorium.  
Established by Missouri two-year college presidents in 1918, Phi Theta Kappa Honor Society serves to recognize and encourage the academic achievement of two-year college students and provide opportunities for individual growth and development through honors, leadership, and service programming. Today Phi Theta Kappa is the largest honor society in American higher education with more than 2.5 million members and 1,275 chapters located in 50 United States, U.S. Territories, Canada, Germany, Peru, the British Virgin Islands, the Republic of Palau, the Federated States of Micronesia, the Republic of the Marshall Islands and the United Arab Emirates. In 1929, the American Association of Community Colleges recognized Phi Theta Kappa as the official honor society for two-year colleges. The PTK national headquarters is located in Jackson.  
The ceremony began with an invocation from PTK President, Gavie White, before ECCC President, Dr. Brent Gregory gave opening remarks. Advisor Tanner Felton recognized the Theta Xi officers, and the officers inducted the new members with a candlelight ceremony. Advisors Renee Boggan and Dr. Amanda Walton welcomed the new members with remarks before Executive Vice President David Case concluded the program with remarks.  
Inductees include Austin Tate of Little Rock, Paetyn Johnson of Little Rock, Ashton Luke of Philadelphia, Zaira Marie Jimenez of Forest, Maggie Stovall of Philadelphia, Molly Palmer of Lake, Addy Page of Philadelphia, Rainy Howell of Philadelphia, Christian Perez of Morten, Michelle Hernandez of Carthage, Zackary Jones of Union, Taylor Parker of Philadelphia, Julianna Sims of Louisville, Gwendalyn Hamilton of Noxapater, Eli Stewart of Forest, Emily Smith of Sebastopol, Linsey Joiner of Forest, Brynnley Powell of Forest, Emma Beckwith of Lake, Jessica Posey of Brandon, Georgia Cooper of Union, Sarah Anderson of Philadelphia, Ella Setnikar of Long Beach, Ashley Jackson of Carthage, Hannah Grace Dalton of Louisville, Betsy Karson Hatcher of Noxapater, Chloe Hanna of Louisville, Austin Wirdle of Nanih Waiya, Makayla Bartholomew of Noxapater, Lauren Gwen Posey of Union, Ashtyn Drury of Louisville, Kaylee Burrage of Louisville, Jaylee Stokes of Louisville, Mazie Hailey of Nanih Waiya, Zane Bradley of Union, Hayden Moorhead of Sebastopol, Gavin Clark of Philadelphia, Madison Haney of Little Rock, Anna Grace Reed of Decatur, and Alyssa Williams of Carthage.